To access this options, navigate to WP Admin -> PeepSo -> Configuration -> Accounts & Security
Under Usernames panel.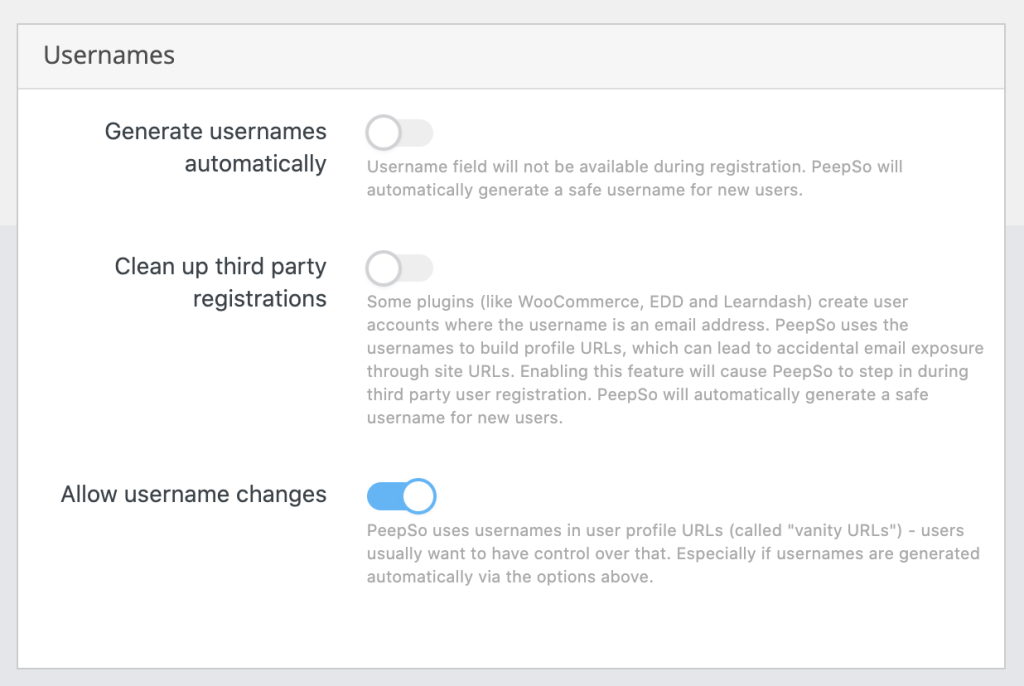 Generate usernames automatically #
Username field will not be available during registration. PeepSo will automatically generate a safe username for new users.
Clean up third party registrations #
At the very same panel, there is also an option to Clean up third party registrations.
Some plugins (like WooCommerce, EDD and LearnDash) create user accounts where the username is an e-mail address.
PeepSo uses the usernames to build profile URLs, which can lead to accidental e-mail exposure through site URLs.
Enabling this feature will cause PeepSo to step in during third party user registration and automatically generate a safe username for the new user.
Please note: This option only works for selected few plugins, mostly those that we already integrate with. There is so much we can cover and it is humanly impossible to integrate EVERY plugin out there.
Also note: The username cleanup will only work with users that register after the option is enabled. It will not affect already existing users.
Allow username changes #
Checking this option will allow the user to change their username. To change your username, go to Profile page -> About -> Account.