This plugin (included in the Ultimate Bundle) gives you the opportunity to enable and test features that we are working on, and, that we are planning to introduce in the future.
Please bear in mind, that the Early Access features will remain enabled even if you deactivate the Early Access plugin. The only way to turn these features off is to disable them in the Early Access plugin settings.
Each feature goes through four stages: "ALPHA", "BETA", "RC" (release candidate), and "DONE" (ready for release).
If a feature is supported, you can send community questions and support tickets. But if the feature is not marked as production-ready, it means we can't guarantee anything – do not install it on your live site, even if it's supported. In some rare cases, we are not open for feedback as the feature is in a stage too early for that. Such features are clearly marked.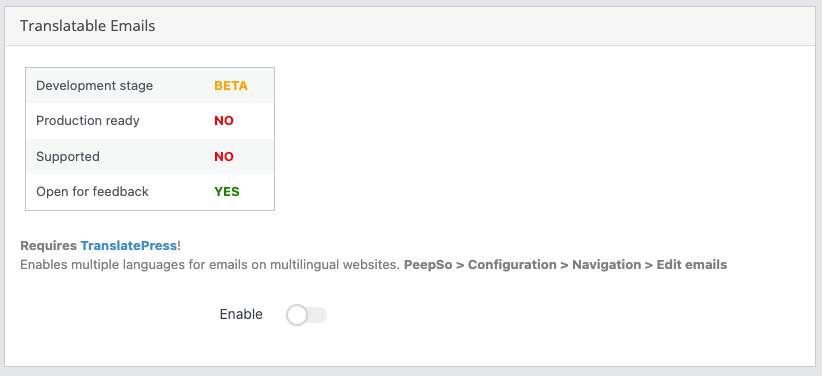 Currently, we are working on:
Translatable Emils, Requires TranslatePress. Enables multiple languages for emails on multilingual websites.
New Search, New AJAX-driven "search everywhere" engine. Capable of searching all areas of PeepSo, plus WordPress Posts and Pages.
Experimental Fast Friends Queries, according to lab tests, a user with 5000 friends would experience 25% faster load times.
Experimental Fast Queries, uses experimental GROUP and SORT statements to speed up Activity loading on very large websites.
TranslatePress – use SVG flags, PeepSo will attempt to override TranslatePress PNG flags with its own SVG flags that scale better to different resolutions and have a more "flat" design.
XML Sitemaps, use WP XML Sitemaps to improve SEO and let Google index your site.
Auto RTL, to automatically detect RTL languages on the postbox and comment box, and align the text accordingly.
Please also check the related video tutorial: