PeepSo Bundle License Key #
If you have PeepSo Bundle license key, it can be used as one key to rule all additional PeepSo plugins.
To add your PeepSo Bundle license key navigate to:
– WP Admin > Peepso > Configuration and find the License Key Configuration panel. Paste your license key and make sure to save your settings.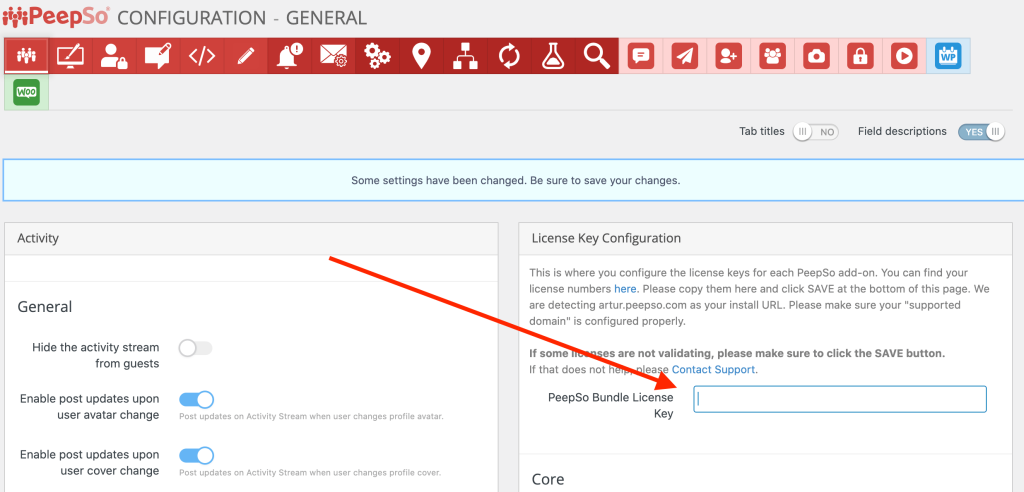 All Licenses: #
All licenses are valid for the exact number of domains (sites) you purchased the license with.
If you need staging, development or local domains, you need to use a license seat just like any other website. If you need more domains than your license allows, you can always upgrade it.
Supported domains can be edited in Your Account > Purchases > Licenses > Manage Sites
For details, please see the description of each bundle and our License Agreement.
What to do if my license doesn't validate? #
If you encounter issues validating your license key, try to click the Bundle switch on-off and click save button to save configuration again.
Please note!
The Domain Name on which the license keys are activated is added as The Supported Domain Name.
All licenses include include services as described in the License Agreement. Subject to the limited Refund Policy.