Access these option by navigating to WP Admin -> PeepSo -> Configuration -> Notifications
Locate the Emails panel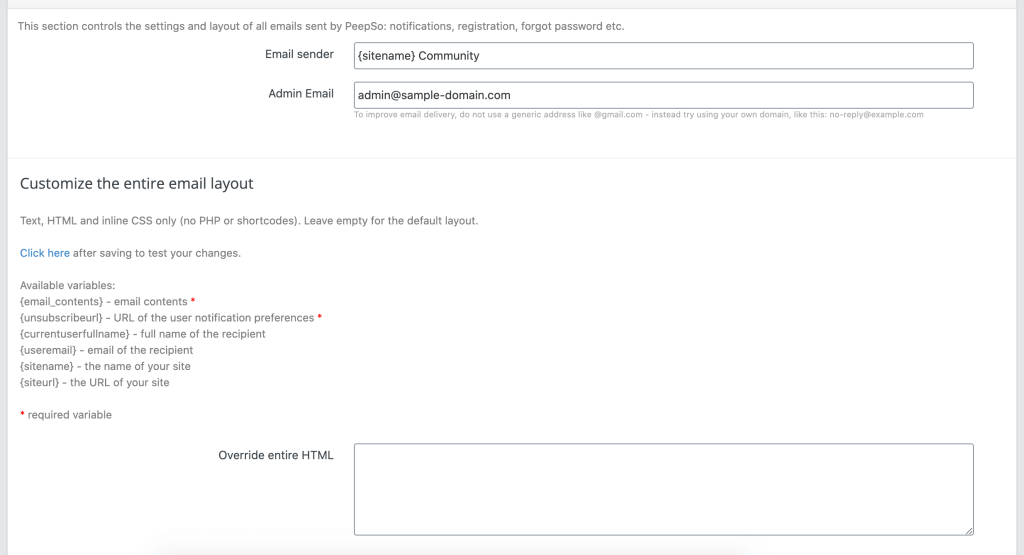 Email Sender
The name of the email sender. You can set the name to your community name.
Admin Email
The email address people to which people can send replies. Enter "no-reply" to block replies. Note: make sure the admin e-mail matches your website domain, for example: info@mydomain.com
External Mail Queue Cron Job
This setting will disable PeepSo Default Mail queue. And you can use an external Cron Job, like a one that Cpanel has to offer. See the cron setting here. The setting has been moved to WP Admin -> PeepSo -> Configuration -> Advanced -> Cron jobs section.
Override entire HTML
Override Entire Peepso email html. Text, HTML and inline CSS only (no PHP or shortcodes). Leave empty for the default layout.