Activity Stream
A powerful stream with a fun share box
This is the core of PeepSo. Your members can post a status and add videos, photos, moods and location. Friends can comment, like and share with privacy control that's simple, secure and flexible.
Status

Share your status on your own stream and on others'. Add moods to make your post more personal.

Photos

Upload multiple photos. Photos open in a modal window that allow comments, likes and shares. Comments can be posted for each photo individually or for all photos on the stream.

Videos

Share your videos from all popular video hosting services, such as YouTube, Vimeo and others. Video title and descriptions are being fetched automatically and played beautifully inside the stream.

Location

Share your location on the stream or on messages, a dynamic map shows up in a modal window.
Mobile-Ready
Looks great on any device!
PeepSo's responsive design allows your members to enjoy their community from any size monitor! Desktops, tablets and smaller smart phones.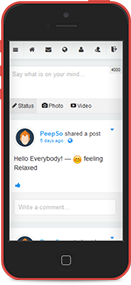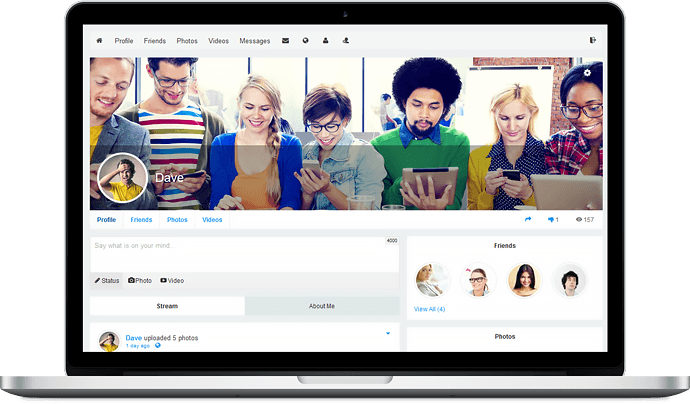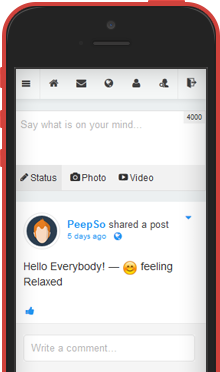 Extensible
It just gets better and better
PeepSo is designed with scalability in mind. Simply install the plugins you need to get the functionality you're after. More plugins are developed by the PeepSo team and by 3rd party developers all the time.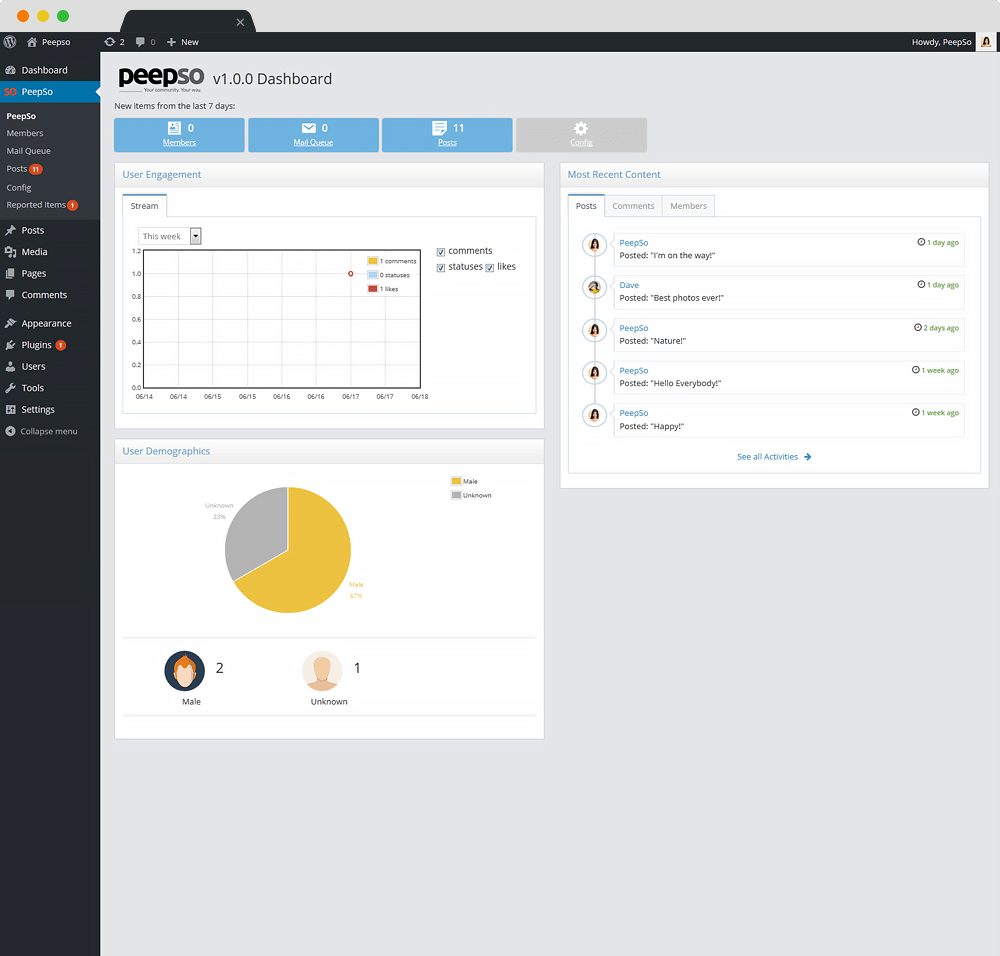 Powerful Admin
A stunning and user-friendly admin interface
Dashboard with statistics
Monitor activities and reports
Manage users
Alerts
Addictive alerts keep your members coming back
Get real-time alerts on new comments, likes, friend requests and messages. Keep your members engaged and interested all the time.We take privacy seriously. Members want to be sure that their information is protected. PeepSo allows them to choose the privacy level of each post and even modify it later.
Friends
Help Your Members Connect
Adding friends strengthens the connections inside your community. Members can add friends and accept or decline friend requests. They can also restrict their posts so that they're only seen by the people they choose.




Privacy
PeepSo gives your members privacy options when posting on the stream. They can choose who can see what and even change their mind later if they wish.