IdeaPush is a plugin that allows collecting feedback from your community, similar to user voice or suggestion boards. With our PeepSo integration, you can now collect feedback directly from your community.
After installing and enabling IdeaPush PeepSo Integration and respective base plugin, settings will be available in the WP Admin -> PeepSo -> Configuration -> IdeaPush
IdeaPush will allow you to create the "suggestions board" where your users can offer suggestions and ideas, see our video tutorial below for more details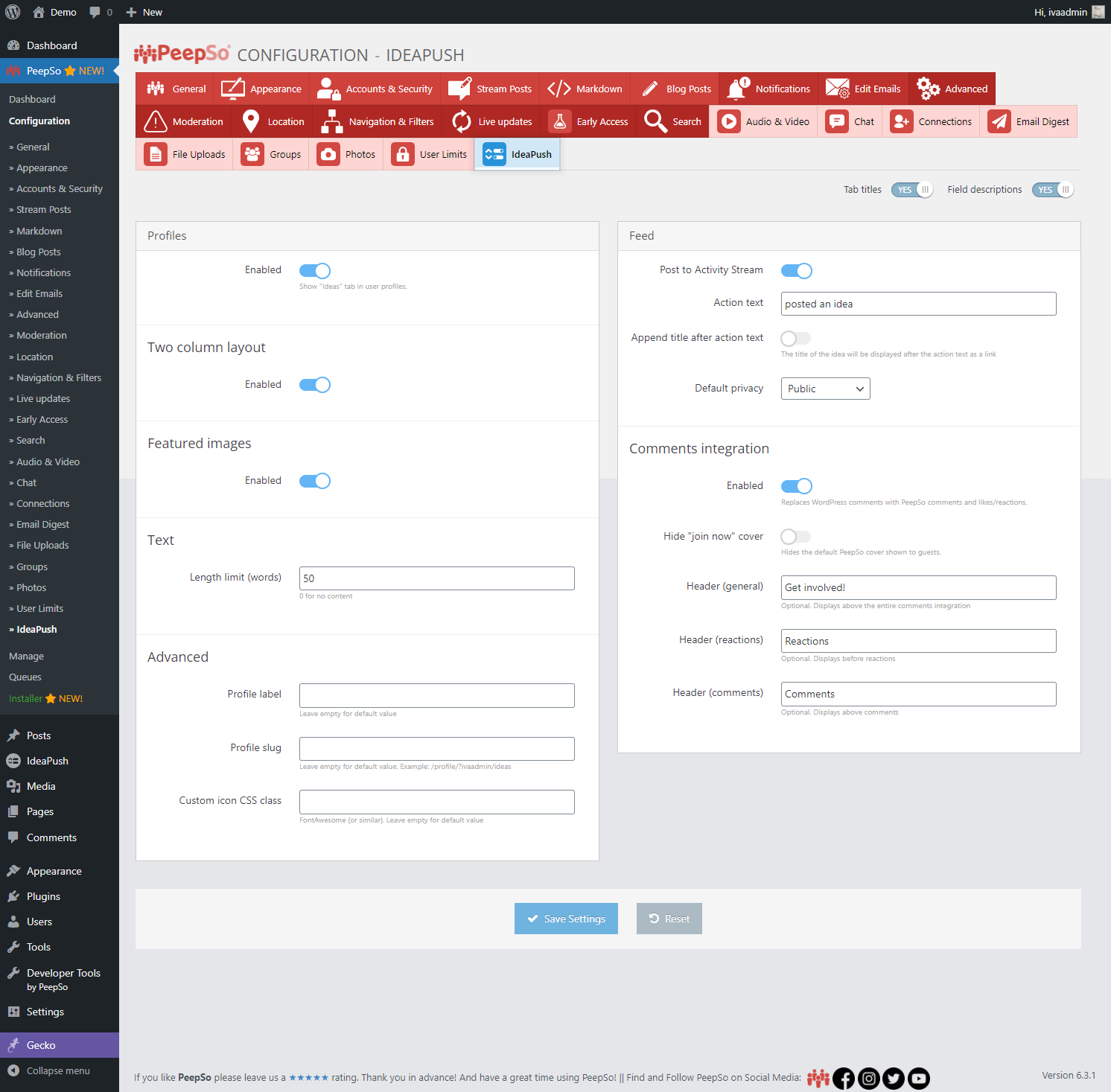 Profile Panel #
Enabled – Show "Ideas" tab in user profiles.
Two column layout
Enabled – changes layout to two columns within user's profile view.
Featured images
Enabled – show featured image.
Text
Length limit (words) – limit words in text box for a more compact view.
Advanced
Profile label – if empty default value will show
Profile slug – leave empty for default value. Example: /profile/?demo/ideas
Custom icon CSS class – FontAwesome (or similar). Leave empty for default value
Activity Stream Panel #
Post to Activity Stream – Enabled – Create an activity stream item when someone posts an idea.
Action text "posted an idea" you can replace it with your custom text
Append title after action text – the title of the idea will be displayed after the action text as a link.
Default privacy post
Comments integration #
Enabled – Replace idea push comment box with PeepSo comments
Hide "join now" cover
Header (general) Optional. Displays above the entire comments integration
Header (comments) Optional. Displays above comments
The video tutorial that covers IdeaPush Integration #