Seemingly many features within one configuration page. This is because they all refer to options that can be find in the postboxes across PeepSo plugin.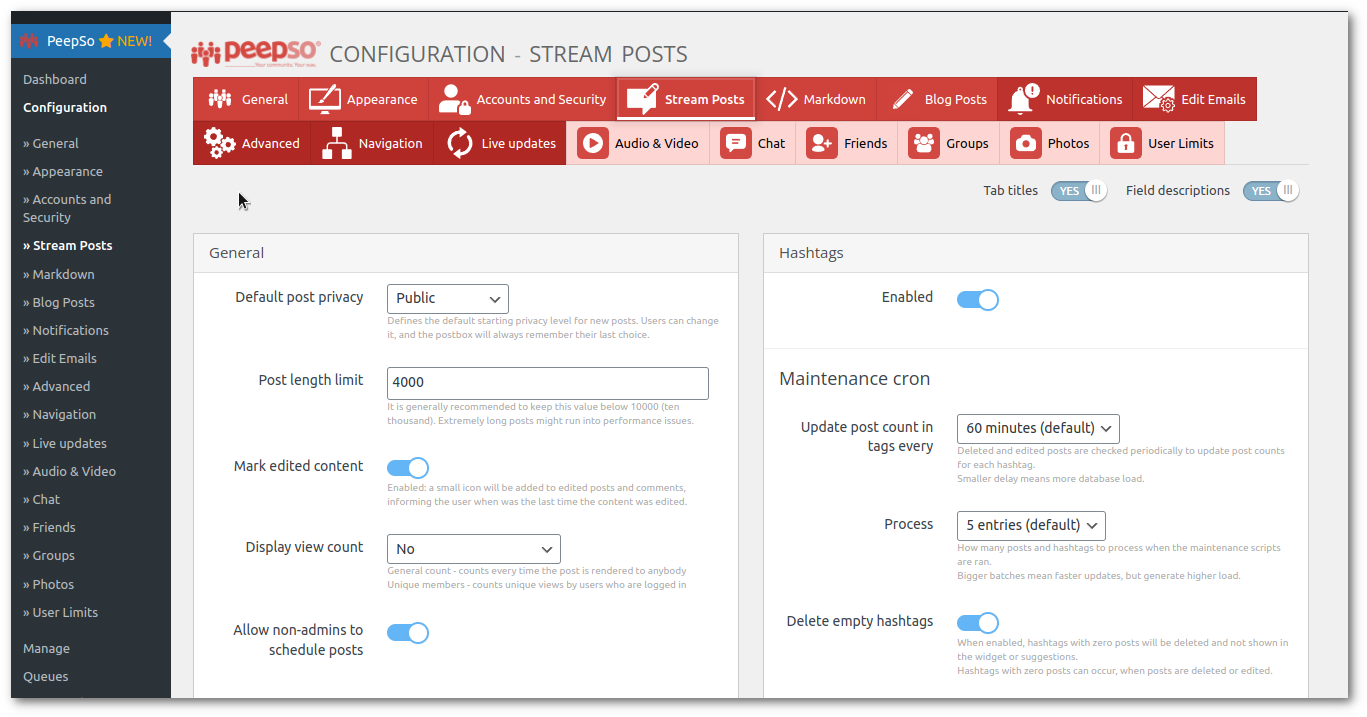 The entire page is divided into nine (9) different panels
General
Links & Embeds
Polls
Moods
Mentions
Hashtags
Post backgrounds
GIPHY

General Panel
Default post privacy – Defines the default starting privacy level for new posts. Users can change it, and the postbox will always remember their last choice.

Public: Visible to everyone with the link
Site members: Visible to all members.
Friends: Only friends can see your post.
Only me: No one else can see on your post.

Post length limit – Limit the size of the posts in characters.
Mark edited content – PeepSo tracks post and comment edits. Comments and posts changed can show a small icon informing the user when was the last time the content was edited.
Display view count – Enabled: will display view count on posts. General count – counts every time the post is rendered to anybody. Unique members – counts unique views by users who are logged in.

No
Only General count
Only unique members
Both

Allow non-admins to schedule posts – When enabled, this setting will allow every member of community to schedule post
Profile Posts
Who can post on "my profile" page – Here you can choose who can post on your profile stream. There are 3 options:

Site members: Every member can post on your profile
Friends: Only: friends can post on your profile
Only me (Profile owner): No one else can post on your profile.

Let users override this setting – The options are Yes or Not.
Pinned Posts
Enabled – Enables the ability to pin posts. Disabling this option may increase post loading performance depending on your hosting configuration.

Links & Embeds Panel
Open links in new tab

No
All links
Only links to other domains

Hide URL if there is no other text – If a post contains only an URL and no other visible text, the link will not be displayed. Does not apply to MarkDown links.
Trim links to domain name only – Visually trim links after the domain name, while the target remains unchanged.
Hide http(s):// – Visually hide http(s):// from links, while the target remains unchanged.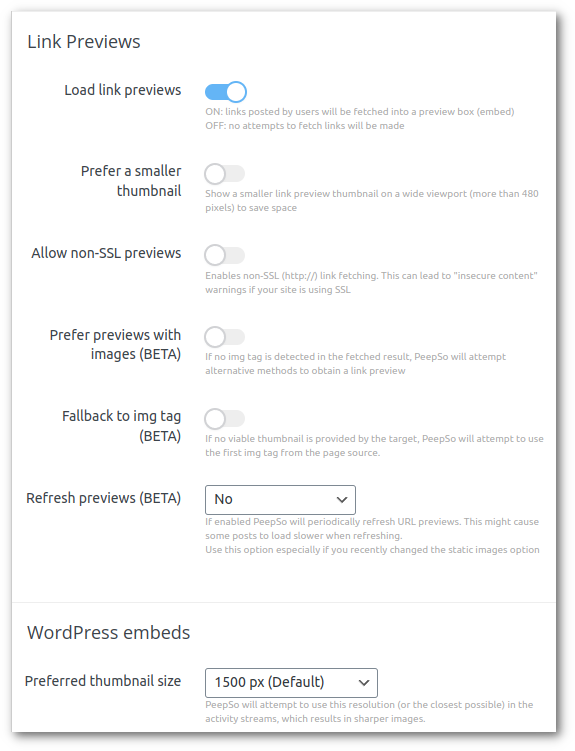 Link Previews
Load link previews

Enabled: links posted by users will be fetched into a preview box
Disabled: no attempts to fetch links will be made

Prefer a smaller thumbnail – Show a smaller link preview thumbnail on a wide viewport (more than 480 pixels) to save space
Allow non-SSL embeds – Enables non-SSL (http://) link fetching. This can lead to "insecure content" warnings if your site is using SSL
Prefer previews with images (BETA) – If no img tag is detected in the fetched result, PeepSo will attempt alternative methods to obtain a link preview
Fallback to img tag (BETA) – If no viable thumbnail is provided by the target, PeepSo will attempt to use the first img tag from the page source.
Refresh previews (BETA) – If enabled PeepSo will periodically refresh URL previews. This might cause some posts to load slower when refreshing. Use this option especially if you recently changed the static images option
WordPress embeds
Defines the minimum thumbnail resolution for stream posts. Available options are: Let WordPress decide, 500 px, 1000 px, 1500 px (default), 2000 px, 2500 px and 3000 px.
Polls configuration
Moods Panel
To allow moods in the posts that your users will create, the option to enable moods must be enabled
Mentions Panel
Mentioning people in the community will only work when this feature is enabled from this panel.
Add a mention when replying to a comment – disables automatic mention on replies

Hashtags Panel
Enabled – When enabled users are able to post hashtags on a post.
Update post count in tags – Deleted and edited posts are checked periodically to update post counts for each hashtag. Smaller delay means more database load.
Process – How many posts and hashtags to process in a single page load. Bigger batches mean faster updates but generate higher load.
Delete empty hashtags – When enabled, hashtags with zero posts will be deleted and not shown in the widget or suggestions. Hashtags with zero posts can occur when posts are deleted or edited.
Advanced
Allow non-alphanumeric hashtags – This feature is currently in BETA and should be used with caution. Enables hashtags of any length, with any content, including non-alphanumeric characters (Arabic, Japanese, Korean, Cyrillic, Emoji, etc). Hashtags MUST end with a space, line break or another hashtag.
Minimum hashtag length – Minimum hashtags length, shorter hashtags will be ignored
Maximum hashtag length – Maximum hashtags length, longer hashtags will be ignored
Hashtags must start with a letter – Enabled: hashtags beginning with a number will be ignored
Reset and rebuild the hashtags cache – Enable and click "save" to force a hashtag cache rebuild. It will also happen automatically after changing any of the hashtags settings.
GIPHY configuration 
Was this helpful?
2 out of 4 people found this useful