Access settings for registration and login by going to WP Admin -> PeepSo -> Configuration -> Accounts and Security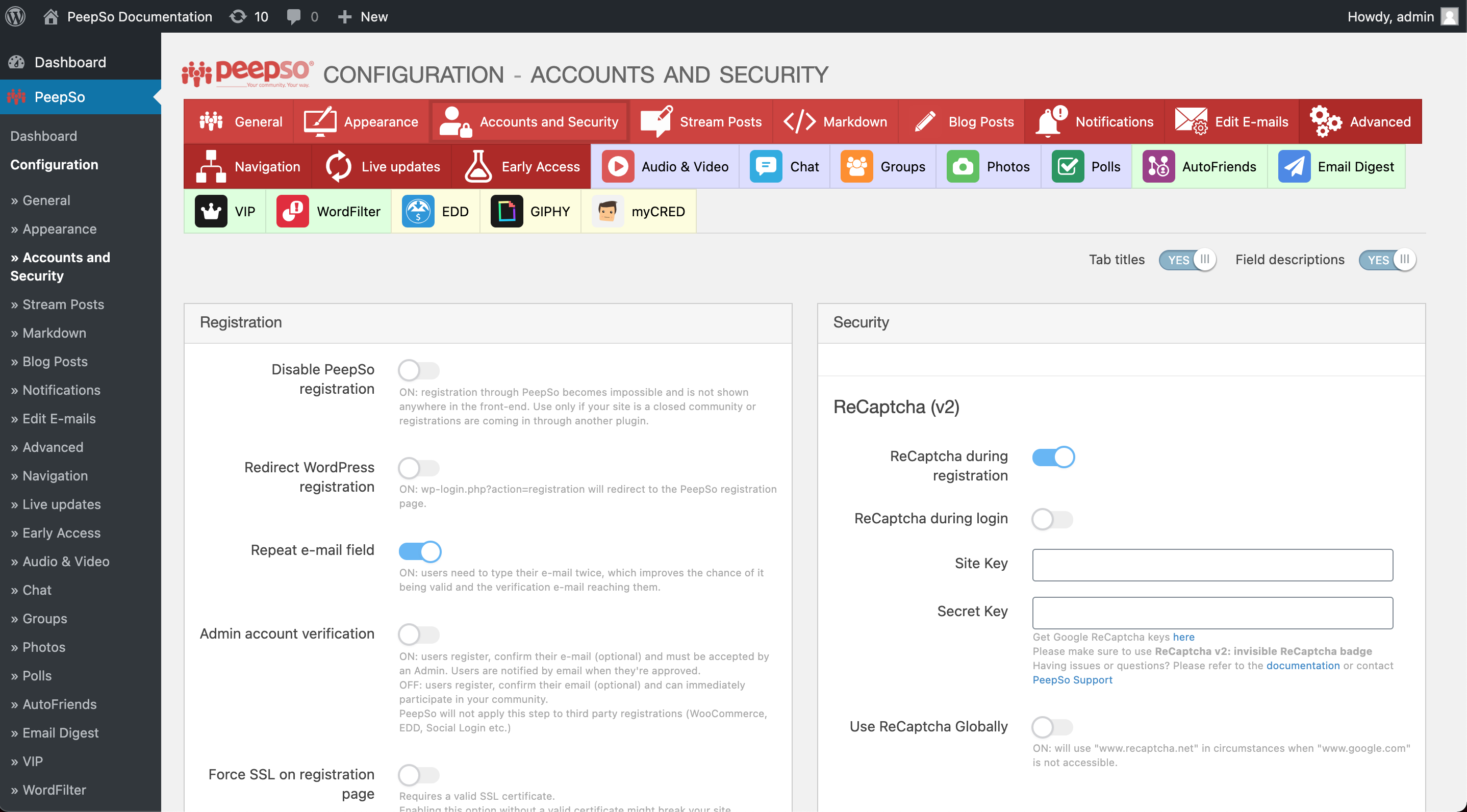 Registration
Disable registration – Enabled: registration through PeepSo becomes impossible and is not shown anywhere in the front-end. Use only if your site is a closed community or registrations are coming in through another plugin.
Redirect WordPress registration – Enabled: wp-login.php?action=registration will redirect to the PeepSo registration page.
Repeat e-mail field – Enabled: users need to type their e-mail twice, which improves the chance of it being valid and the verification e-mail reaching them.
Admin account verification – Enabled: users register, confirm their e-mail (optional) and must be accepted by an Admin. Users are notified by email when they're approved.
Disabled: users register, confirm their email address and can immediately participate in your community.
Force SSL on registration page – Requires a valid SSL certificate. Enabling this option without a valid certificate might break your site.
Activation & Redirect
Skip e-mail verification – Enabled: users don't need to confirm their e-mail. It is not recommended unless your registrations are coming in via another plugin (WooCommerce, EDD etc).
WordPress is a very big world full of various plugins and ways to register users. Some of them require those users to confirm their email address, some don't. It's a rather advanced feature that does come with a bit of a burden. Starting from PeepSo 1.11.1 We finally add this feature. By disabling the need for email confirmation people can use the site right away.The burden I mentioned earlier is that it does open your site up to possible abuse, and that's something you must be aware of, pretty much anyone can register with a bunch of email addresses of other people, just to sign them up, whether it's a prank, all in good faith or a straight-up malicious behavior.
Activation redirect – An url to redirect users after account activation.

First known visit (first page when user visited the site)
Home page
Pages
Terms & Conditions
Enable Terms & Condition – Enabled: Add your own ToS in a popup that will show during registration
Page – Custom Terms & Conditions page
Terms & Condition – text content for the terms & condition
Privacy Policy
Enable Privacy Policy – Enabled: Add your own Privacy Policy in a popup that will show during registration
Page – custom Privacy Policy page
Privacy Policy – text content for the privacy policy
Advanced
Automatically resend activation – PeepSo will resend the activation e-mail a defined amount of times to any users who did not activate their account.
Every – specific time for automatic resend activation to retry
Maximum – maximum attempt resend activation
Was this helpful?
1 out of 5 people found this useful