To access this configuration navigate to WP Admin -> PeepSo -> Configuration -> Blog Posts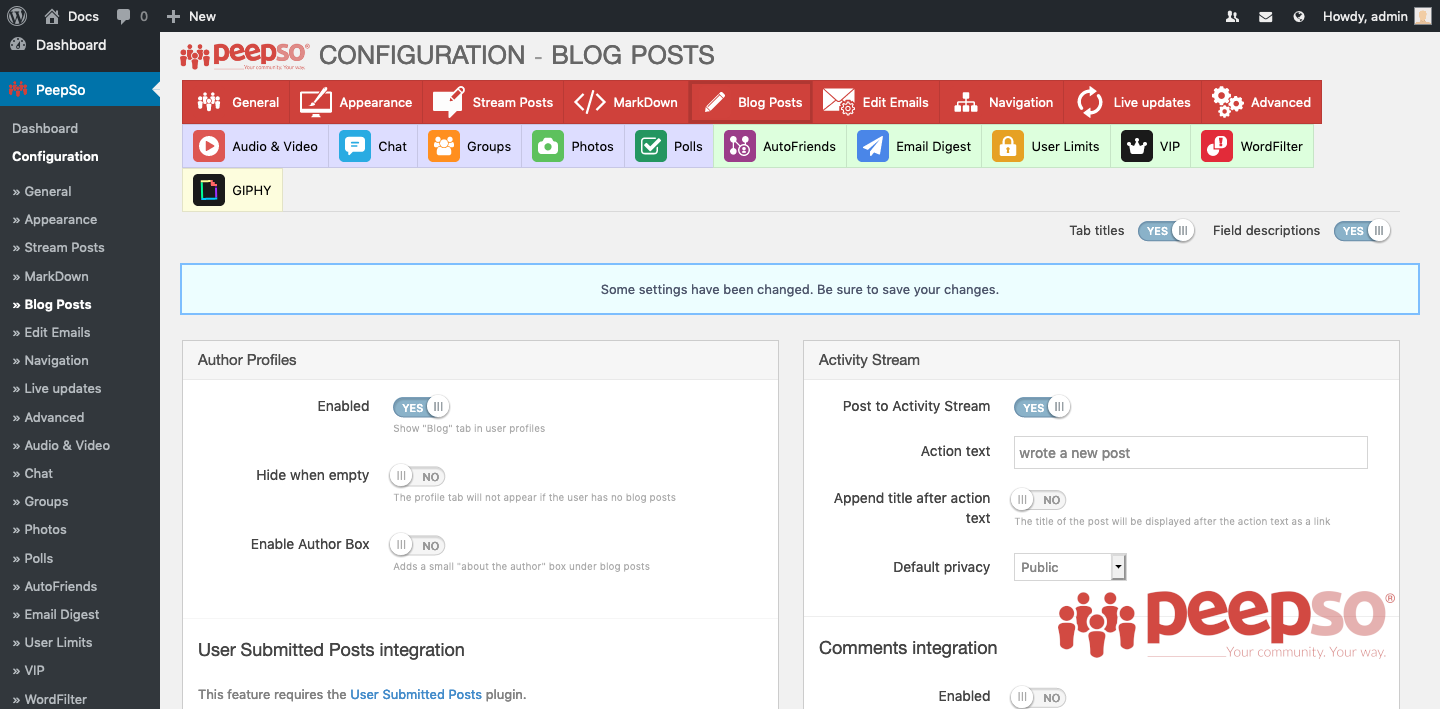 Author Profiles Panel
Enabled – Show "Blog Posts" tab in user profiles
Hide when empty – The profile tab will not appear if the user has no blog posts
Enable Author Box – Adds a small "about the author" box under blog posts
User Submitted Posts integration
Option to enable integration will only show if you have
User Submitted Posts
plugin installed and activated.
CMinds User Submissions integration
Two Column Layout Panel
Enable two column layout – Enable to change Blog Posts layout into two column layout in Blog Posts user Profiles
Box height (px) – Set Box Height for Blog Posts box in Blog Posts user Profiles
Text Panel
Length limit (words) – Limit words content in Blog Posts Box
Aggressive shortcode removal – Forced removal of some shortcodes immune to native WP methods (eg Divi Builder and similar). This is an experimental feature, we recommend using plain-text excerpts instead.
Featured Images Panel
Show featured images – Show featured images in Blog Posts Box
Placeholder – Show placeholder image for empty Blog Posts Image
Position – Image Position. Top (rectangle), Left (square), and Right (square)
Height (px) – Image Height in Pixels
Activity Stream Panel
Post to Activity Stream – Enable/Disable post to activity stream
Action text – Change the text that will show in activity stream
Append title after action text – Append blogpost title after action text on stream
Default privacy – Default stream privacy
Comments integration
Replaces WordPress comments with PeepSo comments and likes/reactions.
Enabled – Master switch to enable or disable integration
Hide "join now" cover – Hides the default PeepSo cover shown to guests.
Header (general) – Displays above the entire comments integration
Header (like/Reaction) – Custom Header display before Like/Reaction
Header (comments) – Custom Header display above Comment