PeepSo 1.8.8 is here. Let us jump for joy and get to the good stuff. Our developers have been working extra hard on this one and it's packed full of great additions to make Your Community even more powerful!
Upgrades
For a quick and hassle-free upgrade:
Go to the backend of your site > Dashboard > Updates
Select all PeepSo plugins that need to be updated
Click 'Update Plugins'
Update PeepSo Core
Go to the backend > Plugins
Reactivate all PeepSo plugins
The whole operation doesn't take more than 3 minutes. Should you have any issues or questions, please do contact us.
New Date Picker
This is one of those small things which really does make a difference. For as long as I can remember PeepSo has been using a certain date picker which is immensely popular in the WordPress world. However, just because it's popular doesn't mean it's great. Over the period of last year we've been getting hints and complaints on how the date picker is definitely not user friendly. We tried to address the problem with some changes to the UI but that wasn't enough. We redid it completely bringing better user experience, including improved accessibility for visually impaired members using screen readers.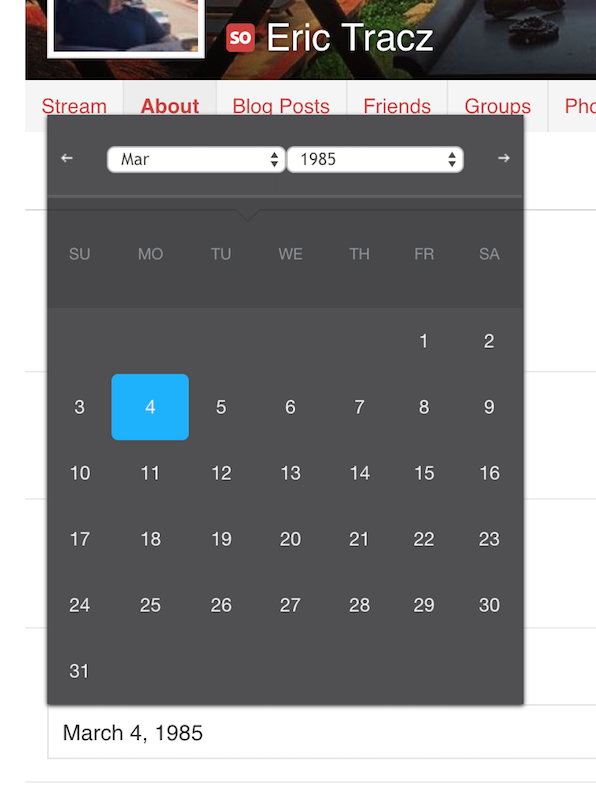 PeepSo Profile Widget Design improvements.
We've been revisiting the PeepSo Profile Widget design quite often. Previously we added cover photo to the widget and notifications to mimic PeepSo Toolbar. Right now we're taking that a step further. We managed to 'blend' notifications into cover image, thanks to this we achieved an awesome design which draws users attention and make them be proud of their cover photo.
Notifications: 'Mark All as Read'
Oh the notifications. The salt of the earth of every social network. They can be a bit too much at times, don't we all know it. Right now you can make all of those notifications go away with a single click. Clicking marks all of the unread notifications as read. It doesn't delete them so they're still there if you need to see them.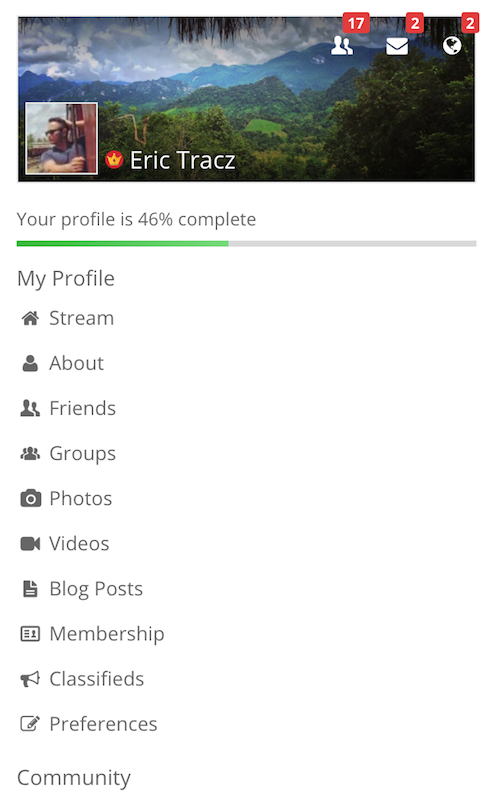 Performance of loading members on members page.
In previous versions there was an issue with loading speed of the Members page. Especially on slow shared servers with 200,000 users+. As much as it's to be expected in such an environment, we managed to cut the loading time of the users on the Members page. In some cases the loading time dropped to 1/20 (one twentieth) of the previous loading time. It's blazing fast.
Group Ownership
Transferring group ownership was not possible in previous versions. Right now it's as easy as selecting a user from the group member list and you're 3 clicks away from transferring the ownership. Membership can be transferred to any group member. It can be done either by the group owner OR by the site admin.
Group Moderators
Introducing for the first time ever Group Moderators. Group owners can now offload some work to designated moderators who can watch over the group content. Posts and comments are now editable by group moderators so that they can alter potentially offensive / harmful content and make sure the conversations are aligned with the groups' idea.
Group Ban Hammer
The Ban Hammer is now added to the group owner's toolbox. Banned users can not be unbanned in this version. This is something we'll be adding in the Groups 1.8.9 so be careful who you ban as you'll be able to unban them starting from 1.8.9.
Settings – disable Join & Invite.
Group owners have the possibility to disable the Join & Invite buttons for their groups. That way they can make even Open groups more exclusive. These are settings regulated on a group level by the group owners. The settings can be found in Group > Settings view.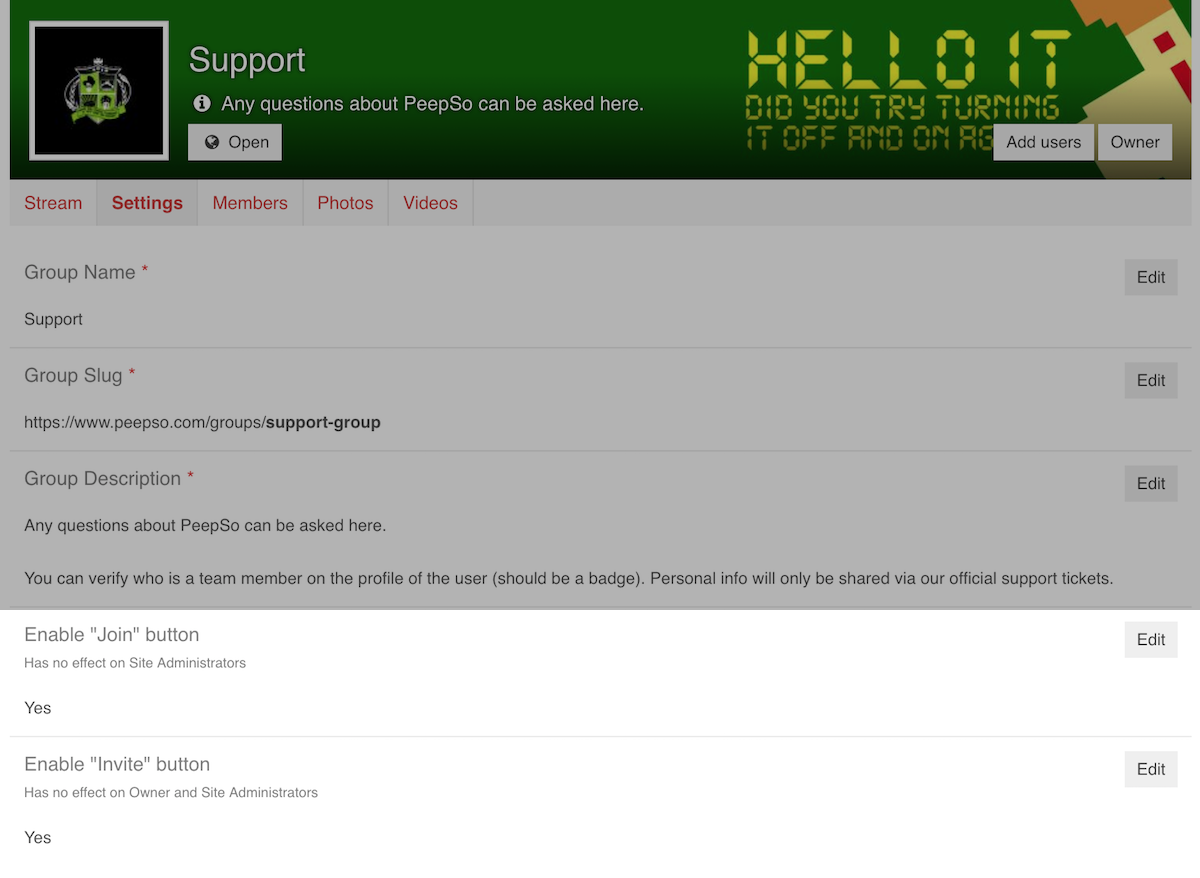 Improvements and BugFixes
There's also a number of improvements and bugfixes that are included in this release. The ones worth mentioning include: Improving styling of comments in mobile view, profile and group cover handling improvements, latest WordPress compatibility improvements and other. You can see the full changelog here.
Try PeepSo For FREE

PeepSo Core is Great! Get the Foundation Plugins for FREE! Add that social spark to your website! Try it today!
Get PeepSo Today!
Monetize Your Community

Get PeepSo – Advanced Ads Integration and all its supporting plugins! PeepSo Foundation, Extended Profiles, Groups, VIP, Friends.
Get The Plugins