BuddyPress is a popular social network plugin for WordPress. It's made by Automattic, the same company that is behind WordPress. It's free and it's featured on the backend of WordPress, and it's been around since 2009. It's not surprising that BuddyPress has 200.000+ installs.
Third party developers have created hundreds of plugins for BuddyPress and designed plenty of themes to make it look prettier.
So what's wrong with it?
Let's clarify something from the get go. Our intent here is NOT to bad mouth BuddyPress. We understand that it has been created by developers in their spare time, out of pure passion, in order to service the WordPress community. And that's cool. However, as we operate in the same sector, we have received numerous complaints throughout time on aspects and issues that WordPress users encounter such as: an outdated look and feel, numerous compatibility issues with other plugins and slow development are some of the main issues, in addition to an old code and a limited set of built-in features, not to mention a lack of speedy technical support, leaving customers feeling alone, stranded and impotent to fix issues.
Take a look at PeepSo! Ta-da…things are quite different here.
PeepSo is an established, lightweight social networking plugin for WordPress. The code is new, shiny and optimized. The design is modern and slick. It comes with some great features, including epic integration and monetization plugins such as LearnDash, Advanced Ads, WPAdverts, WooCommerce and many more. PeepSo is 100% GDPR compliant. Aaaaaaand it offers fanatical support. Plus, because we believe in the power of community, we've made it so you can try it for free!
Elegantly coded, excellent support, unbelievable community. If you are looking to step up your community game then you have come to the right place.

@perihelionweb
Sure, PeepSo doesn't have hundreds of third party plugins yet, but it looks great and has everything you need to get started right away. It is user-friendly and we guide you every step of the way to ensure you are good and settled to focus on your prime baby – Your Community.Your Way!
PeepSo was created with scalability in mind and with very strict code standards. It will look great inside your current theme.
Most importantly, we're looking at a bright future ahead! We have invested time and resources into PeepSo because we believe that social networking on WordPress sites are in growing demand. A strong online community is essential for brand awareness and business development. Read more on how to create and grow your own online community here.
PeepSo Foundation is totally free. You can download it and take it for a test drive with no commitment at all. Further paid plugins add functionality but you can install (and pay for) only the functions you need. These are all our list of add-on plugins you can choose from.
How it started
When Brad Bihun contacted Merav Knafo, PeepSo's original Founder, he mentioned that WordPress's community really needed a community plugin that was stable, effective and run by an efficient team. At the time, Merav had just acquired the popular JomSocial and her hands were full.
A year and a half later, JomSocial was running smoothly and Merav was finally ready to consider taking on a new project. PeepSo, the promising project that it was, as presented by Brad, was next on the line.
Brad found some of the best WordPress developers in the world, and put them behind PeepSo's grand architecture. Within seventeen months (this was back in 2015), the first version of PeepSo was born.
He was right. Fast forward 3 years, into the present, we can safely say that the WordPress community has loved us and continues to support us! They've expressed an increasing interest, plenty of excitement and much heart-warming praise. Check out what people say about us!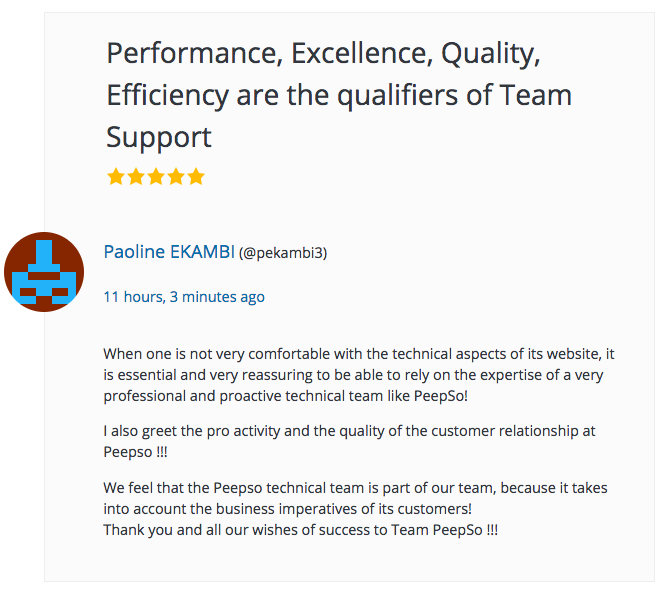 What's Next For PeepSo?
PeepSo continues to scale, steady and firm. We currently power over 3,000 communities (and counting) from all around the world. We have launched PeepSo translations in English, French, German, Spanish, Hungarian, Japanese and Dutch and are working hard on including many others! We offer 24 paid plugins plus our PeepSo Free Foundation one. We've simplified it for those who just want the complete experience and you can now enjoy a single license key installation for all our plugins through our PeepSo Ultimate Bundle (an absolute favorite by most).
We have big plans for PeepSo. You can check them out on our PeepSo Future page. We welcome developers interested in collaborating on the creation of third party plugins for PeepSo. If you're a code-lover like us, visit PeepSo's Developer Group on our community for ideas about and to get involved!
Download PeepSo Today!
See for yourself. PeepSo Foundation is free. Give it a try! Just click the download button at the top of this page and get started. And if you're well on your way to setting up a mega-powerful community with all the bells and whistles, you might want to check out our super Ultimate Bundle Deal, which gives you access to everything we have on store and what's to come, at an insanely discounted price. We live for community. ❤︎
Have you found this article helpful? Share the love! Leave you comments below. What has your experience been with community building?
Don't have the Bundle but you would like to have access to all current and future plugins hassle-free?
Check our offer!
Ultimate Bundle – 1 Year
Get access to every single plugin and theme we have on offer.
1 year of free updates
1 year of 24/7 * Technical Support
1 year access to future plugins (if any)
Early Access Program
Our ❤
Ultimate Bundle – 5 Years
Pay 3 years, get 2 free
The best possible solution for a long-term plan community.
5 years of free updates
5 years of 24/7 * Technical Support
5 years access to future plugins (if any)
Early Access Program
Our ❤❤❤❤
---