It's a fantastic way to add the social spark to your store or create a store for Your Community. Either way, it's a win-win. It's a fantastic way to monetize your site. Is your community revolving around motorbikes? Why not sell them some gear. Gaming? Sell them games. Gardening? Sell them shovels. I mean, the world is your oyster and the sky is the limit. Unless your community is for travellers in which case you can even sell them hot-air balloon trips.
Build brand loyalty, keep your clients closer and create that unique atmosphere that makes them come back to your site, recommend your products to their friends and family.
Already got a community?
Fantastic! Now going back to the original point. Get selling, increase your revenue. With that you can ensure a steady stream of cash to keep Your Community happy.
Purchase Stream Posts
Beautifully displayed posts when users make a purchase.
Product Reviews Stream Posts
User reviews about products get added to activity stream.
Profiles Navigation
Seamless integration with user profiles for field management.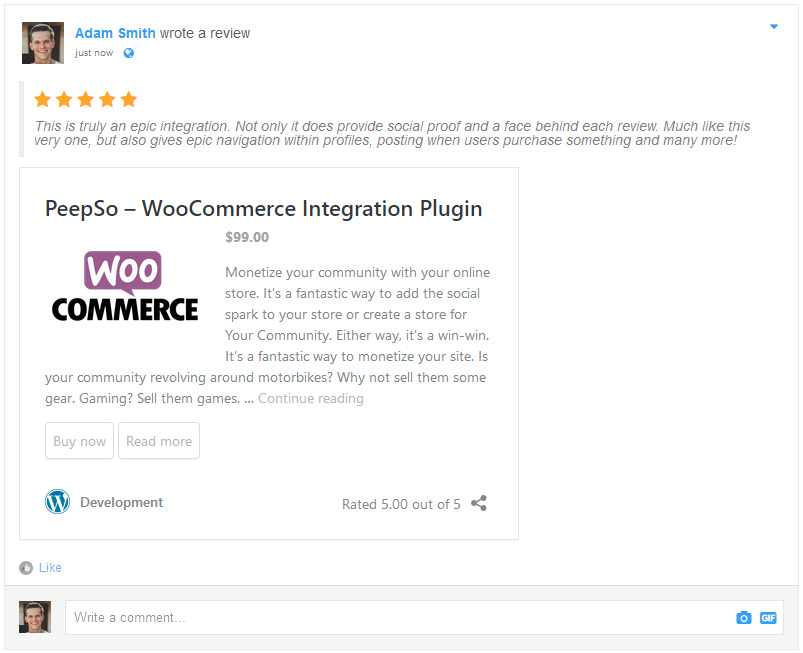 Cart integration
Cart experience integrated into user profiles.
Orders management
Full orders management, order history and downloads right in user profiles.
Easy setup
Works out of the box. Easy and quick to set up.
* Screenshots show PeepSo and some of its plugins like: Photos, Videos, Hashtags etc. with PeepSo Theme: Gecko. Screenshots are for presentation purposes and the outcome may vary with other themes, plugins installed and configuration selected.