The PeepSo – BadgeOS Integration is a 3rd Party plugin which brings a gamification system to PeepSo that awards achievement badges for community engagement.
The badges are displayed in users' profiles and a corresponding activity post is published on the PeepSo stream. Users who earn a badge will also receive a notification.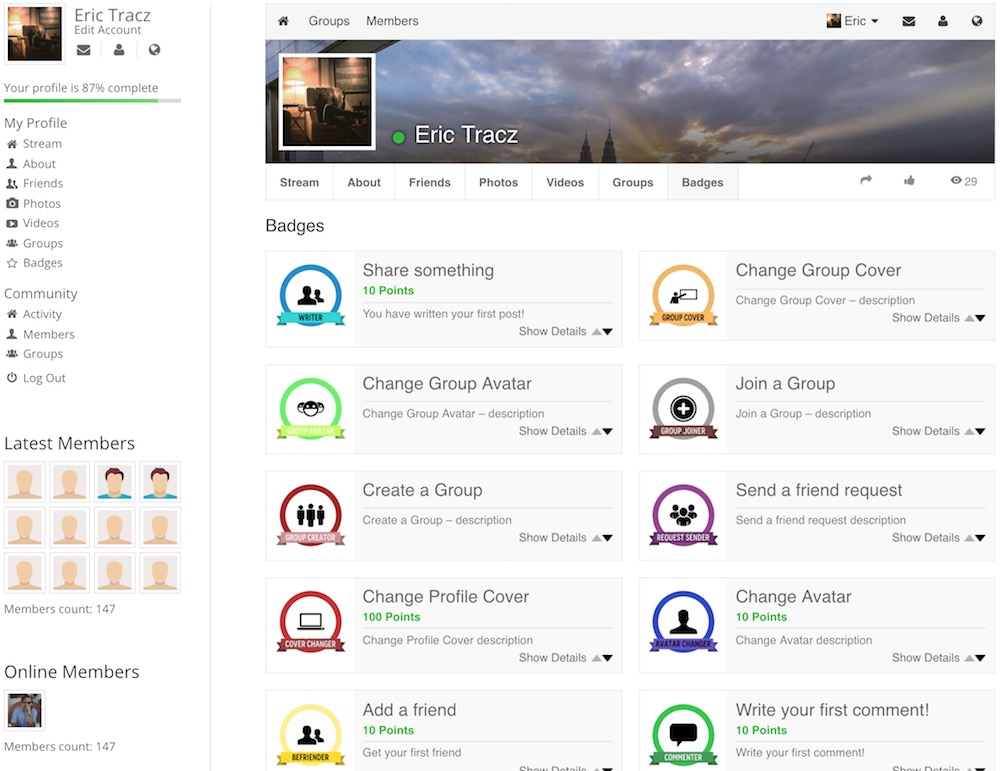 The Plugin not only displays badges for the default activities in BadgeOS. It also extends BadgeOS's possibilities by adding PeepSo Community Engagement Actions. Users can earn badges by performing activities in your community.
The actions that generate badges depend on the PeepSo plugins you have installed and activated. Available actions are divided into groups, with each group name corresponding to the PeepSo plugin needed:
PeepSo Core (free):
Admin Approves User Account
Change Profile Avatar
Change Profile Cover
Write a Post
Write a Comment
Send a Friend Request
Add a New Friend
Create a Group
Join a Group
Change Group Avatar
Change Group Cover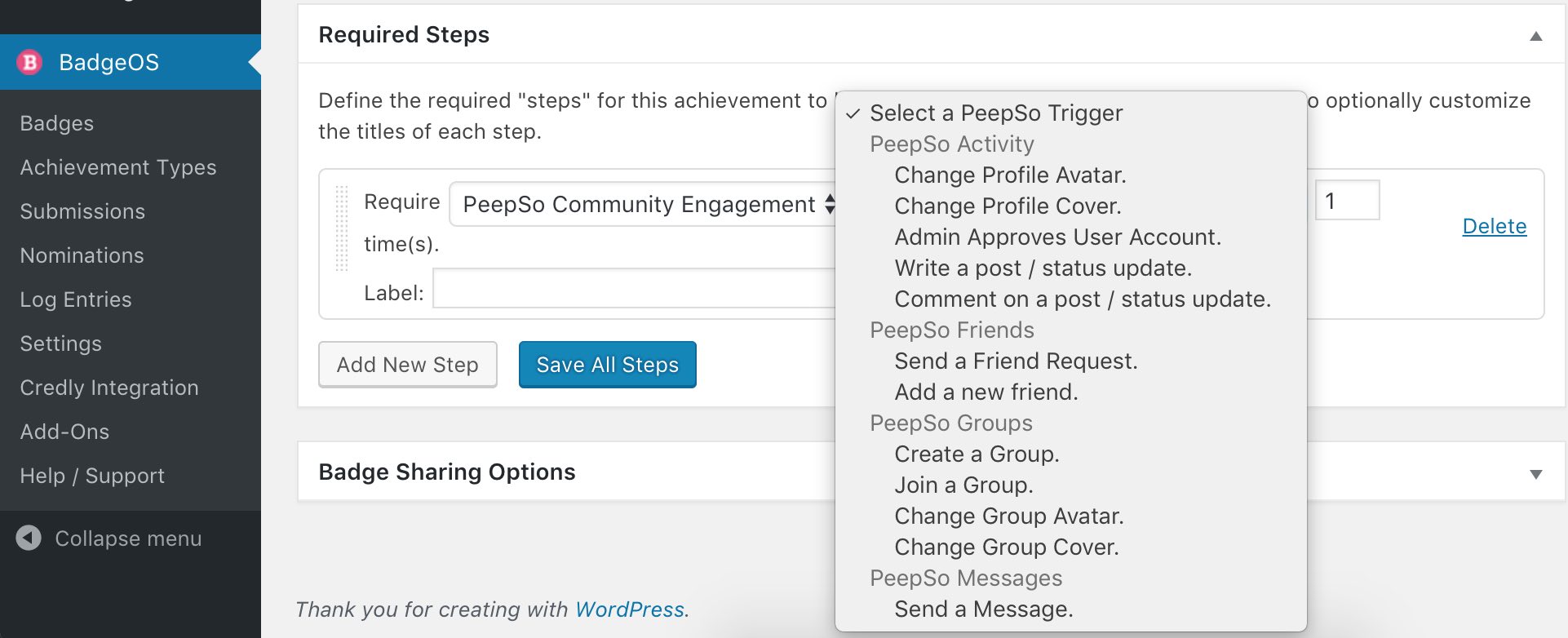 Front End:
User Profile and Navigation
The badges show in user profiles under the Badges submenu which is below the user profile cover. There are three menu items and three ways for users to view their badges:
Through a link on the PeepSo toolbar under Profile > Badges. (This link can be disabled in the back end.)
Through a link in the PeepSo Profile Widget > Badges. (This link can also be disabled in the back end.)
And through a link in the User Profile under the cover.

Activity Stream Posts
Whenever a user earns a badge, a corresponding post is created in the PeepSo community. It's like an announcement to the whole community that a user has just earned a badge.

Notifications
Users also receive a notification that lets them know they've earned a new badge. (We wanted to make sure they didn't miss it.)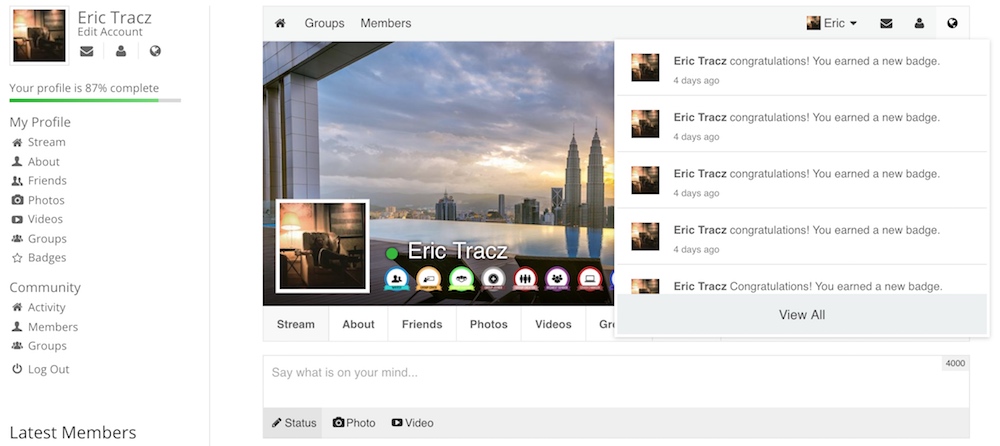 Back End Configuration:
These are the available settings in the backend of the PeepSo Config > BadgeOS tab:
Enable BadgeOS Integration.
Show 'Badges' link in the PeepSo Profile widget.
Show 'Badges' link in the PeepSo Profile menu.
Create posts when a user earns a new badge.
Display recent badges on the profile cover. (available from PeepSo 1.7.1)
Number of recent badges to display on the cover. (available from PeepSo 1.7.1)
Is It a Standalone Plugin?
The PeepSo – BadgeOS Integration is not a stand-alone plugin. For this plugin to work you must have the following FREE plugins installed and activated:
Installing those two plugins will give you access to the PeepSo Community Engagement Actions mentioned in the PeepSo Core section above. To enjoy all of the PeepSo Community Engagement Actions available, you will also need to install all of the following plugins:
Where To Find Badge Images
You'll want to use beautiful badge images to reward your members. Credly Badge Builder is a great place to start. It lets you create your own badges that you can download and use on your site. You can also order badges designed especially for your community. Check out this offer here.
Get PeepSo-BadgeOS
This plugin can be purchased from our Addons Page.
Comments? Questions?
Please leave them below.