PeepSo is now six months old! (Yeah, we partied.) And we wanted to reward our users.
It's been a busy time. We've had 15 new releases, over 6,000 downloads, over 600 active installs and one brand new plugin (more coming soon). We've also received a ton of great feedback from our early adopters which has really helped us to make PeepSo even better! You can see our full changelog here, and our roadmap here.
3 Premium Plugins Were Totally Free!
To celebrate our first six months in business, we released three of our premium plugins on WordPress.org. You could download them free of charge and tried out the features before you invested in PeepSo's full bundle. That was just $99.
Which Premium Plugins Were Free?
MoodSo – Share sixteen different moods on the news stream with cool emoticons.
LocSo – Share locations with a map. The map is generated automatically, displayed on the stream and tracks the user's location. It also works with the Messages plugin, allowing users to share their location on their messages.
TagSo – Tag friends and participants in a post to increase engagement.
How Could I Get These Free Plugins?
You could download the plugins from our website or install them through the WordPress backend. Administrator area > Plugins > Add New and in the search box look for "PeepSo".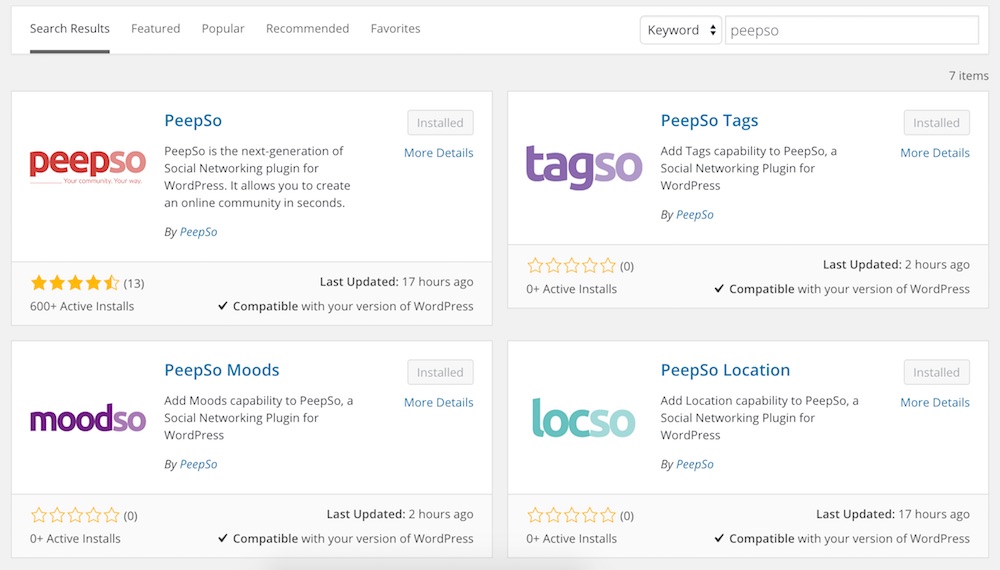 What If I Already Paid For These Plugins?
If you've already paid for these plugins with Bundle #2, you were entitled to three additional months on your bundle subscription. You could write to us and we would add the time to your license.
Migrate From BuddyPress Easily

If you're using BuddyPress and want to use something better, we offered a free migrator plugin. Within a few minutes (depending on the size of your community), you could move all of your information from BuddyPress to PeepSo in an elegant and seamless way. Read more about the BuddyPress to PeepSo migrator here.
Join Our PeepSo Community
To see how PeepSo looks and works in a real environment, check out our own community. It's already active with members asking questions, making suggestions and communicating—just like a community on your website can do. So go ahead, introduce yourself. We want to get to know you! Tell us who you are and what you need, and we'll be happy to reply. We answer all posts.
Take The Leap To PeepSo!
PeepSo has been getting raving reviews. It's a solid, well-written product with amazing and modern features that you and your members will love. Don't get stuck in the past!
Comments? Questions?
Please leave them below.