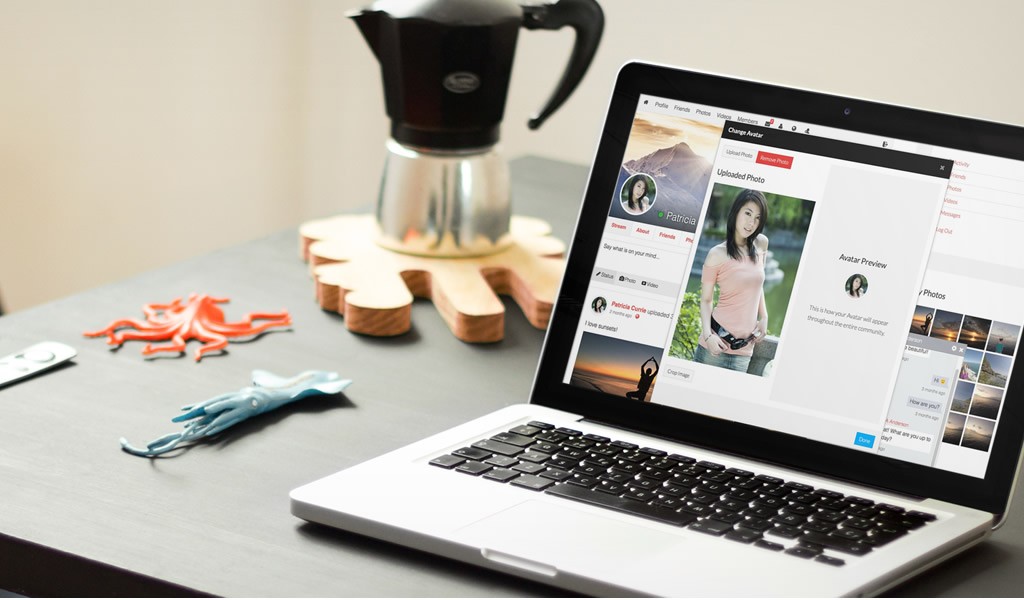 Ever wanted to create a social network that looks like Facebook, acts like Facebook but is all yours? Your community. Your topic. Your management.
Facebook is great, but it has its limits. Its privacy policies are questionable. Its usability is a mess and it doesn't let anyone focus on just one topic.
All the reason you need to create your own social network
There are a million reasons to build your own social network. Maybe you don't want to send your hard-won visitors to Facebook or Twitter.
Maybe you have a niche or a hobby and want to bring everybody together in one dedicated space.
Maybe you want your network to be completely private.
And maybe you just don't like Facebook. Lots of people don't.
Whatever your reason, there has never been an easier time to get a social network like Facebook up and running on your own site in a matter of minutes.
Build Your Own Social Network With An Open Source Content Management System
Using an Open Source CMS to create a social network like Facebook brings a whole bunch of benefits:
You get all the advantages of the CMS itself, from easy blogging to ecommerce.

Content management systems have strong communities that offer support and video tutorials.

A CMS lets you simply plug the social network application into your existing site.

Your social network will usually be a part of your site and not the only thing on it.

Complete integration: your social network will look like an integral part of your site.

Your visitors stay on your site instead of leaving for a stand-alone solution elsewhere.

The code is open and can be changed if needed.
In this blog post, we will focus on the two most popular content management systems: WordPress and Joomla!
Social Networking Applications For WordPress
WordPress is the most popular way to create websites today, and it comes with a few good options for creating a social network:
BuddyPress

– A bit old, clunky and outdated but wildly popular due to a lack of competition, at least until recently. BuddyPress is free.

PeepSo

– A lightweight social network plugin for WordPress. PeepSo has a limited number of features but it's slick, beautiful and looks set to grow. PeepSo core is free and offers seven paid plugins. [View demo]
Social Networking Applications For Joomla
Joomla is not as popular as WordPress but it's still a very good choice. Before the release of PeepSo and HaloSocial, it used to offer a much more advanced choice of social network add-ons than those available for WordPress.
Community Builder

– Similar to BuddyPress for WordPress. It's clunky, old, outdated and free.

JomSocial

– The most advanced social networking plugin for Joomla. It's been around since 2008, is well-known and wildly successful. Version 4, released a few months ago, really took the commercial application to the next level with a stunning design and hundreds of new features.
Stand Alone Social Networking Applications
If you decide not to go with WordPress or Joomla, you can find a few solutions that don't require any CMS. A CMS will always be better, but you can also play with these:
JomSocial.me – With just a few clicks, you get a full-fledged community along with advertising (inside the stream or outside it), eLearning, SEO and blogging.
Ning

.com

– Within minutes you can create a reasonable social network, hosted on Ning's servers. The pricing starts at $25/month for only 1,000 members and rises to $99/month for 100,000 users. A 14-day free trial can get you started. The design is a bit dull and outdated. Also, the code is not open and you won't be able to make changes or enhancements. You can view Ning's live community here.

Dolphin

– Lots of features and you get the source code when you buy. There's a one-time payment of $299 to $599 that gives you lifetime updates. You can also download it for free to give it a try. They'll even install it for you. Overall. it's not a bad solution, but you can't place it right inside your existing WordPress or Joomla site, a big thumbs-down. I wasn't able to find a live demo.
Lots of options to choose from! Most of these solutions have a free version, PeepSo included! Try PeepSo FREE today!
Get involved!
Join Our Community!
Join us to discuss PeepSo's features, connect with the development team and give suggesions.
Comments
No comments yet