Managing an online community requires you to handle many time-consuming tasks to manually manage administrative, marketing, and social elements to solve your community needs daily.
Fortunately, thanks to the AutomatorWP plugin, you can now automate much of those tasks to save time and money, putting your PeepSo community in autopilot with the addition that AutomatorWP not just lets you automate tasks, also brings you new ways to connect PeepSo with other plugins or external web services to get your online community to the next level.
How automation and AutomatorWP can help you and why
Automation comes to make your life easier: you could convert manual processes into automatic ones and save time to do other stuff for your project. If your web is based in WordPress CMS, now you can implement automation flows in WordPress with AutomatorWP. Let's see what processes are waiting for you:
Create custom workflows to engage your users and how they use your site.
Boost your time efficiency, creating automated tasks.
Connect actions between plugins and work together to improve your site engagement and forget about developing custom solutions for new features.
Connect your web with the world. With Webhooks Add-on, you will be able to communicate with a thousand API services through tools like Zapier, Integromat, or IFTTT.
AutomatorWP team believes in no-code tools, so all these features were designed to get fully functional site automation without writing code.
Automate PeepSo with AutomatorWP
With AutomatorWP, you will be able to create "automations" or "recipes". These artifacts are composed of two parts: a trigger, which is the element that launches the flow, and the action or actions, which is the "what do you do" component.
This kind of setups lets you configure flows like "When a user purchases an Easy Digital Download Product, add a tag on WPFusion for marketing funnels" or, for an online community, you can configure something like "When creates a group on PeepSo, enroll him on a LearnDash course".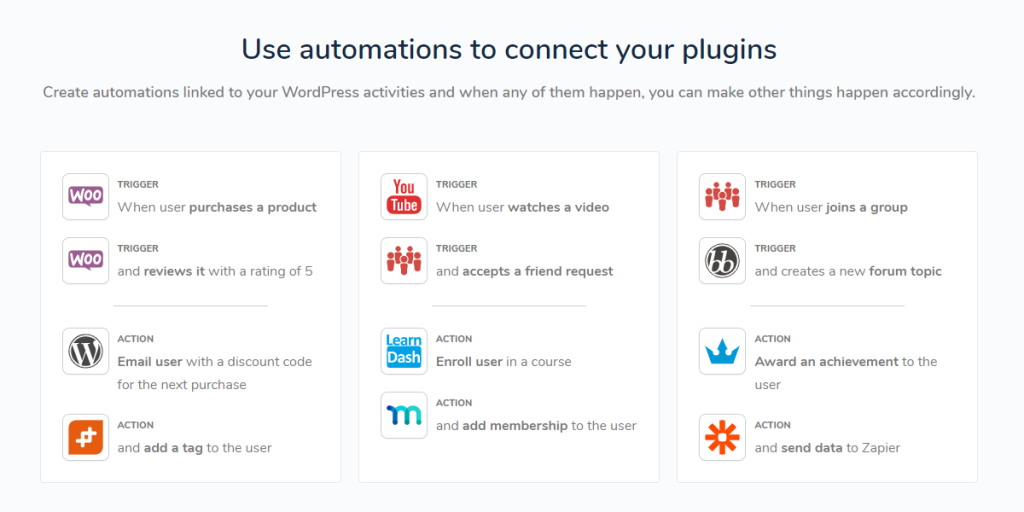 This is just the beginning because, in each automation, you can add as many triggers or actions as you want for that AutomatorWP offers unlimited possibilities.
And it is only one example. In each automation, you could add as many triggers or actions as you need for your daily flows and funnels, and with AutomatorWP, you will get things done.
Getting started with AutomatorWP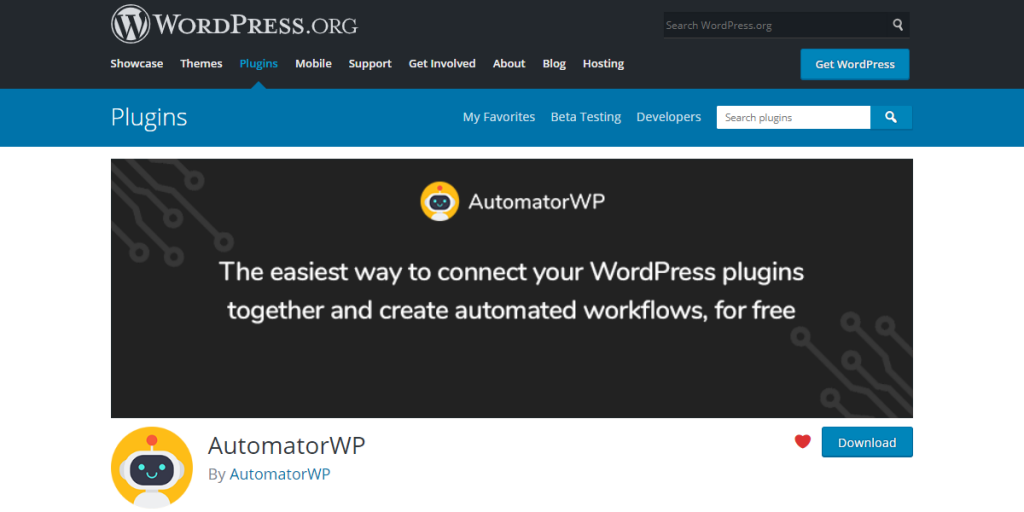 It is too simple installing the AutomatorWP plugin. Just search on plugins WordPress repository bar and type "AutomatorWP". You will see our plugin at the beginning of that page. Just click "install" and "activate".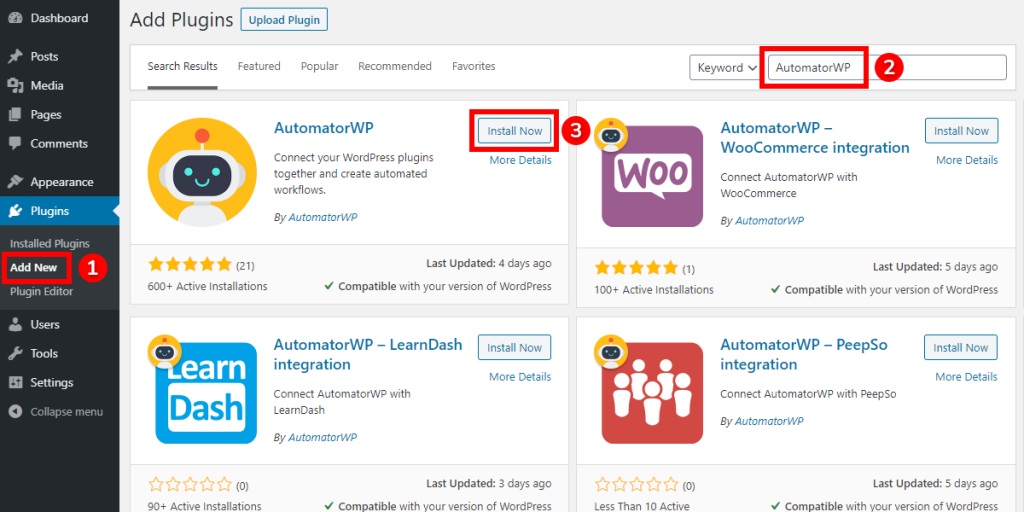 If you have searched for "AutomatorWP" in plugins area, probably you had seen the whole list of integrations that plugin offers. There is a lot, and also the team is waiting for more suggestions.
Once you have installed AutomatorWP, you will also need to do the same with "AutomatorWP – PeepSo integration", an add-on that adds custom triggers and actions from PeepSo plugin.
Now you are ready to start making effortless automation and build your first automation test.
Connect PeepSo with external services like Zapier or IFTTT
One of the most exciting things that AutomatorWP plugin offers is that you could connect any service you imagine with your site, thanks to Webhooks add-on. With it, you will be able to handle webhooks on WordPress. It allows you to connect web services like Zapier, IFTTT, Integromat, Mautic, or HubSpot and even with other WordPress sites with this extension.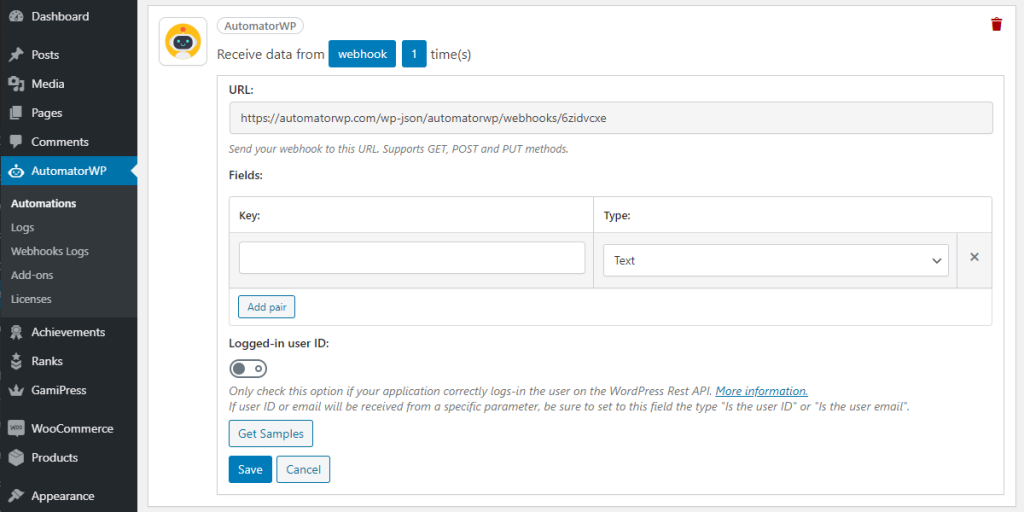 For example, you could set a trigger as "When a user joins a specific group on PeepSo" and established as an action to "Send a webhook to Zapier" to inform to Zapier of every user that joins a specific group, next on Zapier, you can extend this automation to "update a Google Sheets row with the user information" or "Send a notification to a specific Slack channel".
The Webhooks add-on possibilities are unlimited since it opens your community to the world, letting you connect any platform of your choice with PeepSo, and you can get a more closed idea of those possibilities by checking more automation samples.
Final Words
AutomatorWP is an excellent and robust solution for boosting your site. You will access n a vast world of options. Be open-minded and expand your imagination even if you do not code. AutomatorWP offers an incredible amount of plugins and integrations free, and you could create complex automation without spending a cent. Save time and money and stay focused on your most important work.
Since it's free, it's worth a try as it marks a new era in the entire WordPress ecosystem, and it can benefit you enormously by helping you with the tasks of managing a PeepSo online community.
Don't have the Bundle but you would like to have access to all current and future plugins hassle-free?
Check our offer!
---