Updating a free plugin is a very straightforward action in WordPress, but adding the paid add-ons into the mix can sometimes cause unnecessary headaches. In this blog post, I will touch every common mishap or issue you may face when updating paid add-ons and by the end of it, offer you plenty of useful information to take away. It will be a long read so grab a cup of coffee or your favorite tea, sit back, and let's begin.
Versioning
Free PeepSo Foundation plugin uses three number versioning logic (eg: 2.7.1) where the first number is Major version number, the second is build number, and the third is patch number. Paid add-ons also follow this convention and will always have the same version as the free Foundation plugin.
This is necessary to prevent versioning confusion that would inevitably occur if every paid add-on was to have its own, separate version number. Just imagine the mess we would end up if Photos plugin version 1.4.7 is only compatible with PeepSo 1.5.2 and Videos plugin version 2.1.5 is only compatible with PeepSo 2.6.3; it would be a nightmare to follow, maintain, and it would be hard for everyone.
Hence we applied the simple solution. Every paid add-on version is only compatible with free Foundation plugin of the same version.
Gecko Theme is slightly different but follows the same principle, although it uses four (4) numbers version schema.
For instance, Gecko Theme version 2.7.1.0 is only compatible with PeepSo 2.7.1
The fourth number in Gecko Theme version is just a patch number. First three numbers should always be the same as the PeepSo version you are currently using.
Update Sources
Free Foundation plugin is updated through built-in WordPress update mechanisms. The update files are stored and retrieved from the WordPress plugin repository.
Paid add-ons and Gecko Theme are updated through mechanisms on PeepSo website. The update files are stored and retrieved from the PeepSo website.
Version Mismatch Lock
Having two separate update sources allows for making a very common mistake of updating Free Foundation plugin to the next available version, while leaving paid add-ons to linger in the previous version installed on the site. If this is the case, you will see the error as shown in the screenshot below: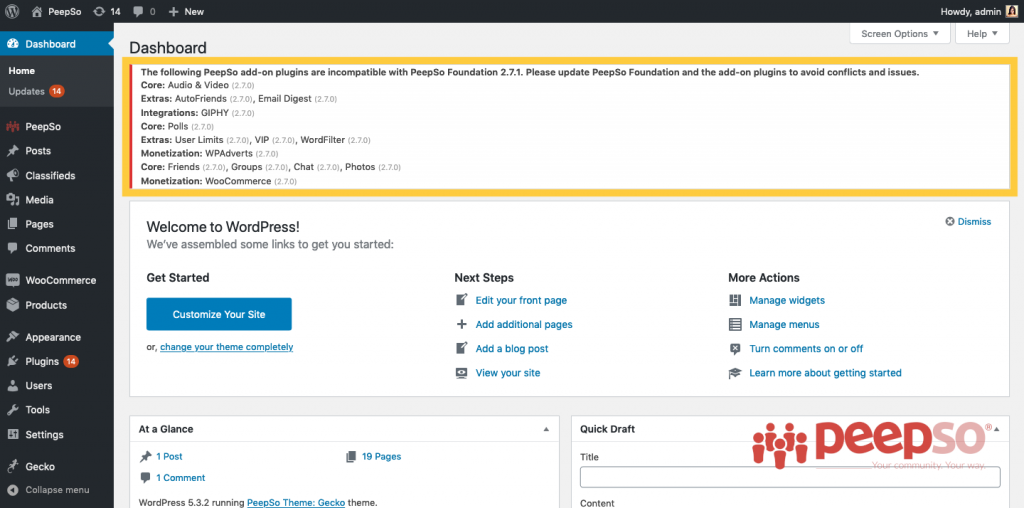 What this error tries to convey is that paid add-ons are not on the same version as Free Foundation plugin and they have entered the so called "version mismatch". Plugins (and Gecko Theme, if applicable) in version mismatch will still be installed and enabled on the site, but most of their functionality will cease to work. In simple terms, you won't be able to use them. Their configuration will not show on the backend, and features will not be available on the frontend.
Paid Add-on Updates Are Not Available
Sometimes you won't be able to immediately see updates for paid add-ons. Because we use two different update sources, a short disparity will happen until WordPress update mechanics sync up. Usually, free Foundation plugin will be available immediately, however paid add-on updates can take up to several hours to show up. If this is the case, the simplest possible solution is to just wait until all updates for paid add-ons are available.
If updates for paid add-ons do not show after 12 hours, here is what you can try. Install and activate the Transients Manager Plugin. Transients are API that allow developers to store timely information in the database, and sometimes they can get stuck.
Navigate to your WP Admin -> Tools -> Transients and press the button "Delete All Transients". Have no worries. WordPress will immediately generate new transients so you can never really see the list of transients being empty. With newly generated transients, navigate to WP Admin -> Dashboard -> Updates and press the button "Check Again". Updates for paid add-ons should now be available.
If updates are still not available, there are several possible reasons why this might happen
Can't Wait! Need Updates Now!
If your license is active, there is a simple, but relatively time consuming solution which can be done in less than 20 minutes. You can actually update all plugins manually. Before continuing, make sure you have the full working backup of the site.
After you have created the backup of the site and made absolutely sure that the backup is working, go to My Downloads page and download all PeepSo plugins again. Navigate to WP Admin -> PeepSo -> Configuration -> Advanced. Disable the following options if they aren't already disabled, see screenshot below.
Delete Post and Comment data
Delete all data and settings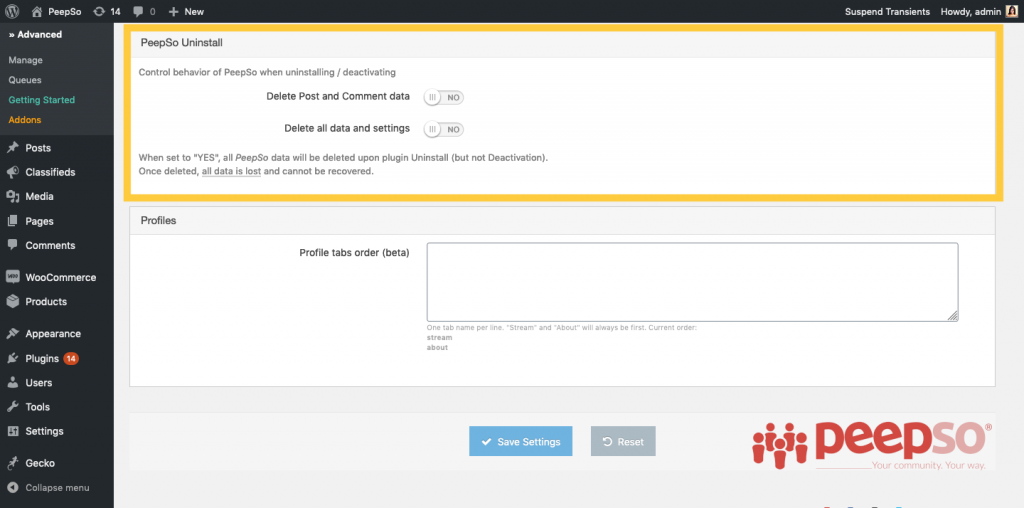 Disabling these two options will ensure that all your PeepSo data will be preserved even if you completely uninstall and remove plugins – which we are about to do.
Go to WP Admin -> Plugins and deactivate all PeepSo plugins, then delete them. Now install all PeepSo plugins back and activate them. You should now have completely updated PeepSo paid add-ons.
How To Manually Update Gecko Theme
The only manual method of updating Themes in WordPress ecosystem is by replacing the files through FTP. You can download the theme, unzip the downloaded packages and then replace the files through FTP client. However, we don't advise you to do this without the proper site backup, nor without having solid knowledge of what you're doing. In any case, it is always a better and safer option to contact our support so we can investigate what went wrong with the update.
Don't have the Bundle but you would like to have access to all current and future plugins hassle-free?
Check our offer!
---