WordPress 5.8 pushes further the idea of blocks, this time replacing the old Widgets manager with a block editor. Here's what you should know about it in general and in the context of PeepSo.
Introduction
WordPress introduced the concept of block editing back in version 5.0, at first limited to the post editor. But their plan has always been to slowly replace everything in WordPress with blocks, and the time now has come for the widget areas.
WordPress 5.8 introduces a new block-based widgets editor to the Widgets screen (Appearance → Widgets) and Customizer (Appearance → Customize → Widgets). The new editor allows users to add blocks to their widget areas using the familiar block editor interface introduced in WordPress 5.0. This gives users powerful new ways to customize their sites using the rich library of core and third party blocks. Existing widgets and third party widgets will continue to work and can be used alongside blocks.

Robert Anderson – Block-based Widgets Editor in WordPress 5.8
Essentially the new system allows the usage of blocks in widget areas and adds live preview of blocks and widgets immediately in Appearance & Customize Widgets areas. As much as it's a nice idea, it does come with some typical WordPress infancy issues, which I am going to cover next.
Opting out
Not interested in the block editor at all, but want to use WordPress 5.8? Simply install and activate the official Classic Widgets plugin. This will get rid of the block editor and you will be able to use the one you have been used to all this time. In this case, you don't need to read the rest of the blog post 🙂
Compatibility
In general, all developers have to ensure the compatibility of their widgets act under the new system. As usual, the PeepSo team has tested our product extensively ever since the first WordPress 5.8 beta came out.
For example, all the PeepSo member widgets completely stopped working in the preview context, and the Gecko options and colors were ignored. This did not affect the functioning of the websites however – only looked ugly in the backend.
PeepSo widgets
PeepSo 3.6.0.0 (due July 21st) deals with all these issues to the extent that the existing system allows. We were able to fix the functioning and styling of our widgets in the block editor without major issues. All the bugs found were related exclusively to the previews, and were not impacting the actual functioning of the front-end.
Gecko options in widgets
Unfortunately, Gecko options aren't easy to apply to the previews, as the preview engine simply lacks sufficient hooks to modify the preview output. So, for now Gecko options will apply do widget previews only on our own widgets, and will not be applied to third party widgets. This does not affect the front-end functionality – all widgets (both third party and PeepSo) will render properly in WordPress 5.8.
Gecko options and blocks
The Gecko Theme is unable to apply any special options to blocks at the moment. We will be researching what (if anything) is possible and providing feedback to the WordPress team if necessary. Based on our experience with the rollout of Gutenberg, we can count on slow yet steady rollout of improvements from the WordPress developers.
Other developers and WordPress 5.8
We prepared PeepSo for WordPress 5.8 ahead of schedule, but unfortunately we can't count on the majority of WordPress plugin and theme developers to take a similar proactive stance. Instead, they will rather react to bug reports as they come in.
It's always highly recommend to test any upgrades on a staging site, but especially something of this magnitude. Other plugins might not be as lucky as us and actually break in the front-end under the new system. We expect this to be a somewhat lengthy transition period.
Summary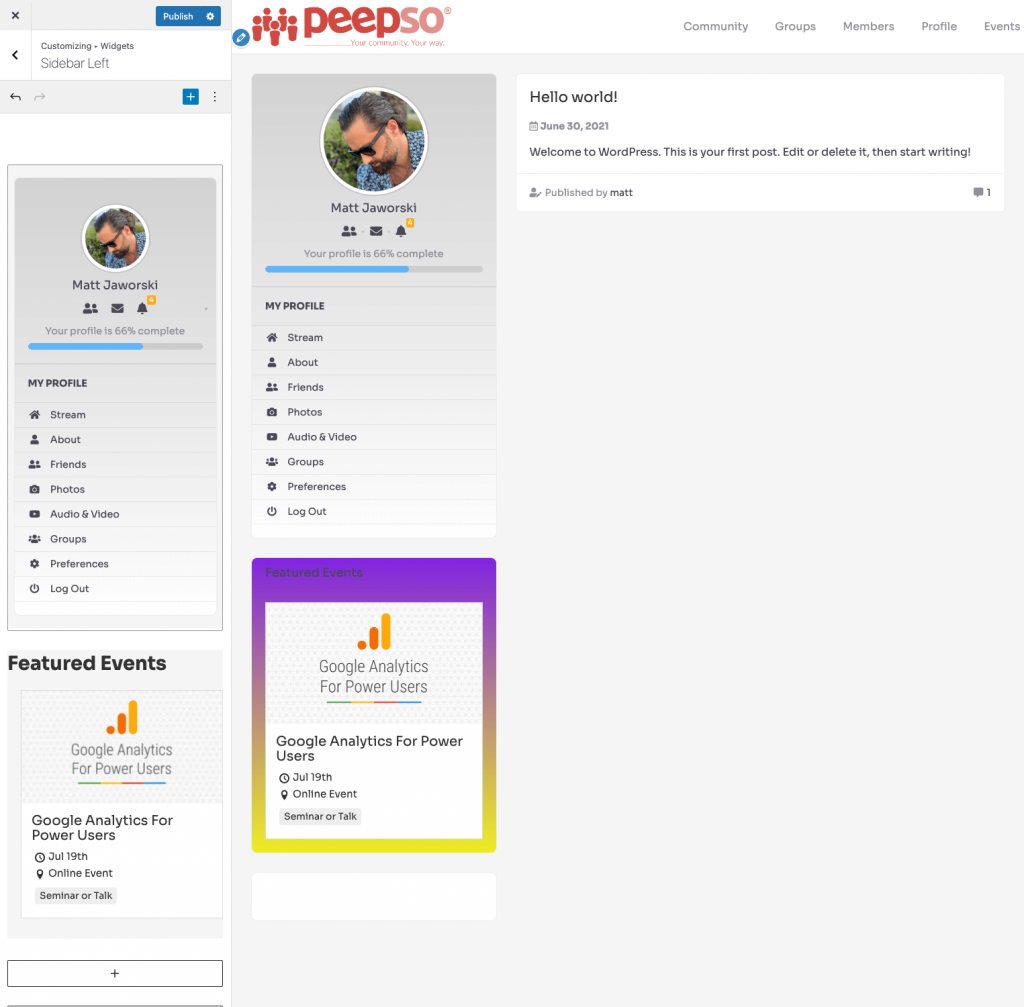 As far as PeepSo is concerned, starting with version 3.6 all PeepSo widgets will work fine under WordPress 5.8, just as they used to.
Live preview does not extend to Gecko options on third party widgets, but the front-end works just fine. This will remain an open issue until WordPress provides us with proper hooks to modify the preview output.
Gecko does not touch blocks at all, so you won't be able to use any Gecko options on blocks. We will know whether something can be done about it once WordPress 5.8 is better established and documented.
The compatibility of third party developers with WordPress 5.8 is a big unknown but we expect at least a few months before the major players catch up, longer for smaller / badly managed projects.
You are encouraged to test this major update of WordPress thoroughly on a staging copy of your site.
Don't have the Bundle but you would like to have access to all current and future plugins hassle-free?
Check our offer!
Ultimate Bundle – 1 Year
Get access to every single plugin and theme we have on offer.
1 year of free updates
1 year of 24/7 * Technical Support
1 year access to future plugins (if any)
Early Access Program
Our ❤
---