WordPress 5.8. Post backgrounds. Social Login with customizable colors, order and eight new providers.
Watch the release video
WordPress 5.8
The recently released WordPress 5.8 introduces a block-based widgets editor. We have released a more detailed article about it, and I encourage you to read it. As far as PeepSo is concerned, starting with version 3.6.0.0 all PeepSo widgets work fine under WordPress 5.8, just as they used to.
Gecko options do not apply to live preview of third party widgets, but the front-end will work. We won't be able to improve that until WordPress adds proper hooks to change the preview output.
Gecko does not have block options at all – you won't be able to use any Gecko options on blocks. Once the new WordPress is better established and documented, we will research if and what can be done in this area.
Please remember to always test major updates thoroughly on a staging copy of your site.
As usual, it's better to assume third party developers probably did not prepare for WordPress 5.8 ahead of schedule.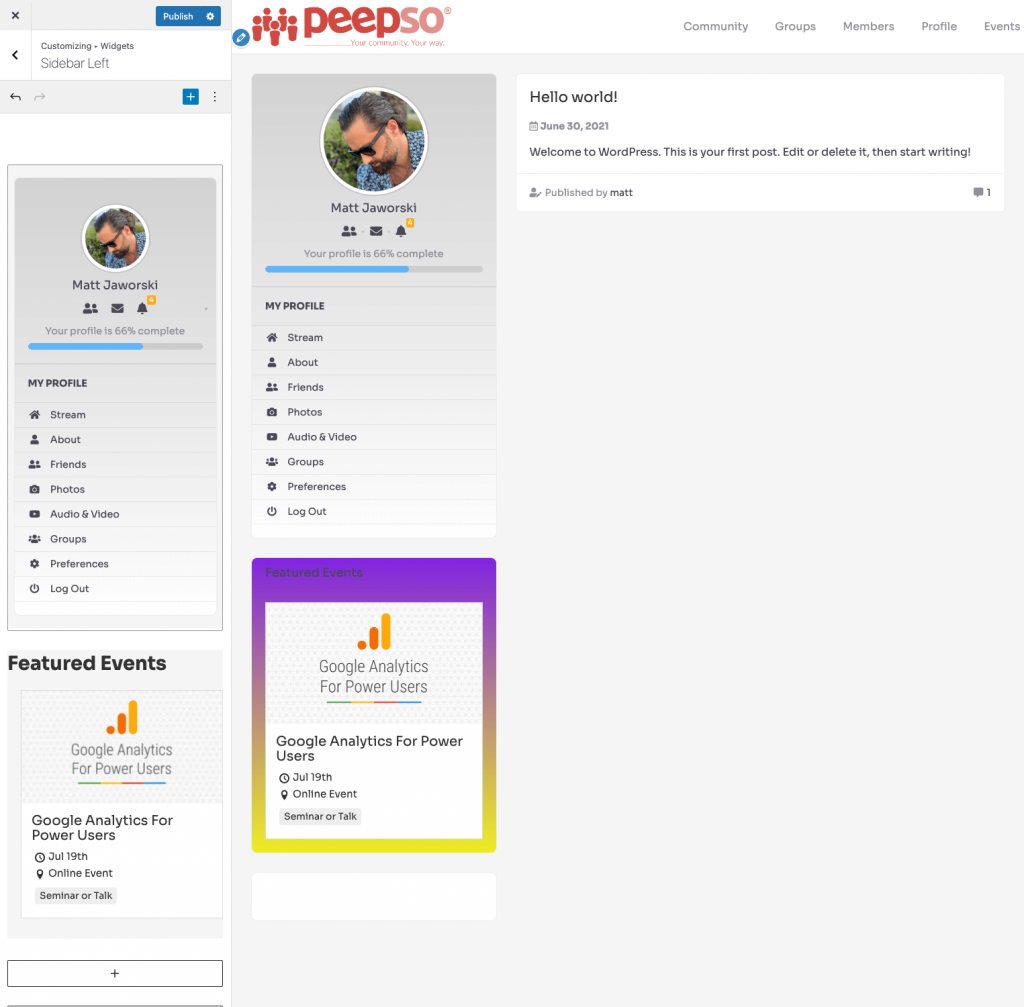 Social Login
We have added eight new providers to the Social Login And Invitations plugin: Amazon, BitBucket, Dropbox, GitLab, Slack, Strava, Telegram and Twitch.
The administrator is now able to reorder the providers to their liking and change the icons color and background. There is also a new mouse-over tooltip over the icons in the front-end showing the visitors a full provider name when hovering over the logo.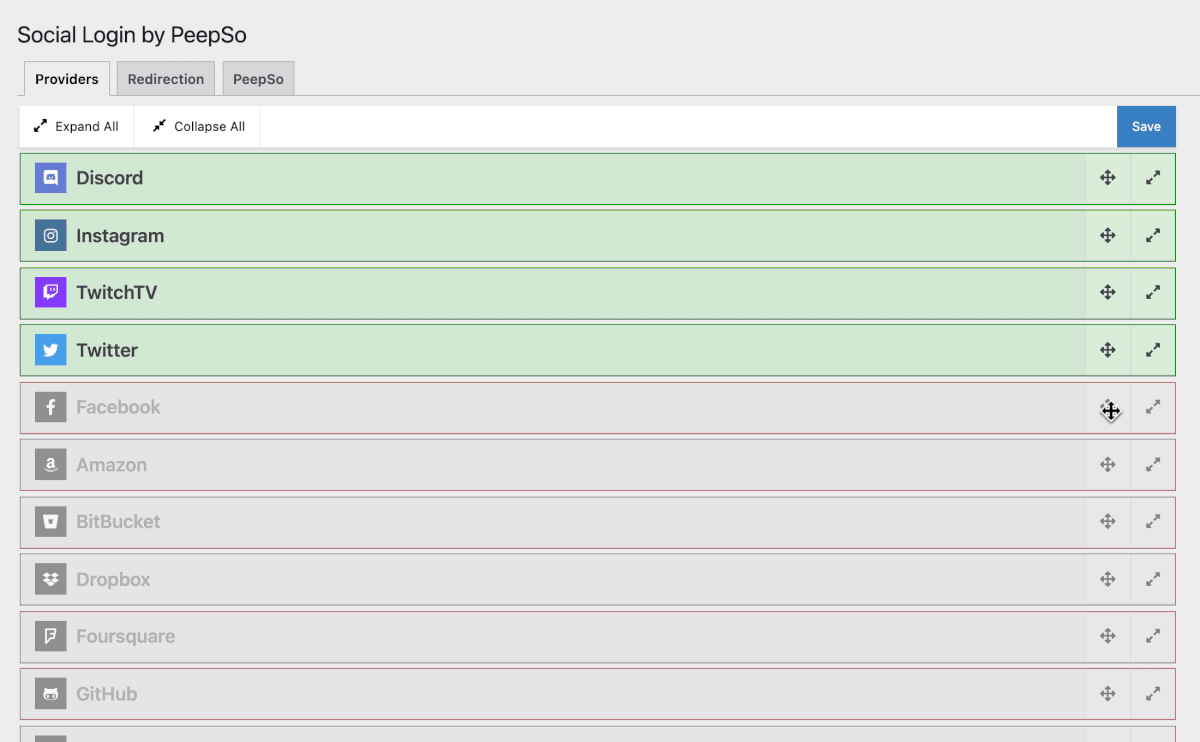 Post backgrounds
Previously an Early Access feature, the Post backgrounds are now a part of PeepSo Foundation. The feature is still in beta, as it requires some further refinement and testing.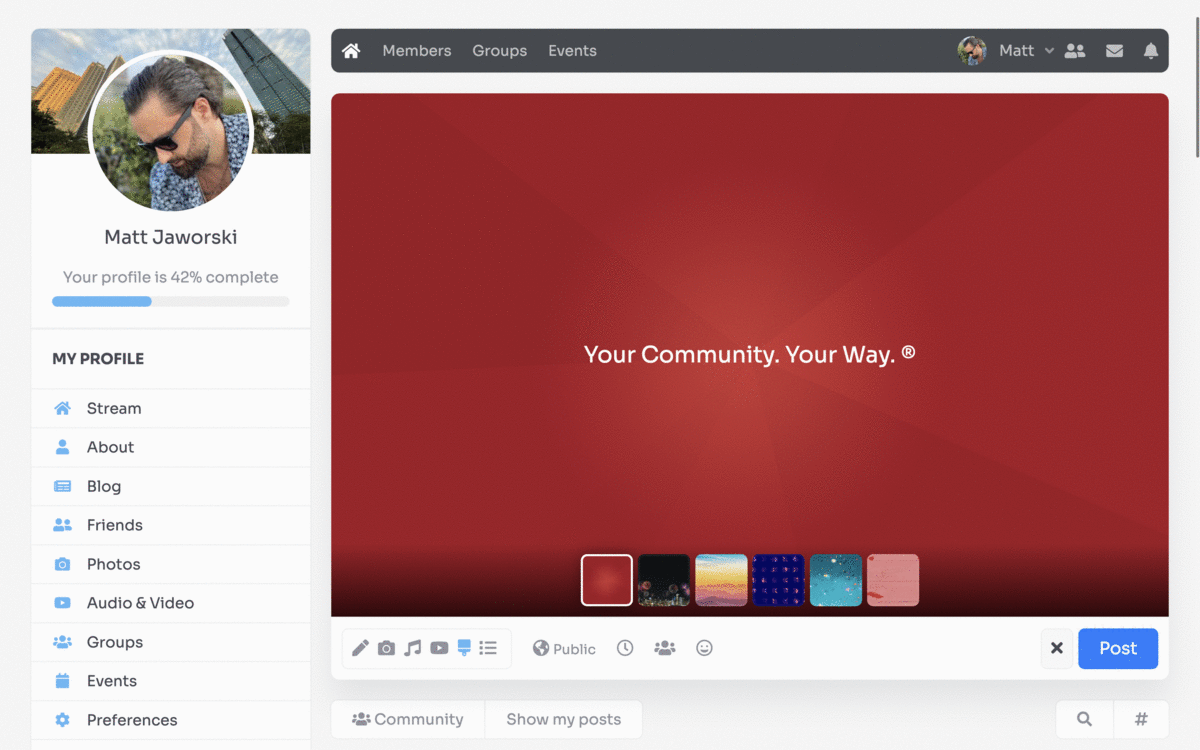 Other improvements
You are now able to set separate User Limits for video uploads, video linking, audio uploads and audio linking. This gives you more granular control over permissions related to multimedia. We have also added media titles to the profile and group listings.
PeepSo will now accept WEBP image uploads, but they will be converted to JPG anyway, as this is for now our standard procedure with avatars, covers and photos.
The PeepSo widget position (used to render some widgets in the user profiles) is now deprecated. We have added a configuration switch to turn it back on, but you are encouraged to move your widgets to other areas, as the PeepSo widget area has been rendered obsolete with the adoption of Gecko theme and the rollout of block-based widgets editor. We will completely remove this position in one of the next major releases.
Early Access
The Early Access plugin allows the Ultimate Bundle holders to download beta versions of new plugins and access experimental "future features". Join the Early Access group for more information!
WP Event Manager
The WP Event Manager integration has been extended with on-site notifications for the event owners whenever someone joins their event. The integration is currently still in Beta.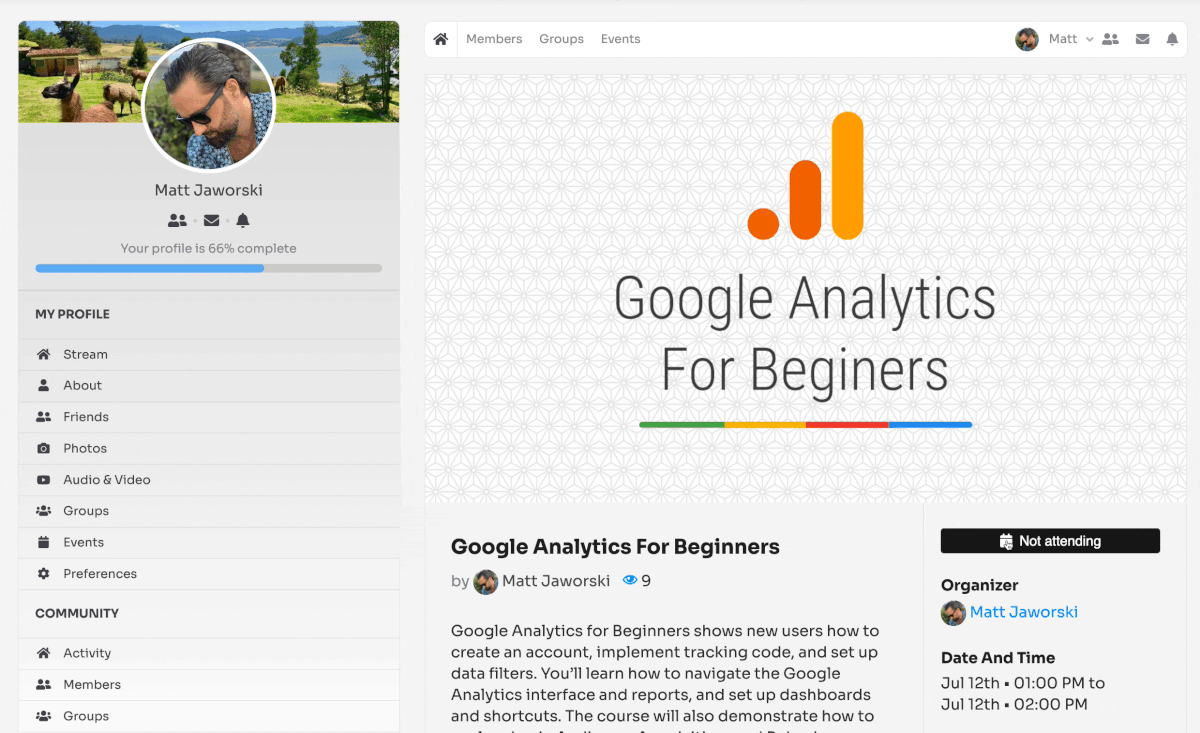 Don't have the Bundle but you would like to have access to all current and future plugins hassle-free?
Check our offer!
Ultimate Bundle – 1 Year
Get access to every single plugin and theme we have on offer.
1 year of free updates
1 year of 24/7 * Technical Support
1 year access to future plugins (if any)
Early Access Program
Our ❤
Ultimate Bundle – 5 Years
Pay 3 years, get 2 free
The best possible solution for a long-term plan community.
5 years of free updates
5 years of 24/7 * Technical Support
5 years access to future plugins (if any)
Early Access Program
Our ❤❤❤❤
---