A new release a day before Valentines Day! Just because we ♥ you! And with this release you can help your community make all the necessary purchases from your WooCommerce store. Oh yea, PeepSo 1.9.5 comes with the much awaited WooCommerce Integration plugin.
PeepSo – WooCommerce Integration Plugin
It's a fantastic way to add the social spark to your store or create a store for Your Community. Either way, it's a win-win. It's a fantastic way to monetize your site. Is your community revolving around motorbikes? Why not sell them some gear. Gaming? Sell them games. Gardening? Sell them shovels. I mean, the world is your oyster and the sky is the limit. Unless your community is for travelers in which case you can even sell them hot-air balloon trips.
But let's get to it, shall we?
Activity Stream
We're starting with two main activities that users can do in a store. That is actually buying something and leaving a review of a product. There are two settings added to User Profile > Preferences > Activity Settings section. Both are ENABLED by default so make sure to announce that to Your Community that whenever they make a purchase, there will be a corresponding post created on stream.
Purchase Post
The post that is created upon purchase looks, works and behaves perfectly with PeepSo stream. It uses WordPress embeds. It takes the WooCommerce product right from your store and showcases it beautifully within the post. When just one item is purchased it just embeds that one. When more than one are purchased at the same time, they are shown in a slider which can be navigated easily.
Why? Because if I see that my friend has purchased something, i might want that too! And that's the point. The biggest advantage of using embedded products is that it's really easy to just buy that product. It's that social proof that gets you the sale. The phrase: made a purchase can be adjusted in the integrations configuration in the backend of your site: PeepSo > Configuration > WooCommerce.
Review Post
Since only one review can be made at a time, each post can contain just one. Just like with a purchase post, it embeds the WooCommerce product right from your store. Above that we'll have the full text of the review and a the 1-5 number rating from WooCommerce is translated to stars. The phrase: wrote a review can be adjusted in the integrations configuration in the backend of your site: PeepSo > Configuration > WooCommerce.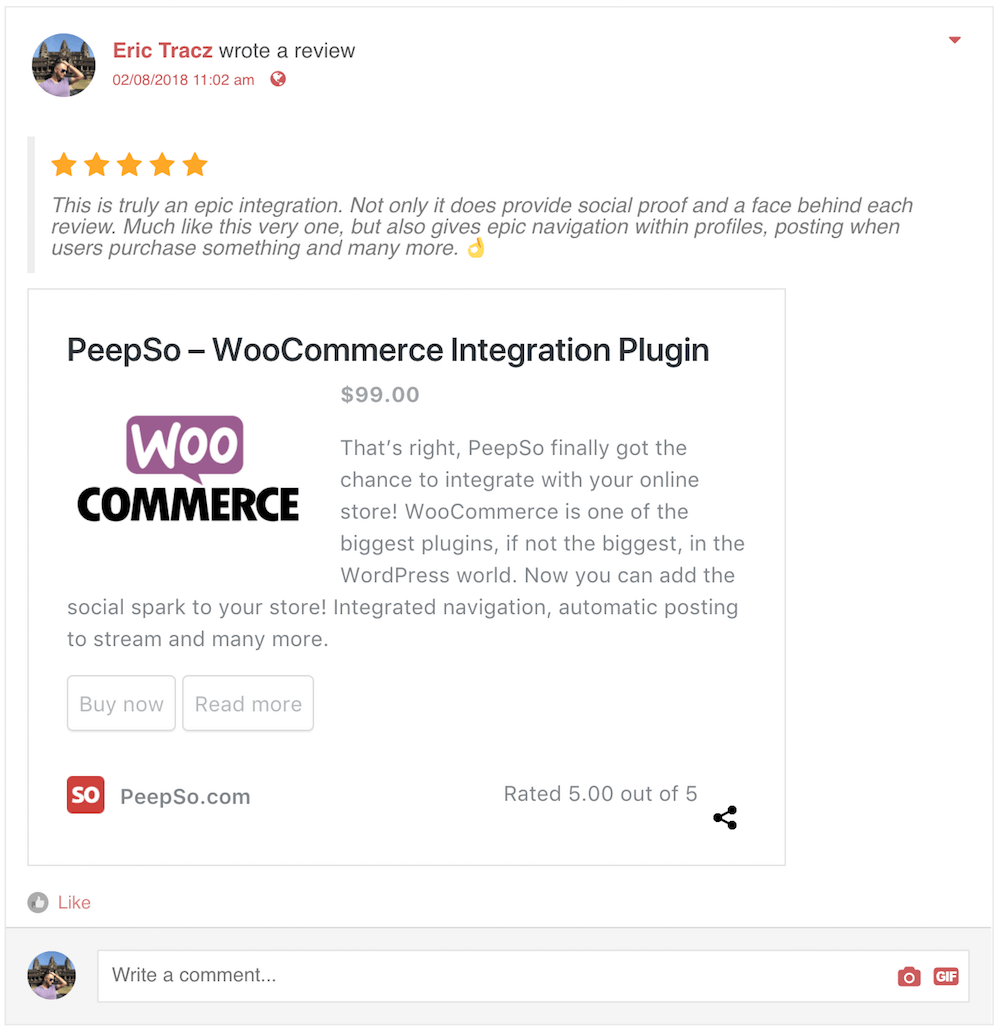 User Profiles
Welcome to unified shopping experience where users, except when visiting the store, don't have to leave the social aspect of your site. Store navigation has been added to User Profiles in PeepSo. Orders and Cart menus are available in PeepSo Profile Widget as well as in the dropdown on PeepSo Toolbar.
Addresses
Users can set their shipping and billing addresses right in their profiles in PeepSo. When you go to profile > About you'll see that there's a new tab called Addresses.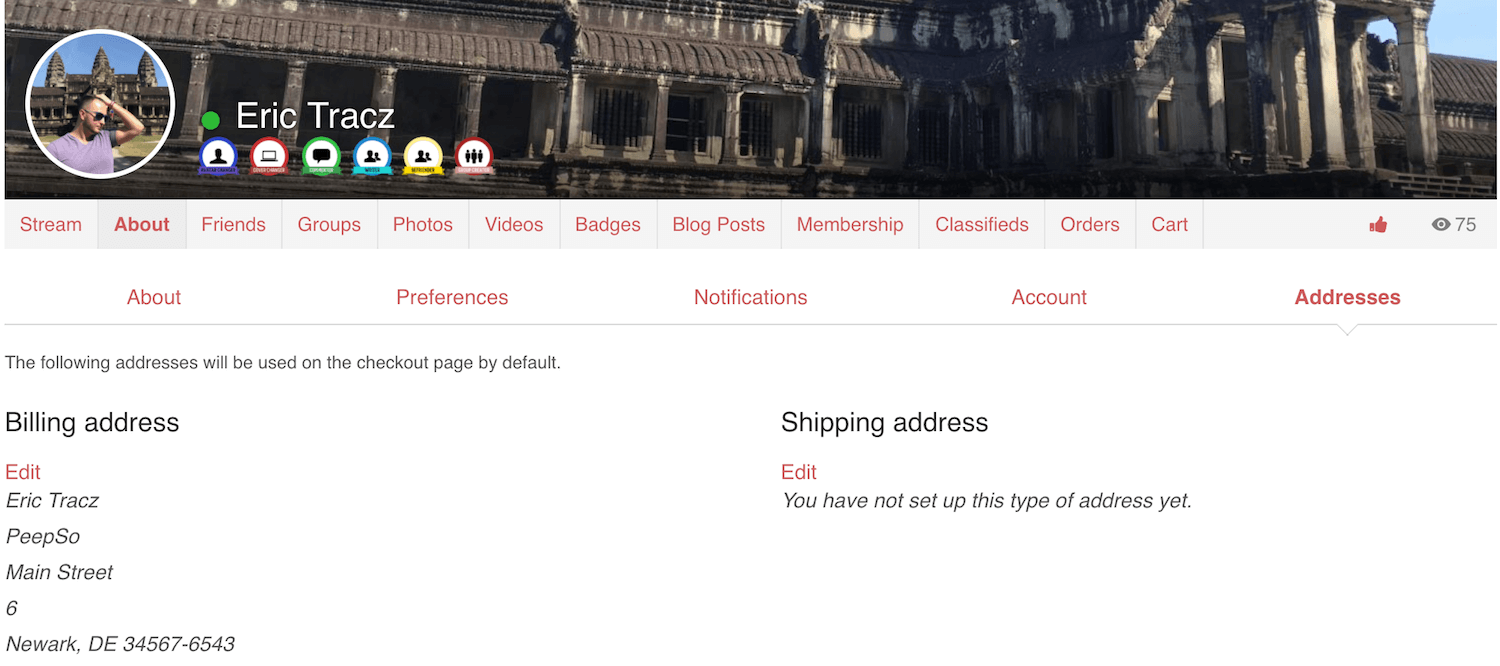 Orders
Orders are a bit more complex than that, since this is one of the most important aspects of the shopping experience. That's one of the reasons they are put in a separate tab in profiles. Orders come with three views, those are: Orders, Order Tracking and Downloads (if you're selling digital goods).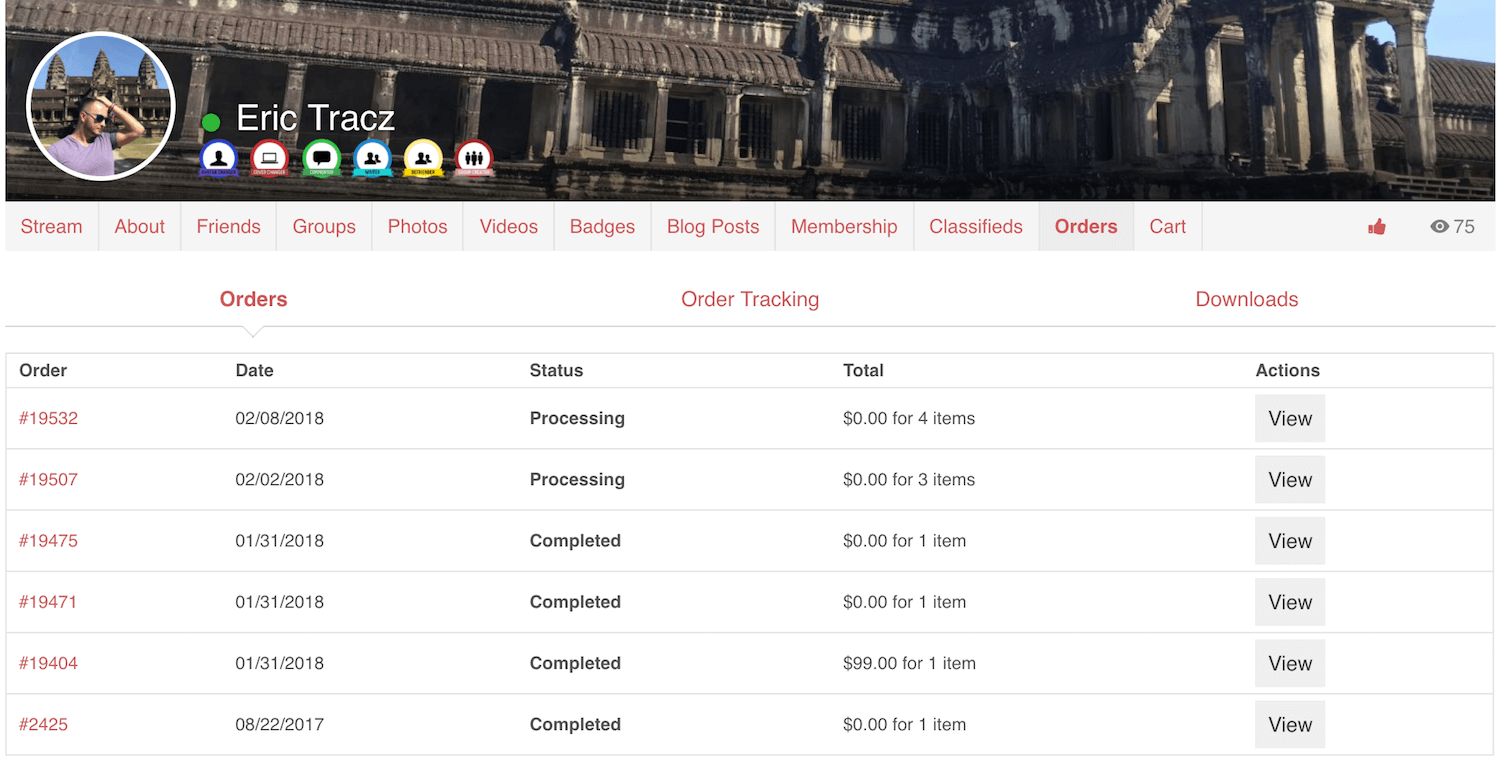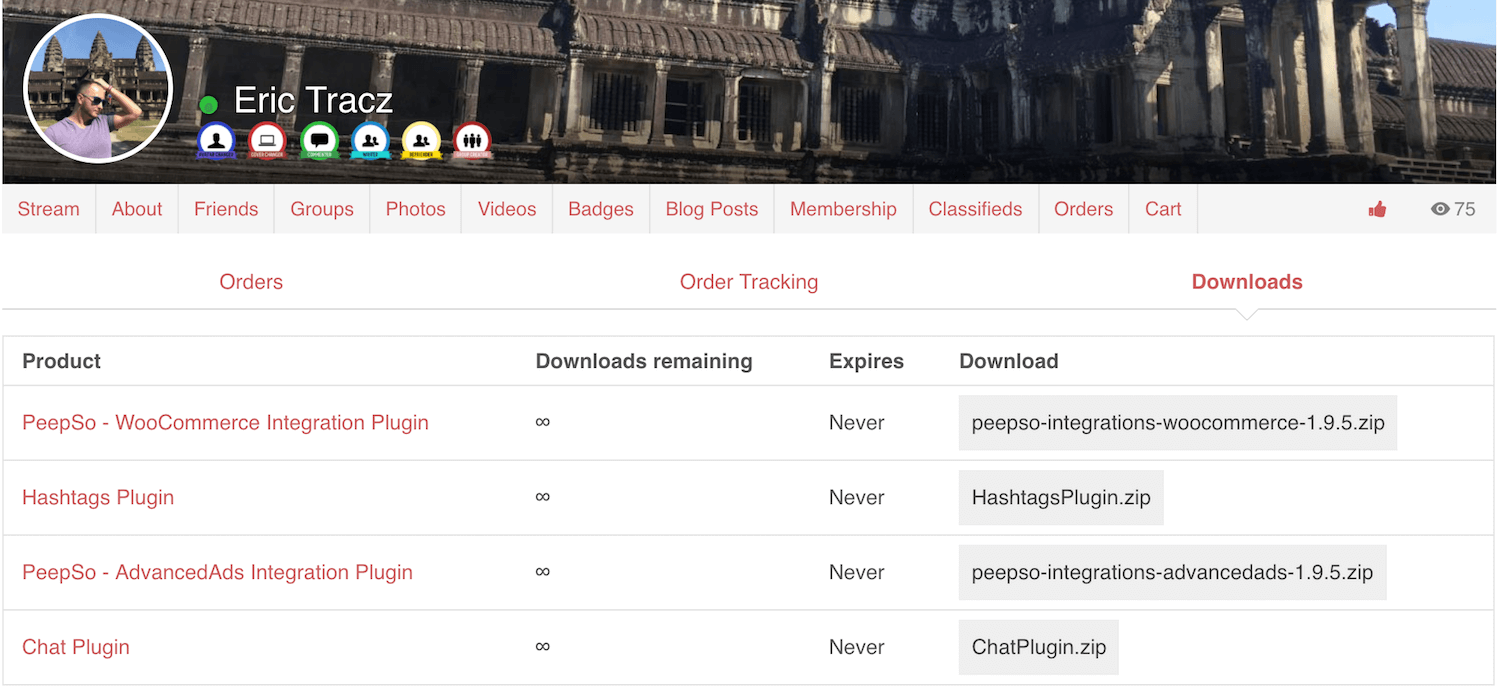 Cart
This consists of pretty much 2 views, the actual Cart and Checkout. Both are rather self-explanatory.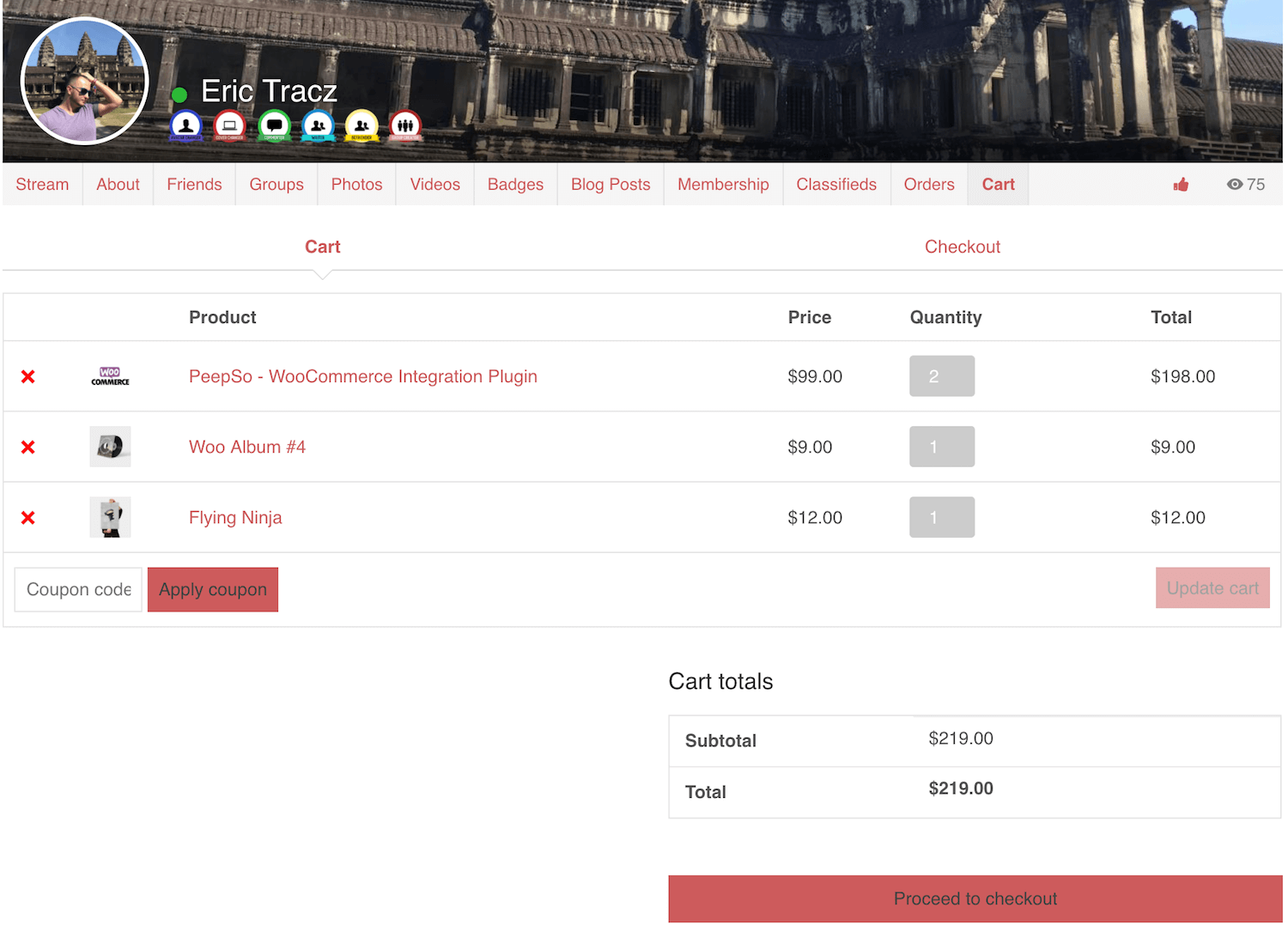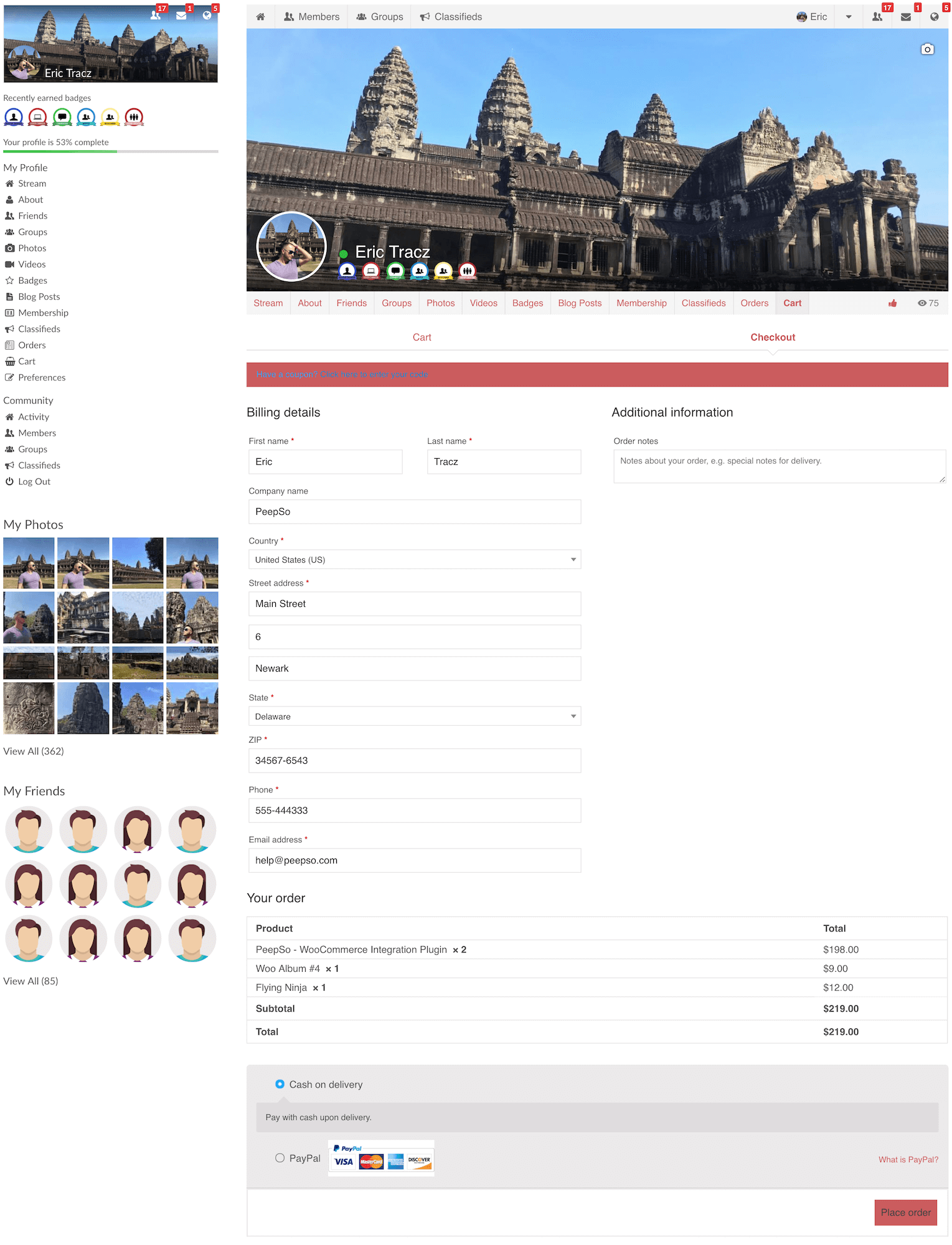 Backend
There is a number of settings to go with the WooCommerce Integration. The basic settings like available tabs display in User Profiles and or course the settings for the activity stream posts. You as an admin can decide whether posts will be created when someone purchases or reviews a product. Of course users do have the option to override those settings in their own profiles too. So if they don't want the community to know they either purchased or reviewed something, they have the option to not have those posts created on their behalf.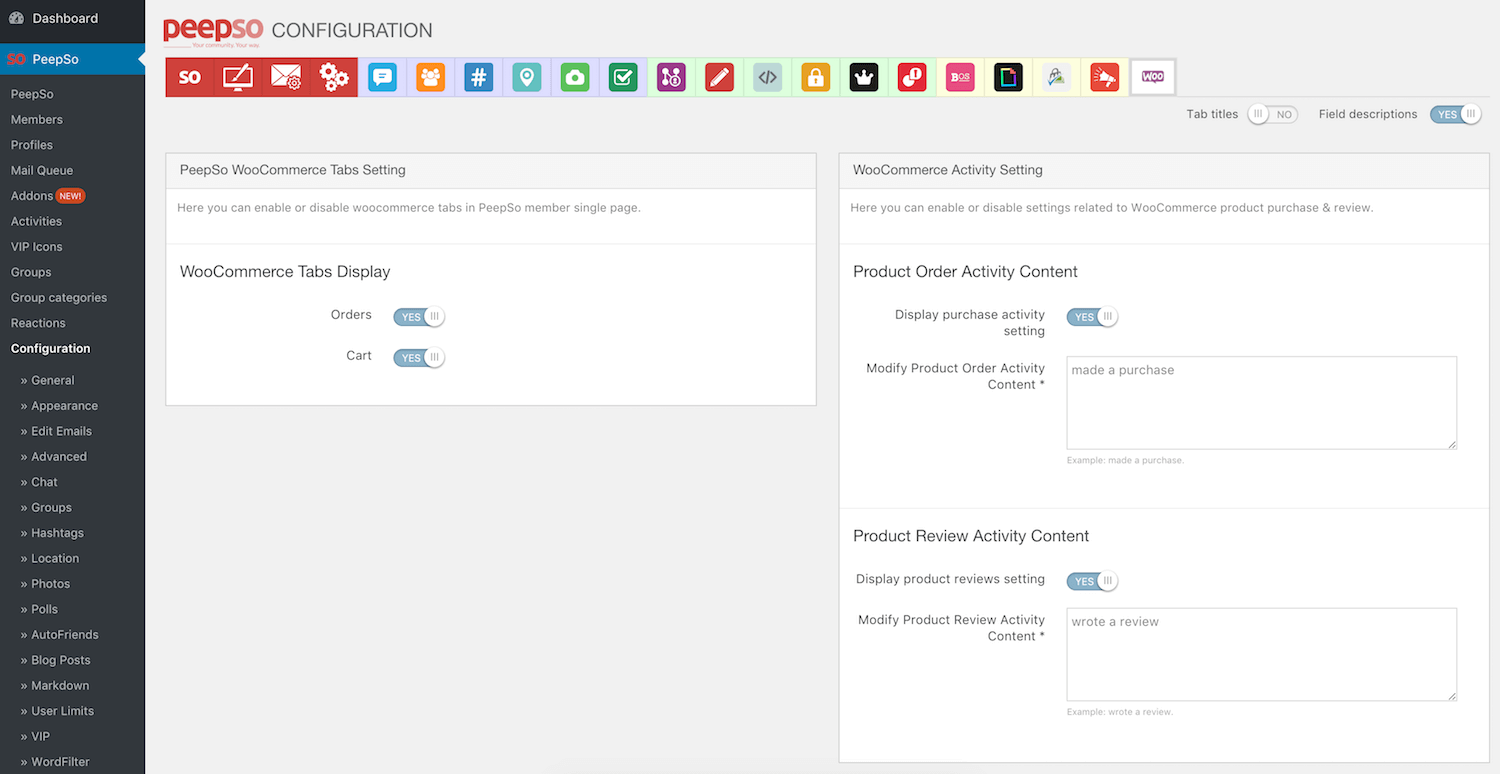 Additionally, you are in control of the action text that's shown on stream when a purchase is made or review written. It doesn't have to say: made a purchase or wrote a review. Simply change the settings there and it's done.
Improvements and BugFixes worth mentioning
This release focused mostly on the WooCommerce Integration, clearly. However, we have also been able to add a couple of other new features, improvements and fixes with this release. The ones definitely worth mentioning are: Add 'other' as free text for user to write the reason for report. So that users can actually write the reason for the report. Login 'remember me' checked by default. That and many more are available to you right away with PeepSo 1.9.5 release. See the full changelog for details on what's changed.