The ability to freely upload and share files with other users is a fantastic feature for every social network. And now, with PeepSo's newest addition – File Uploads plugin – you can empower your community in this way and gain even more traffic, boost user experience and enhance other supported plugins.
The Advantages of File Uploads
The main aspect of communication and interactions on social networks is the exchange. This exchange becomes immensely more fruitful and more immersive with the ability to share all sorts of files between users. These files can be valuable for the other user and serve an important purpose, or they can be of purely entertaining character. Either way, the very sense of tangible exchange is what makes online interactions truly worthy, and objectively useful.
You probably already know that there are online services based solely on file exchange – upload and download. They are sought precisely for this purpose, and you may already use some of them, just because you are unable to share files directly where you wish to do so, and are instead forced to share an external download link. So instead of forcing your users to share files by jumping though hoops and resort to an intermediary source, you can enable them to do it easily and directly within your own site.
Don't forget: the primary goal of a successful private online community is to keep users there, while giving them everything they need to function normally and feel comfortable. One less "external crutch" will certainly improve upon user experience and their loyalty.
What can you do with File Uploads?
First and foremost, you are able to upload files both from your computer and your phone. Sounds great, right? But you're not sure what kind of file format is supported? Not to worry; all kinds of formats that you can think of are possible to upload.
These features are actually super-rare in many social networks that are considered popular. You might have found yourself thinking, "Why can't I just directly share a file of my own choosing?" Instead, you are forced to use a file management service such as Google Drive, MEGA or MediaFire which require registration, as well as additional investment for increasing their usability. Not to mention the hassle of share link preparation. With the ability to upload your files exactly where you want to share them, all that extra work goes away.
Now comes the question of where it's allowed to upload files on your site.
File Uploads directly integrates with Chat, Groups and Widgets, so understandably, users are able to upload files directly in the chat, as well as in groups, given you've enabled these plugins in your PeepSo installation.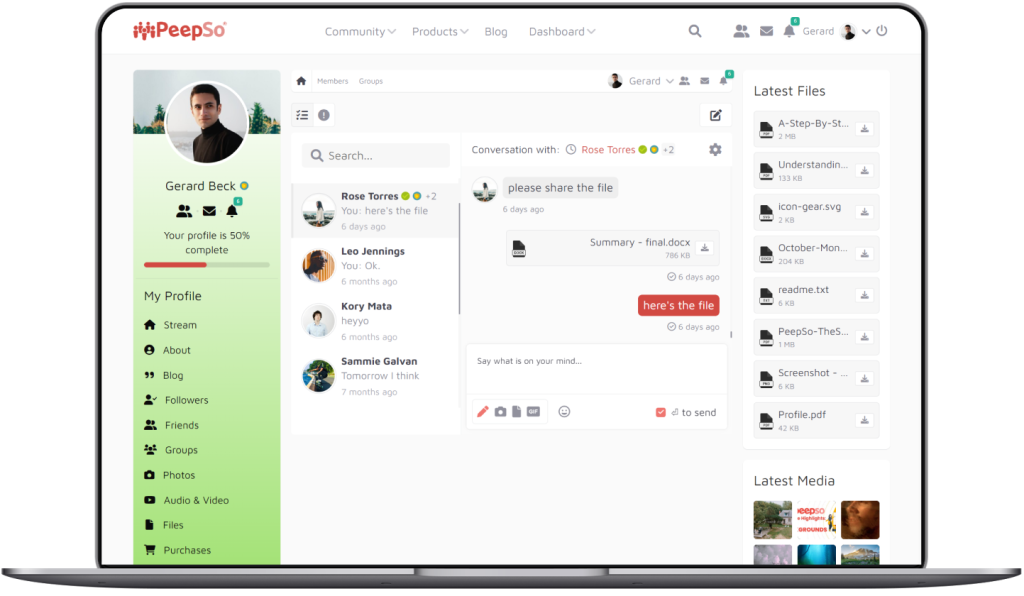 Files can also be attached to comments, wherever commenting is enabled within the community. We've all been in a situation when we wanted to directly attach a file of our choosing to our comment, but couldn't do so because the network we were using didn't possess this feature. Imagine the joy of your users when they find out that they can actually do this.
Widgets can be useful for notifying about the latest users' uploads, and where they can be found. You can also attach a file to the widget itself, if you wish to share something that is meant to be accessible community-wide.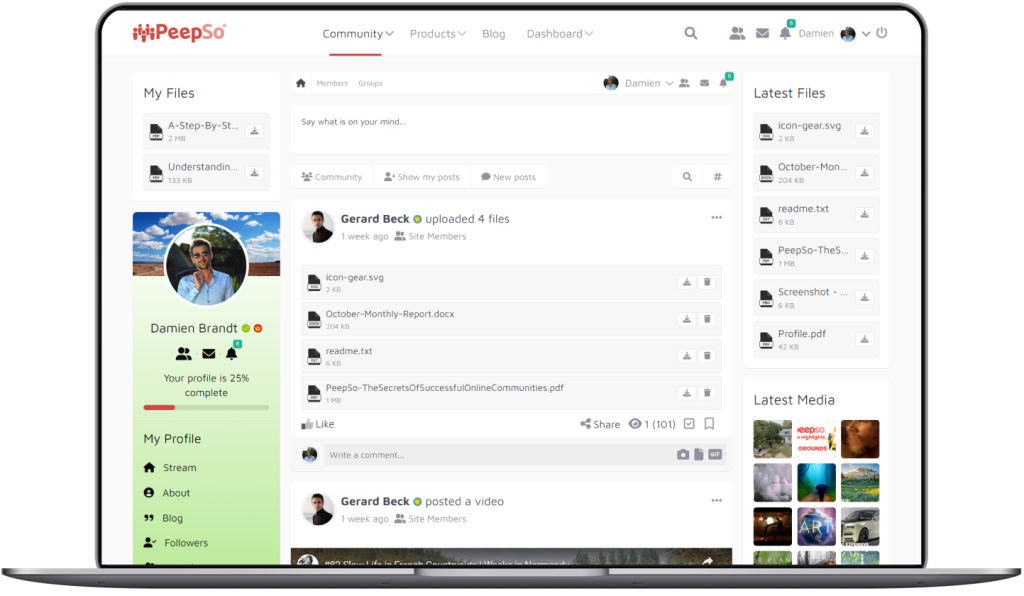 And of course, uploading files is respectful to users' privacy. Users can choose who they share their files with by specifying their post's privacy. Privacy is also reflected in the Groups integration; for example, all content of private groups is available only to the members of that group. And of course, private messaging between two (or more) users restricts the accessibility of exchanged content only between those users.
Expansive Integration and How to Capitalize on it
Aside from Chat, Groups and Widgets plugins, File Uploads also works seamlessly with other plugins and integrations from PeepSo's collection, and enhances their features.
One of the most productive integrations is User Limits plugin. User Limits adds value to your community and makes it exclusive, while providing the opportunity to charge for memberships by integrating it with Advanced Memberships. With File Uploads, you can configure User Limits to specify which membership levels are allowed to upload files. Since this feature is highly desirable, you are giving reasonable incentive for users to acquire a membership level that allows uploading files.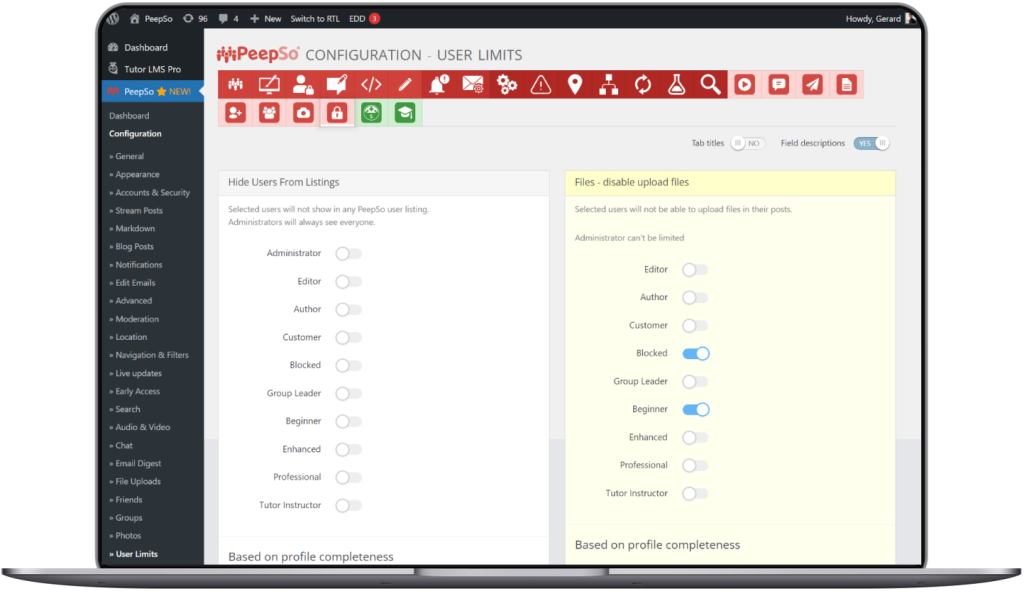 E-learning gains from this kind of file exchange as well. PeepSo supports LearnDash and TutorLMS as some of the best developed plugins for E-learning, and both can benefit from File Uploads. It is very important for students to exchange study material between themselves, especially in Study Groups. That way they will be more engaged in the process of learning and also appreciate all the possibilities that your learning concept offers.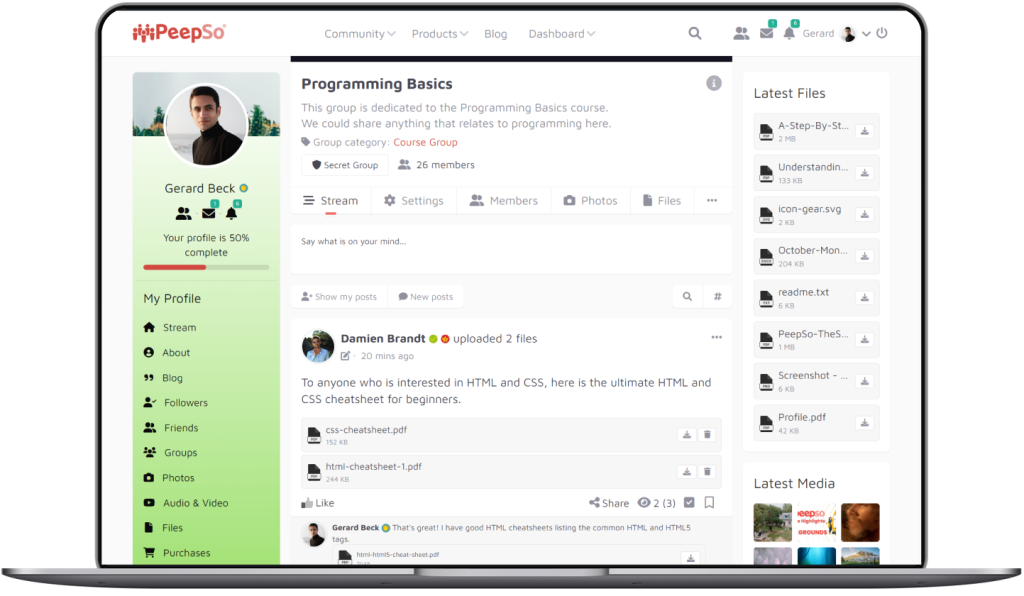 During a course, while the student is directly interacting with the teacher/instructor, it is incredibly useful to be able to exchange files which may be essential for the successful completion of a course.
Since it's definitely possible to upload files via the phone as well, this feature will beautifully complement the Mobile App of your community. Users will be able to upload files on the go, without worrying about transferring the files from the phone to the computer in order to share them, or resorting to third party services to share file links. Provide as much ease of use as possible to your users, so they can participate in your community unimpeded.
Easy Configuration
Your backend is pretty straightforward when it comes to File Uploads – as is the case with basically all PeepSo plugins.
Having File Uploads plugin active doesn't mean that its features are a must. You can enable or disable file upload in PeepSo Configuration at your leisure.
You are also able to determine which file formats are allowed within your community. The plugin isn't limited in this aspect, so allowed file formats are dependent purely on Admin preferences.
If your users prefer to share multiple files or some sensitive file types, you might want to encourage them to upload in archive formats such as RAR, ZIP, 7Z and similar, so you can limit your uploads to these formats only.
You can limit the file size in the same manner.
File Uploads configuration allows you to limit the allowed space for uploaded files per user, maximum number of files and daily upload limit. You can further adjust these settings for specific users, or membership levels with Advanced Memberships plugin.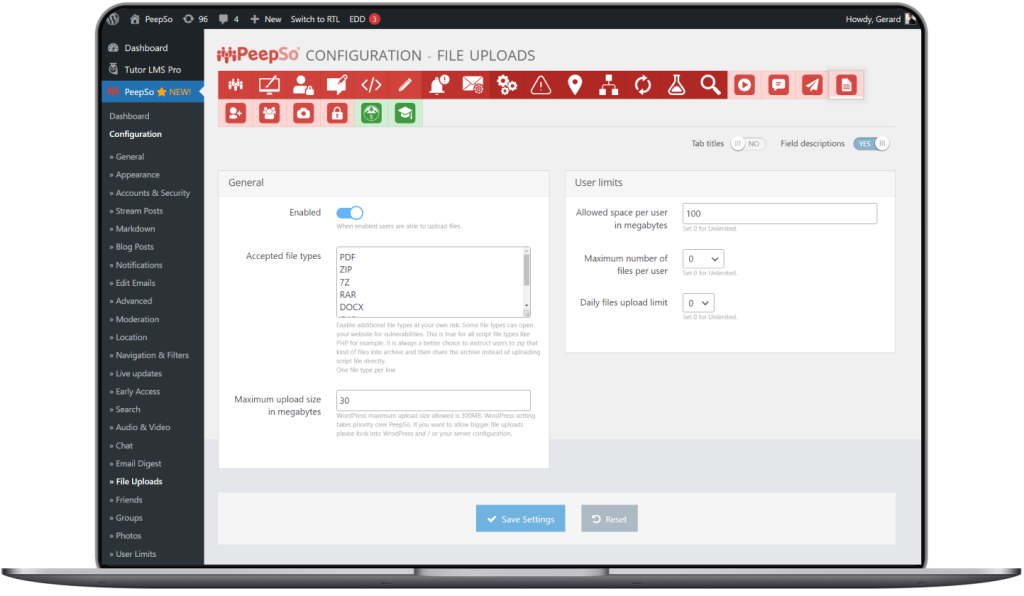 User Limits configuration opens up completely new settings with File Uploads, enabling you to determine the exact conditions for uploading files according to the limitations and membership roles. Here you are able to set conditions according to profile completion status and membership role.
Upload files to Widgets to distribute important files among your users. For example, this can be useful if you wish to distribute tickets or tokens for a community event, to members only.
Great Things in the Making
In future releases of PeepSo, it is expected we'll receive yet another awesome new feature: attaching files to User Profiles.
Would you like to have your CV available and ready on your profile? Or freely share a file of importance with community members, or perhaps your friends only?
It seems that PeepSo Team thinks of everything (so you don't have to).
A Complete, Feature-Packed Community
Users will definitely get this sense from your community if you allow them to easily share all kinds of files directly, alongside other fantastic features provided by PeepSo. Such tangible exchange enforces the social aspect and in turn brings more benefit to the community and your own efforts as its founder. Users will also be motivated to recommend your community to other people from the same niche, therefore increasing both population and activity of your site.
Don't have the Bundle but you would like to have access to all current and future plugins hassle-free?
Check our offer!
Ultimate Bundle – 1 Year
Get access to every single plugin and theme we have on offer.
1 year of free updates
1 year of 24/7 * Technical Support
1 year access to future plugins (if any)
Early Access Program
Our ❤
Ultimate Bundle – 5 Years
Pay 3 years, get 2 free
The best possible solution for a long-term plan community.
5 years of free updates
5 years of 24/7 * Technical Support
5 years access to future plugins (if any)
Early Access Program
Our ❤❤❤❤
---