Ability to set "About" tab as the profile home pages (Early Access), Mobile App UI improvements, some performance and bug fixes.
Set "About" as the default profile view
This new experimental feature is currently being tested via Early Access (available to Ultimate Bundle holders). It allows you to switch the main profile view to be the "about" tab, and the activity stream is moved to "/stream".
To test this feature, you need to install and activate the PeepSo Early Access plugin.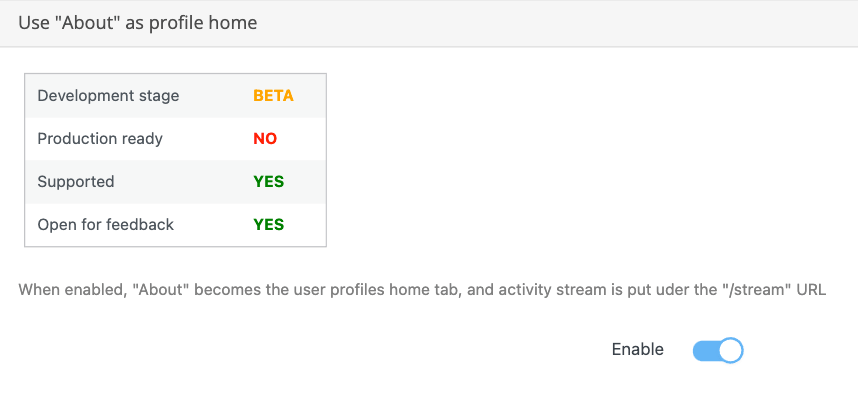 Mobile App
We fixed some layout issues with PeepSo pop-ups under WPMobile.app native interface. The PeepSo User Bar received some UI/UX improvements which will continue in next releases.
Performance & bug fixes
WP Event Manager integration performance was improved when adding events on sites with a great amount of entries in the posts table.
We also patched an issue where photos would fail to load on 32 bit systems due to their identifier being a very big number.
Our Markdown implementation was improved to properly close blockquotes when "regular linebreaks" are enabled, and we improved styling of VideoPress embeds.
Don't have the Bundle but you would like to have access to all current and future plugins hassle-free?
Check our offer!
Ultimate Bundle – 1 Year
Get access to every single plugin and theme we have on offer.
1 year of free updates
1 year of 24/7 * Technical Support
1 year access to future plugins (if any)
Early Access Program
Our ❤
Ultimate Bundle – 5 Years
Pay 3 years, get 2 free
The best possible solution for a long-term plan community.
5 years of free updates
5 years of 24/7 * Technical Support
5 years access to future plugins (if any)
Early Access Program
Our ❤❤❤❤
---