New Year, brand new PeepSo! Brace yourself as this one does come with some features everyone wanted for a very long time. We'll start with search in posts and search / filtering users by single select profile fields.
Upgrades
For a quick and hassle-free upgrade:
Go to the backend of your site > Dashboard > Updates (go here, instead of > Dashboard > Plugins, trust me)
Select all PeepSo plugins that need to be updated
Click 'Update Plugins' (note: this will deactivate all of the add-on plugins), don't worry, they'll come right back on during Step 6 promise!
Update PeepSo Core
Go to the backend > Plugins
Reactivate all PeepSo plugins
The whole operation doesn't take more than 3 minutes. Should you have any issues or questions, please do contact us. ALSO IMPORTANT. We release all plugins at the same time. Sometimes, it can take some time for all available updates to show in the backend of your site. If some plugins' updates don't show, wait. Just Wait. Don't upgrade just some of them. Drink some coffee and wait. Your site needs to catch up to show them all. If you feel like it's taking too long, contact us. We're here to help!
Alternatively, if you feel you can't take the wait, you can go to your account, download the latest versions and do the following: Backup everything. Deactivate all PeepSo plugins from your site. Install the new versions from the zip files, just like on the first installation.
Search in Posts
After months of refactoring PeepSo code in the background we've been able to bring the Posts Search that's working the way it should. Meaning: it searches:
Exact phrase
Searching for the exact phrase you entered in the search field. If you enter: "I love PeepSo" it will only look for that and give you results of posts containing "I love PeepSo".
Any of the words
Searching for any of the words you entered in the search field. If you enter: "I love PeepSo" it will show you posts containing: "I", "love", "PeepSo", "I love", "I PeepSo" "love PeepSo"… you get the idea.
Furthermore, by saying it works the way it should it also means that it respects the posts privacy. You'll see the search results only from the posts that you have the right to see. That way you and Your Community can rest assured private posts or those shared only with friends will only be seen by people who have the right to see them.
Search results get highlighted accordingly so that you can spot the search results easier. The results are ordered by the post date.
Member Search By Custom Single Select Profile Fields
Searching members based on profile fields has also been long overdue but because of various reasons we couldn't implement it earlier. With this version of PeepSo we're adding searching members by Custom Single Select Profile Fields. It's a first step to giving the option to search users by their custom profile fields.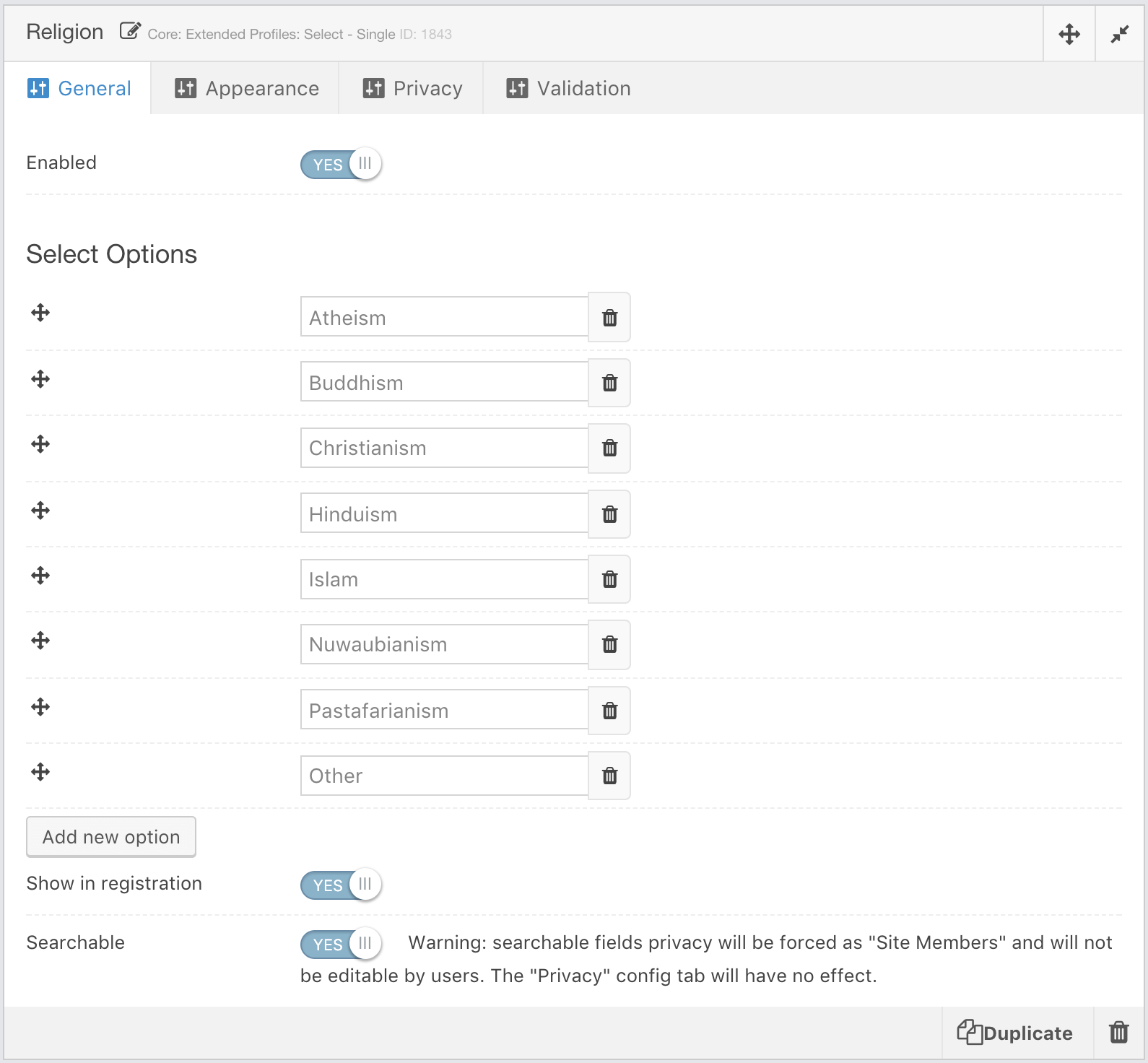 We had to address the privacy issue on the fields. Since it's a crucial aspect of any community. Admin can make any Custom Single Select Field searchable. However, by setting it to that you will also override all user privacy settings on that field and that field's privacy will be set to: Site Members. There's no other way around it. As an admin of Your Own Community make sure to make an informed decision what fields you want to make searchable.
Users can be filtered / searched by their fields right in the Members page view search / filtering options and the fields you marked as searchable will appear there. Based on the field setting in the backend the appearance on the Members page will be affected. You have a choice of: Checklist or Dropdown.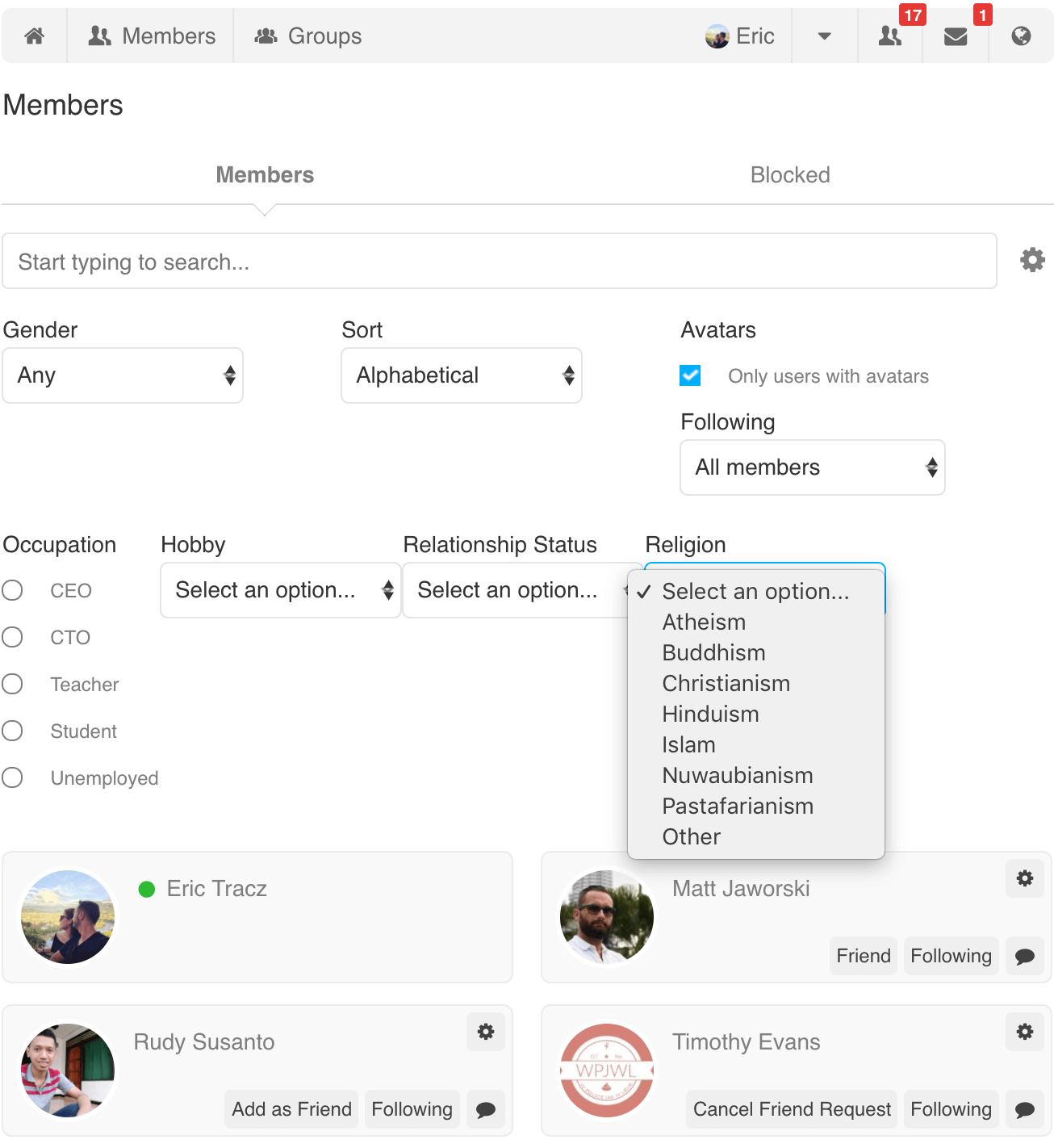 Other Improvements & Bug Fixes
We've shrunk all assets images in PeepSo. It used to be 1.9mb now it's 619kb in total. It's 78% savings in files weight and bandwidth. Which means everything where you have images displayed like profiles, login view of the activity page etc. are loading much faster. Embedding links and their previews on the stream has also been improved greatly. We've also added code highlighting in Markdown in this version. Meaning, if you enter a block of code and mark what code it is, it'll highlight the code's syntax.
When it comes to bug fixes the ones that are definitely worth mentioning are localization fixes and making sure everything can be translated. Improving Email Digest's email sending, making sure User Limits works on comment replies too. See the full changelog for all the details.