It's been about 4 weeks since the previous release but this is a big one. Not only it's a new big number in PeepSo version numeration, I mean… Eleven… It's a release containing Stranger Things than usual… like Video Uploads… oh yea, we got those now.
Upgrades
If your PeepSo is older than version 1.10.0, contact us and we will handle your update ourselves.
IMPORTANT NOTE. We release all plugins at the same time. Sometimes, it can take some time for all available updates to show in the backend of your site. If some plugins' updates don't show, wait. Just Wait. Don't upgrade just some of them. Drink some coffee and wait. Your site needs to catch up to show them all. If you feel like it's taking too long, contact us. We're here to help!
For a quick and hassle-free update:
Make sure your site is backed up. Preferably test updates on a staging site.
Go to the backend of your site > Dashboard > Updates
Select all PeepSo plugins that need to be updated
Click 'Update Plugins' (note: this will deactivate all of the add-on plugins), don't worry, they'll come back during Step 7!
Update PeepSo Core
Go to the backend > Plugins
Reactivate all PeepSo plugins
The whole operation doesn't take more than 3 minutes. Should you have any issues or questions, please do contact us.
Video Uploads
Oh wow, finally here, huh? We couldn't be more excited. It's one of those features that's been on the todo list forever it seams. But we were finally able to bring it to you. Your Community. Your People. Upload away my friend, upload freely. Your content gets unpublished on YouTube or other providers? Be your own provider. We're not here to take sides or judge, just provide you with a solution to your problems.
Some of you might have seen my post from few weeks ago announcing that we were testing video uploads. Those who missed it, I'll even repost some of its content here just to be sure you can't skip it.
This is one of those features that does NOT KNOW what compromise means. There are 2 options, your server can either handle video uploads or it can't. That's it. You can see the full documentation on what's required so you can run video uploads within Your Community.
Video uploads are an advanced feature that comes with a number of strict technical requirements and limitations. Video conversion requires an external cron job, advanced PHP functions and a special library. It is also prone to consume a lot of server resources. A LOT OF SERVER RESOURCES. If you don't have the necessary level of understanding when it comes to the requirements listed in the documentation you must talk to your hosting.
Support
It's also important to mention that we do NOT support any issues with Video Uploads within shared hosting environments. VPS is a bare minimum, dedicated server is preferred. Seriously. Don't be THAT guy.
How It Works
I did post a couple of videos whether it was with the use of mobile devices or just desktop. Here's the entire process. Including the cron job.
The above video was posted by me on our community here. The process is pretty straight-forward:
Upload your video
Add its title, description, moods etc.
Wait for the cron to run.
How long? Depends on how often you run it on your server.
Wait for the email notification.
After each conversion an email notification is sent to the user.
Done. Enjoy.
PeepSo Navigation in WP Admin Bar
We've added an option to PeepSo to override the default WordPress navigation in the WP Admin Bar a.k.a WP Nav Bar a.k.a The Black Strip On Top Of Your WordPress Page. You can switch it on in the backend of your site: PeepSo > Configuration > Appearance > General box > Replace WordPress admin navigation bar – set to yes and enjoy. You can combine it with the notification icons and you have full PeepSo profile and navigation on top of your site.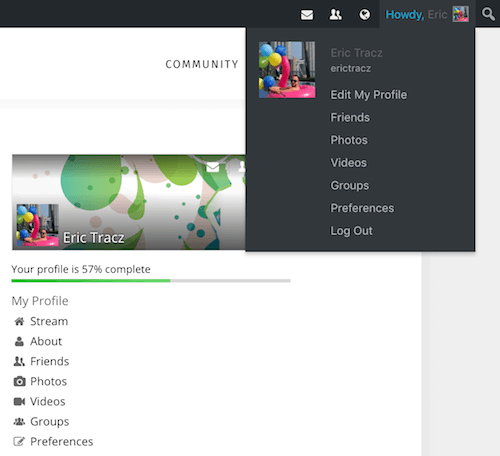 Improvements and Fixes
We improved buttons behavior for PeepSo + AppPresser environment for better mobile experience. Fetch initial messages on minimized chat windows is disabled and by doing that we're improving performance. We made sure Flickr videos can be nicely embedded. Those and many others can be seen in the changelog. See our Future page to know what's coming next.