First Reddit, now Twitter; what is going on with mainstream social media lately?! Communication should be sacred, but these platforms apparently didn't get the memo… Or perhaps this here is Elon Musk just being Elon Musk.
According to Mr. Musk's statement, post limiting should "address extreme levels of data scraping & system manipulation", therefore we now have this lovely concept:
Verified accounts are limited to reading 6000 posts/day
Unverified accounts to 600 posts/day
New unverified accounts to 300/day
What exactly does he mean by "levels of data scraping & system manipulation"? What is the timeframe for this allegedly temporary measure? No one knows. The Boss never explained. He did joke about it, though.
However, Twitter users – and PeepSo being one of them – don't regard this as a joke at all. Consider the ramifications of this action: by limiting the daily views of users, people and companies whose profiles depend on views and distributing important information are essentially crippled. After all, the original point of Twitter was to be a trove of shared information. How is the platform going to do its job if it limits the display of said information?!
The site has also become glitchy:
Many users who tried to access or post content on Twitter's website or mobile app were met with a "Rate limit exceeded" or "Cannot retrieve tweets" error message. As of 11 a.m. ET, more than 7,300 people reported issues with Twitter to the website Downdetector.

cnbc
Note: If the link to Downdetector site in the quote above appears with a strikethrough, know that it's "false alarm". The site works perfectly fine.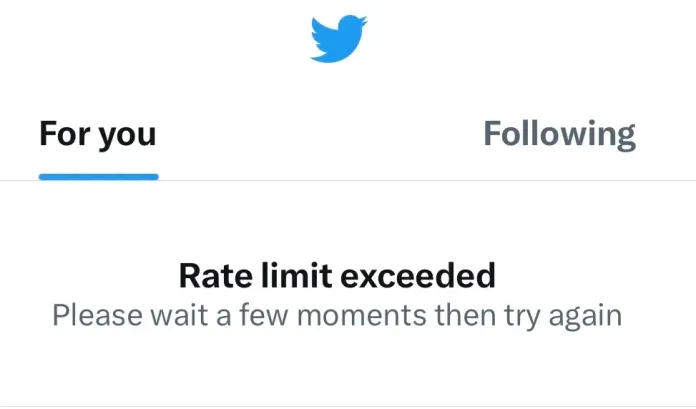 There is one significant piece of information that may shed light on the reason of this limitation. It may be only speculation, but due to the lack of a proper explanation, we're left to our own devices.
An $8 monthly subscription service was officially introduced to Twitter earlier this year, which enables higher post limit for verified accounts and a fancy blue checkmark next to your handle. With this service, Musk has attempted to mitigate revenue decline that was growing ever since he took over, but apparently it didn't take as well as he'd hoped.
Is he trying to brute-force the use of this subscription with the new limitation? Let me know your thoughts about this.
Since the post limit has been applied, people tried to find a workaround: TweetDeck has attempted to have this limit removed, being an "offshoot" of the main site. However, the limitation was forced there as well very soon, as Musk and the Team caught wind of it. So, no loopholes whatsoever.
The Takeaway
There's not much that we as regular users can do when large media platforms decide to change things, for better or worse. Lately, mostly worse. (I honestly dread of touching the subject of YouTube's infamously distorted practices of censorship and advertising.) Nevertheless, public social media outlets will always have their value no matter the detriments, just like arterial roads are always necessary no matter how clogged and dysfunctional they can get.
But don't grab your head in dismay. You can always set up your own private online community (with PeepSo, of course)! I've said it before and I'll say it again: take your social networking into your own hands. Seeing what's been going on lately, it may even be downright necessary.
It's all in our slogan, guys: Your Community. Your Way.® 😉
PeepSo Ultimate Bundle – 1 Year
Special Offer
Get access to every single plugin and theme we have on offer.
1 year of free updates
1 year of 24/7 * Technical Support
1 year access to future plugins (if any)
No signup fees
Early Access Program