Show user's enrolled courses
With titles, featured images, short descriptions.
Configurable layout
Columns, image size, text length, etc.
Configurable URL and label
See what others learn
View other member profiles to see what courses they enrolled in.
Enrollment Stream Posts
Beautifully displayed posts when users enroll in a course so others can see what courses are getting popular.
Completion Stream Posts
Eye-catching posts when users complete a course for others in Your Community to notice.
VIP Icons
Requires VIP. Automatically Assign VIP icon upon course completion.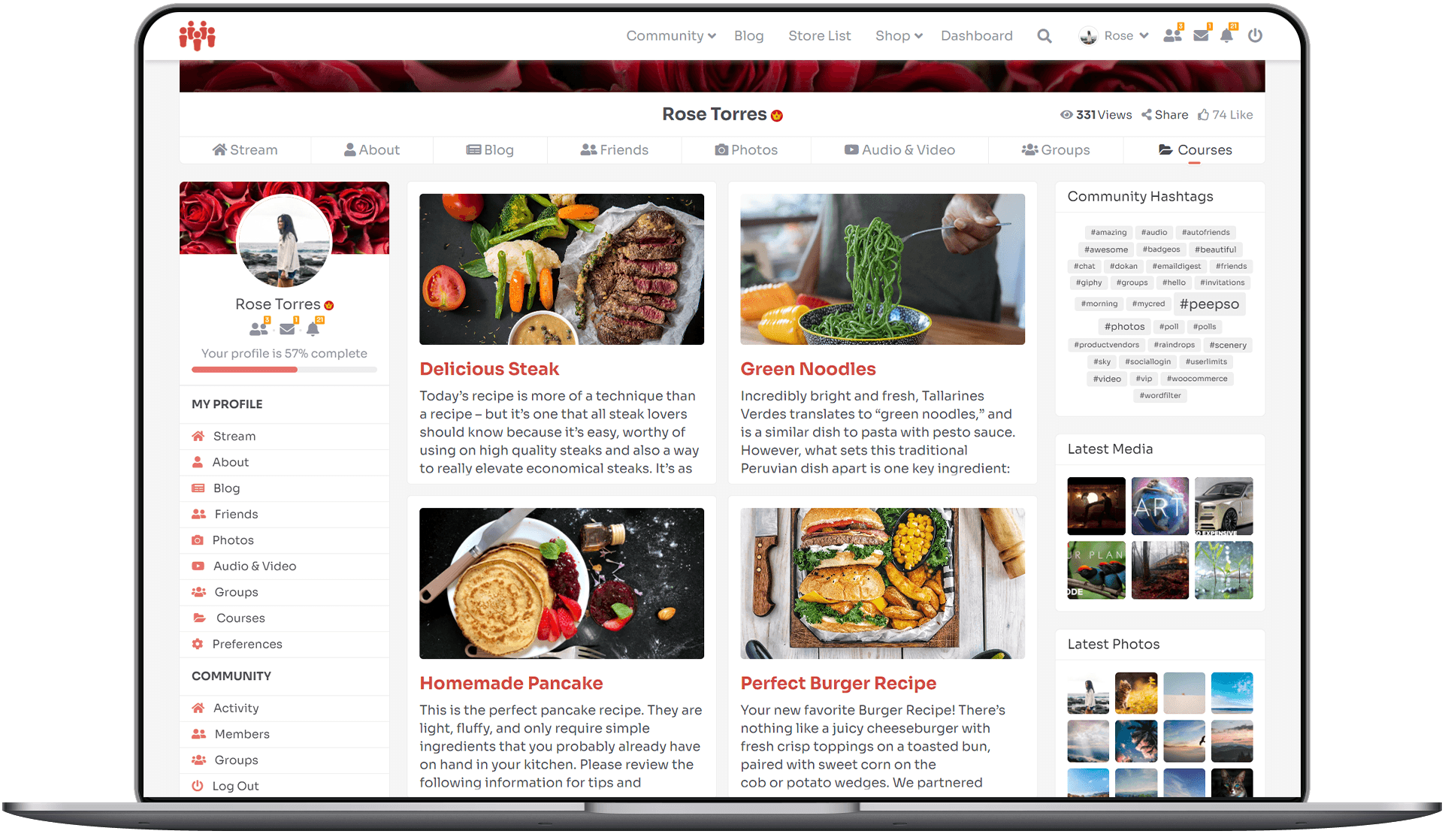 Author Widget
The integration comes with a beautiful widget: About the Author
Related Groups
Requires Groups. Creates groups relating directly to courses.
Automatically add user to Groups
Requires Groups. When users enroll in a course, they get automatically assigned to relevant groups.
Chat
Start chat with the instructor from about course author widget
It's a fantastic way to add the social spark to your store or create a store for Your Community. Either way, it's a win-win. It's a fantastic way to monetize your site. Is your community revolving around motorbikes? Why not sell them some gear. Gaming? Sell them games. Gardening? Sell them shovels. I mean, the world is your oyster and the sky is the limit. Unless your community is for travellers in which case you can even sell them hot-air balloon trips.
Build brand loyalty, keep your clients closer and create that unique atmosphere that makes them come back to your site, recommend your products to their friends and family.
Already got a community?
Fantastic! Now going back to the original point. Get selling, increase your revenue. With that you can ensure a steady stream of cash to keep Your Community happy.
This plugin also comes with WooCommerce Product Vendors integration which turns your store into a multi-vendor marketplace. You can assign existing products to vendors, or they can add and edit their own.
Purchase Stream Posts
Beautifully displayed posts when users make a purchase.
Product Reviews Stream Posts
User reviews about products get added to activity stream.
Profiles Navigation
Seamless integration with user profiles for field management.
Product Vendors
Integration with WooCommerce Product Vendors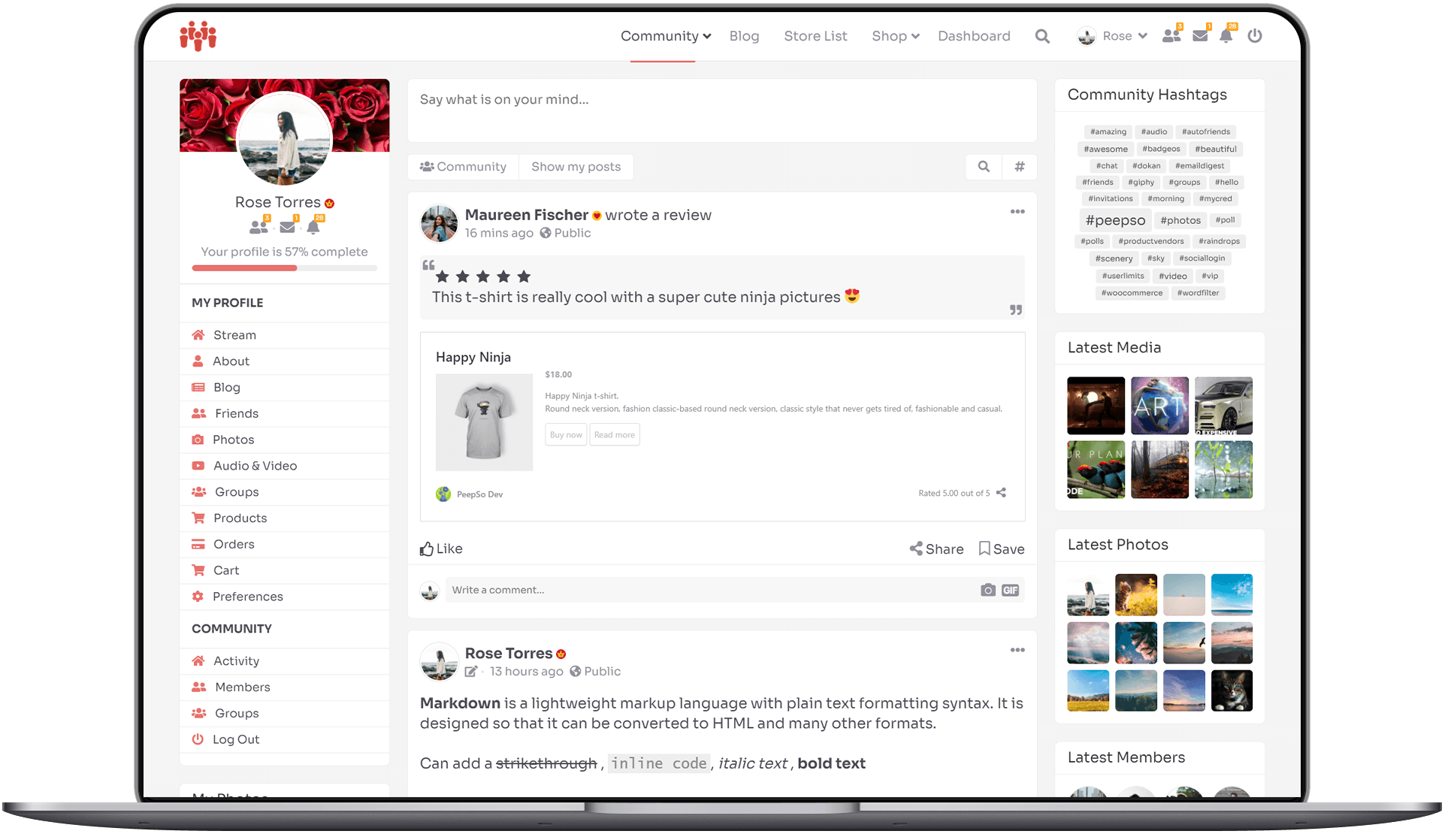 Cart integration
Cart experience integrated into user profiles.
Orders management
Full orders management, order history and downloads right in user profiles.
Easy setup
Works out of the box. Easy and quick to set up.
Dokan Multi Vendor
Integration with Dokan Multi Vendor plugin
Requires: Easy Digital Downloads
Easy Digital Downloads is a plugin which enables you to create your own online store and sell all sorts of digital goods. We can't recommend it enough. You know it's true when we actually use it ourselves. EDD itself comes with a vast array of features. Not only we made sure that the we got EDD itself covered, we also took this opportunity and integrated PeepSo with a number of its addons: Software Licensing, Recurring Payments, All Access Pass, PDF Invoices.
All of that in efforts to make sure your community and online store work together in perfect harmony.
Purchase Stream Posts
Beautifully displayed posts right in your community when users make a purchase.
EDD Recurring Payments
Integration with EDD Recurring Payments so users can manage their subscriptions right in their profiles.
EDD Software Licensing
Users can manage their licenses directly in their profiles.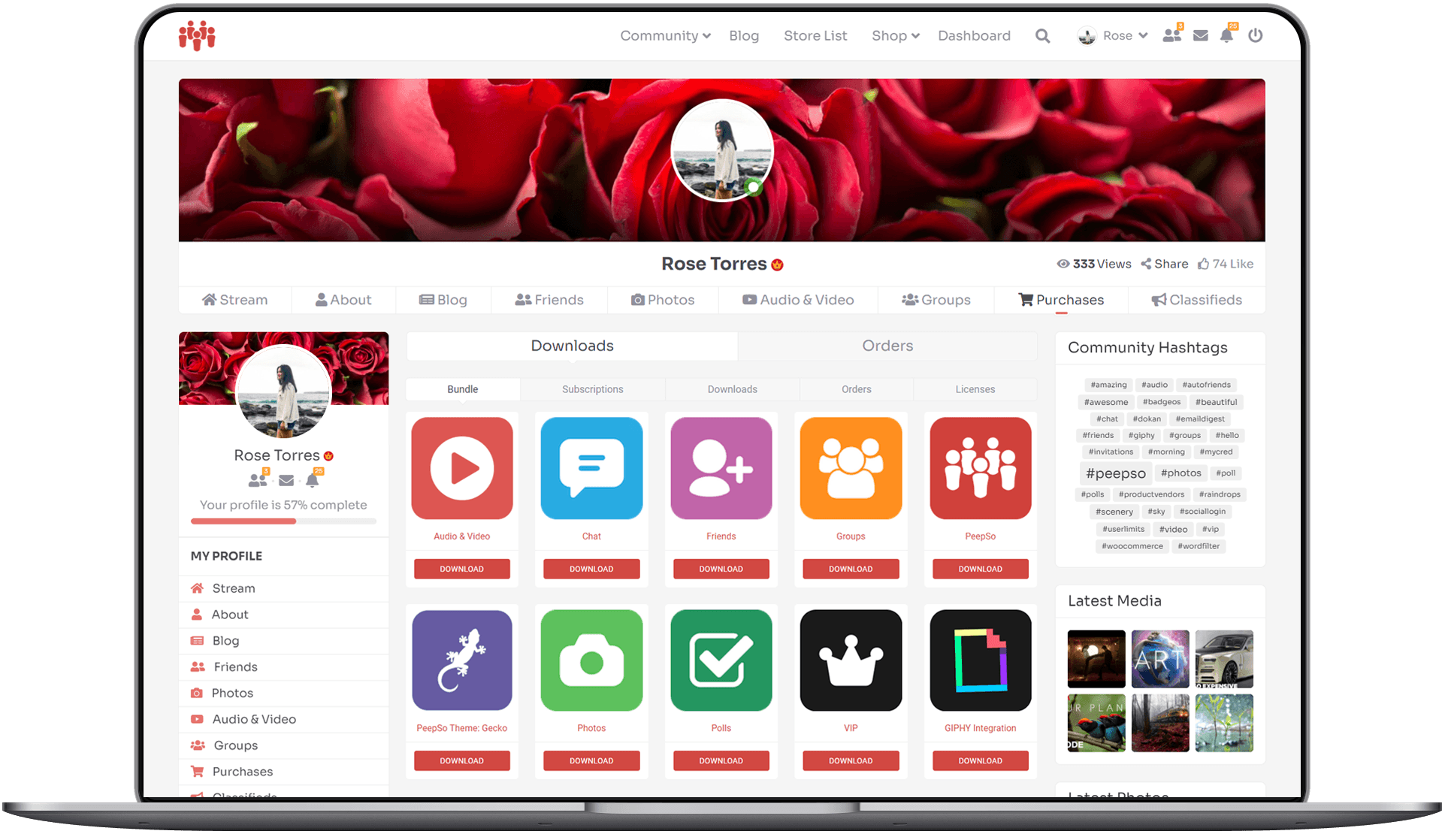 Profiles Navigation
Seamless integration with user profiles so they can access their purchases right there.
EDD All Access Pass
Integrating EDD's All Access Pass right in user profiles.
PDF Invoices
Users can download PDF invoices for purchases right from their profiles.
Social Targeted Ads Facebook Style. Monetizing your community is a hard task. It requires a lot of time, dedication and most often than not doesn't work out the way you want it to. It can be dictated by various factors. All in all, it's not an easy task.
Ads On PeepSo Activity Stream
You can display all ad types (or ad groups) that come with Advanced Ads or Advanced Ads Pro on PeepSo Activity Stream. However, we also added a PeepSo Ad type so that it blends in with Your Community.
Community Users Ad Targeting
This integration extends Adcanced Ads Visitor Conditions with ad targeting based on your Community Users profile fields. Advanced Ads and Advanced Ads Pro plugins are amazing on their own, but now you can you can offer your advertisers the possibility of real social ads targeting.
What Can You Target
That depends on what plugins you have installed and activated. We'll only cover this integration's targeting options but you should definitely check out the entire possibilities of Advanced Ads Pro.
Ad Targeting
Target Ads based on users profile fields.
Integration with VIP plugin
Decide whether to show or hide ads from VIP users.
Seamless Ad Experience
PeepSo Stream Ads blend in with the community posts.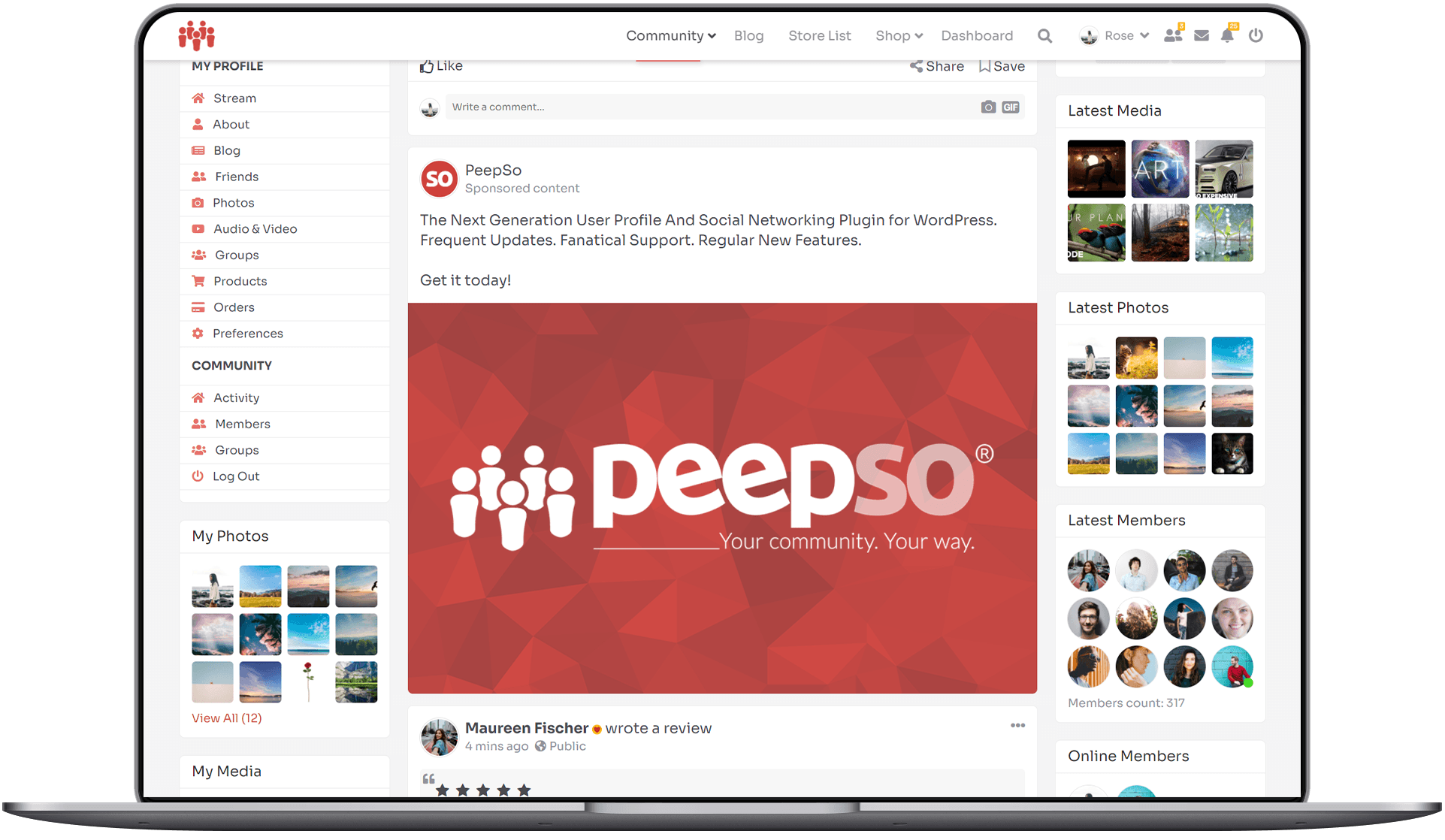 Target Custom Profile Fields
Target any single select or multi select fields in user profiles.
Display all ad types
Display any Advanced Ads' ad types on PeepSo Activity Stream.
Integration with Groups
Decide whether to show/hide ads to members of specific groups.
Monetize your community with paid ads. WPAdverts is a light-weight plugin which allows to build beautiful classifieds site in minutes. Running a classifieds site alone can be challenging. However, adding a classified ads to your existing community, fantastic idea!
Communities revolving around specific topics, but not only, have an amazing potential to be monetized by their admins. If you have a community revolving around gardening and your members are actually proud garden owners, you give them the chance to buy / sell their plants, seeds, tools and whatever else they might need to get or get rid of. You as a Community Admin can charge your members for posting such ads.
The integration plugin has been designed with, amongst others, one main goal: seamless integration of classified ads within PeepSo community. The design of ads and how they are displayed blends in fabulously with users' profiles, ad posts on stream etc.
This plugin requires at minimum both PeepSo Core and WPAdverts plugins to work.
Monetize
Monetize Your Community and earn real money.
User Profiles
User's Classified Ads are displayed in their profiles.
Classified Ads Management
Users can manage their classified ads right in their profiles.
Seamless Navigation
Navigation is added to User Profiles, PeepSo Toolbar and PeepSo Profile Widget.
Classified Ads Creation
Users can create classified ads right in the community view.
WPAdverts Addons
Full integration with all official WPAdverts addons like: Featured Ads etc.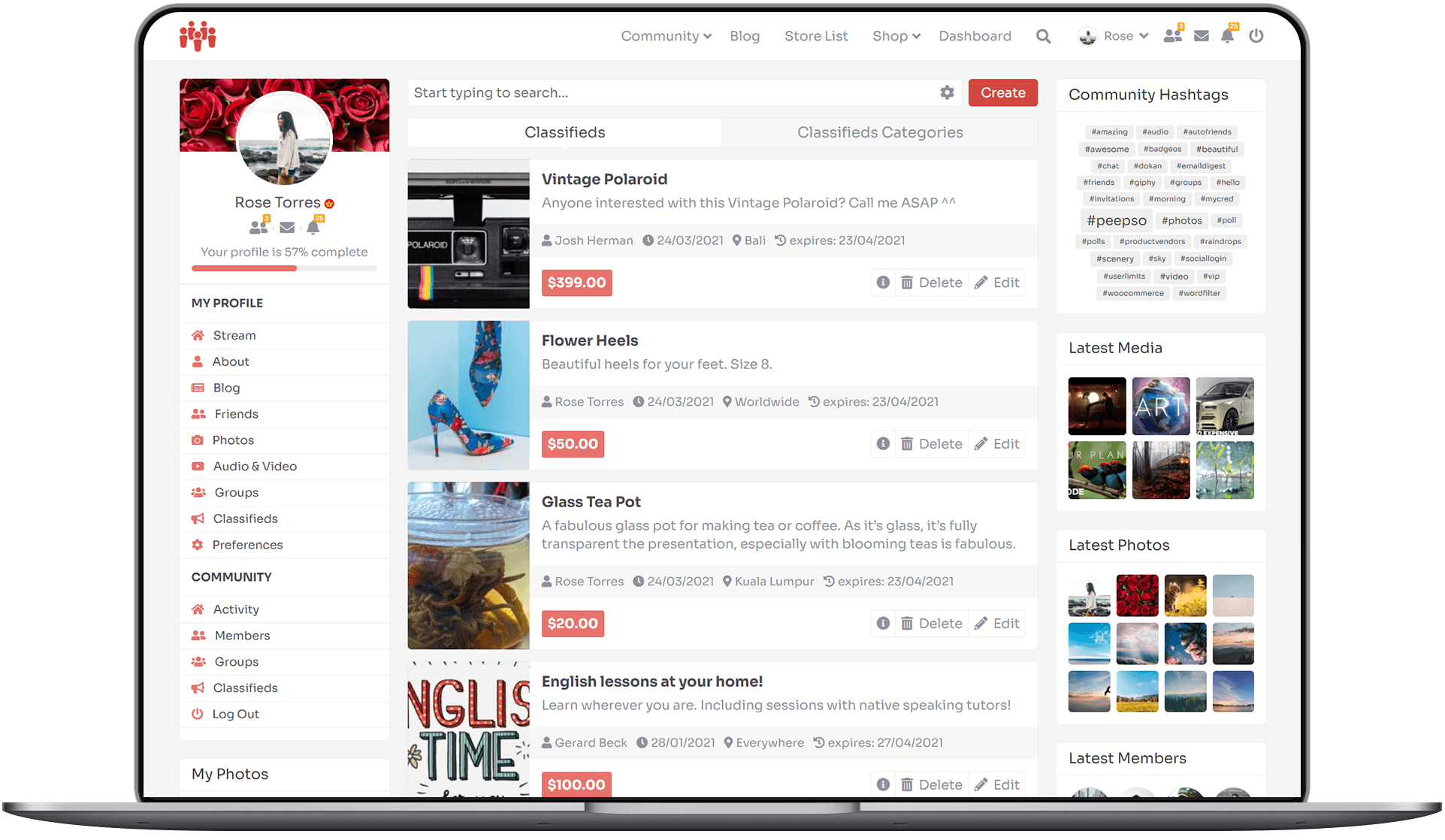 Status Updates
Automatic corresponding Status Update is created when user posts a Classified Ad. Once ad expires the post is removed from main PeepSo Activity Stream.
Paid community memberships. This plugin integrates the PaidMembershipsPro plugin into PeepSo's registration and navigation, giving users a seamless registration experience. On registration, members are offered a list of membership plans. The plans are configurable via PMP plugin's settings. Just as membership pages are.
Once members have chosen their plan, they can complete their registration and confirm their email address. They're logged in. Admin can also choose to display a link to the PMP membership page as a sub-menu of the profile menu on the PeepSo toolbar.
Set the desired access level on all pages containing PeepSo Shortcodes except for the 'Activity', 'Registration' and 'Password Recovery' pages. You can also hide the activity stream from non-logged in users in PeepSo, keeping your community totally private. The focus of the plugin is on seamless navigation and a smooth registration experience for users. Registration and membership selection is now one easy step.
Registration
Seamless registration process where users sign up through PeepSo and can pick their membership level.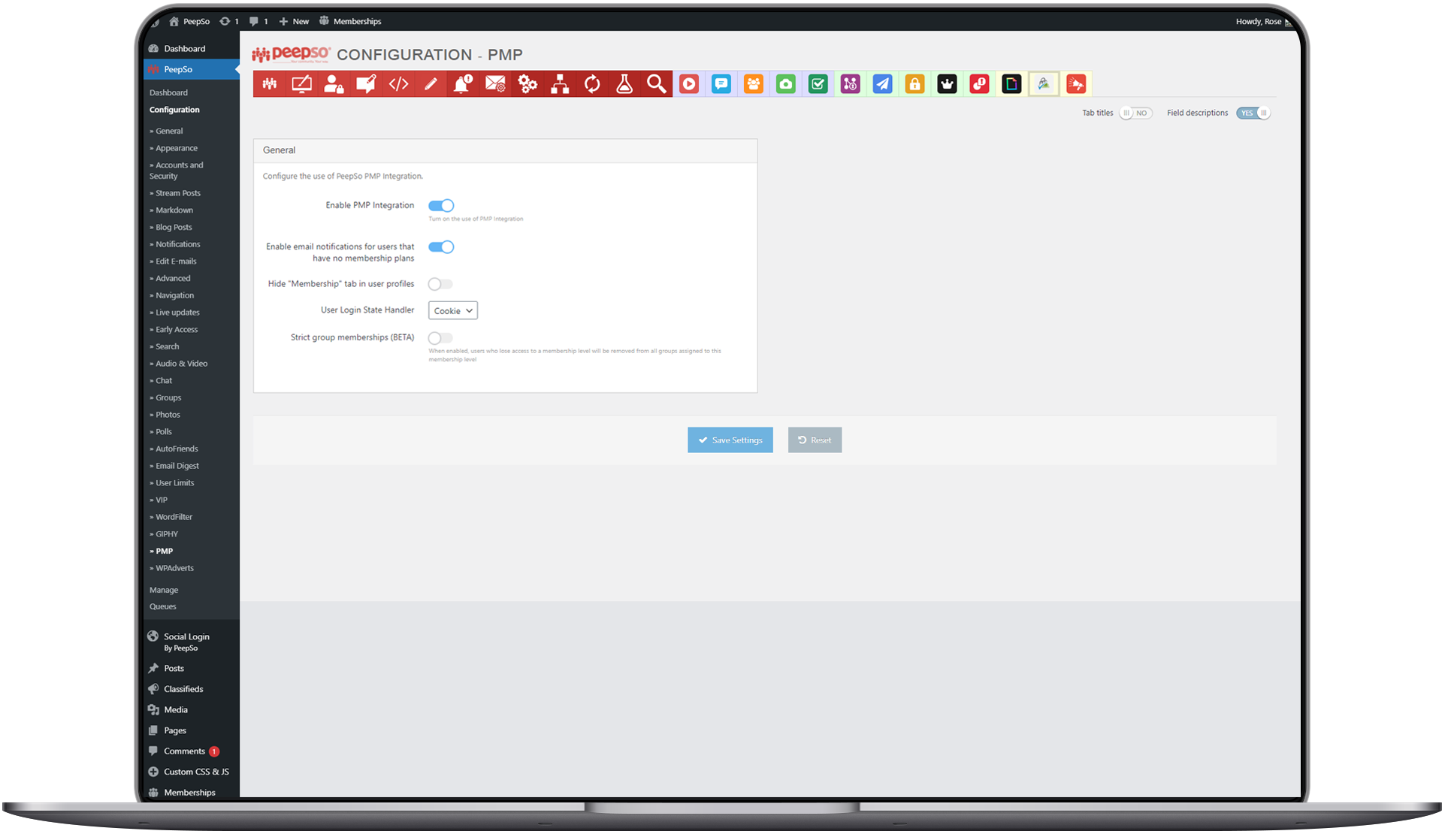 Navigation
Seamless navigation, access to membership options is available via PeepSo Profile Widget as well as toolbar.