In today's fast-paced world, To-Do and Reminders apps are indispensable tools for individuals striving to enhance productivity and maintain organization in their daily lives. These applications improve your productivity by letting you prioritize tasks, set reminders, and categorize items for efficient task management.
ListoWP is a brand new, modern & great-looking plugin for WordPress that implements front-end managed To-Do Lists for your users. It's developed by my company EmeraldWP (MJWP, LLC) and funded by private investors not technically, legally, or financially connected to PeepSo.
Try our live demo to see it in action!
Exclusive PeepSo offer: 30% off
The entire PeepSo family is invited to celebrate our launch with an exclusive 30% off code: PeepSo. Simply use the code PeepSo on checkout to receive a 30% discount. That's $20 per year (discount applies to future automatic renewals) or $210 for the lifetime option.
A free version of the plugin (missing a few Pro features) can be downloaded from WordPress Plugin Repository.
The Features
Tasks, Lists & Deadlines
At the core of any To-Do app lies a Task – an actionable item with a title, description and optional due date. Tasks can also be configured as recurring (for example: weekly, monthly). Tasks can be organized into Lists – ListoWP has two types: Smart Lists (automatically categorizing Tasks based on their completion state, due date, etc) and optional Custom Lists (created manually by the user to sort their Tasks in a meaningful manner).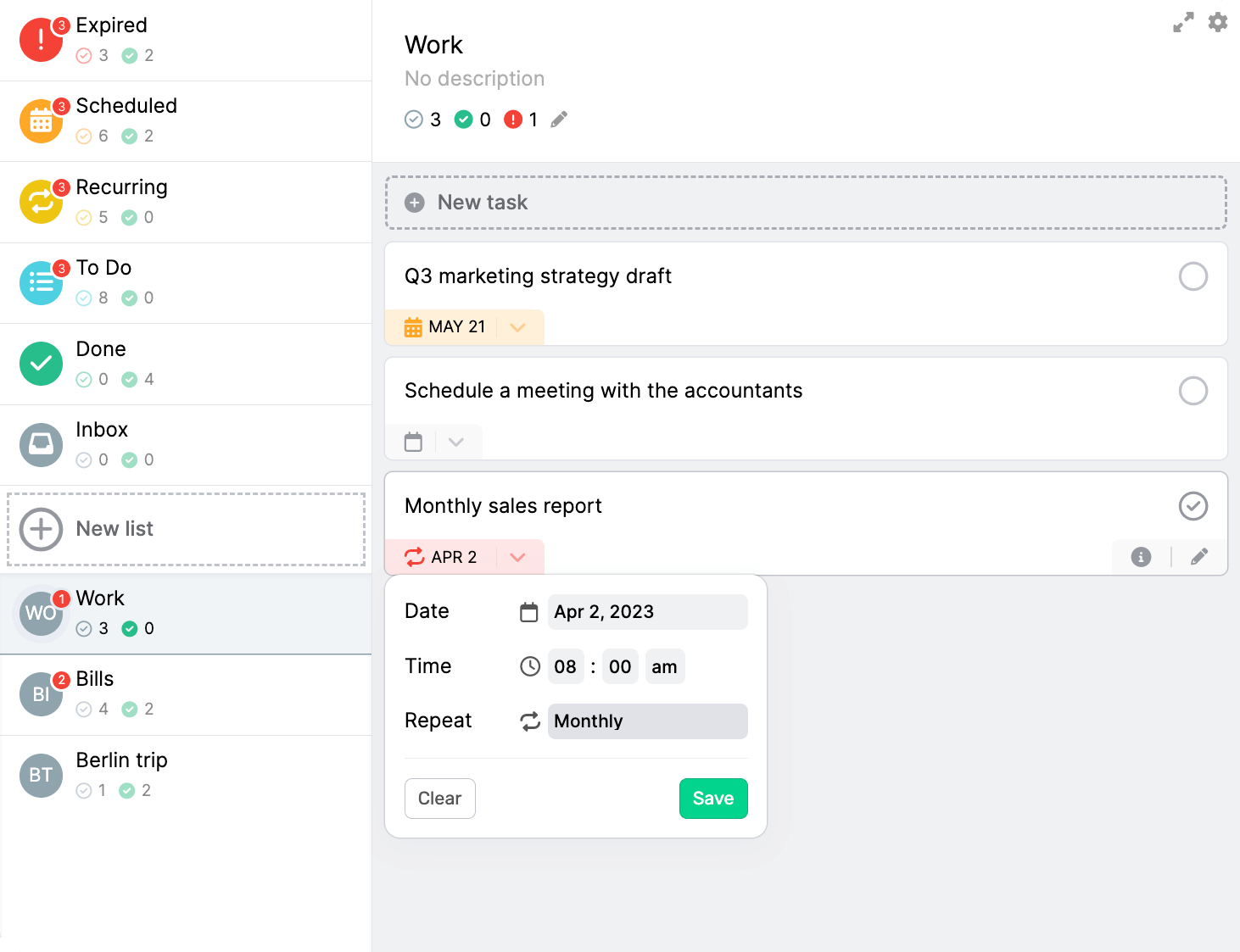 Amazing UI
With an intuitive layout and drag-and-drop features, ListoWP interface is feels familiar, not very different from any To Do and Reminders apps you might have used before. The plugin is optimized for mobile devices, with a distraction-free fullscreen mode baked right in. It also features a dark mode, to blend better with your website.
Your users will manage their Tasks and Lists exclusively in the front-end. Unlike most WordPress plugins, regular users never have to go to wp-admin to manage content. Built on custom database tables and Client Side Rendered REST API, ListoWP is lightning fast.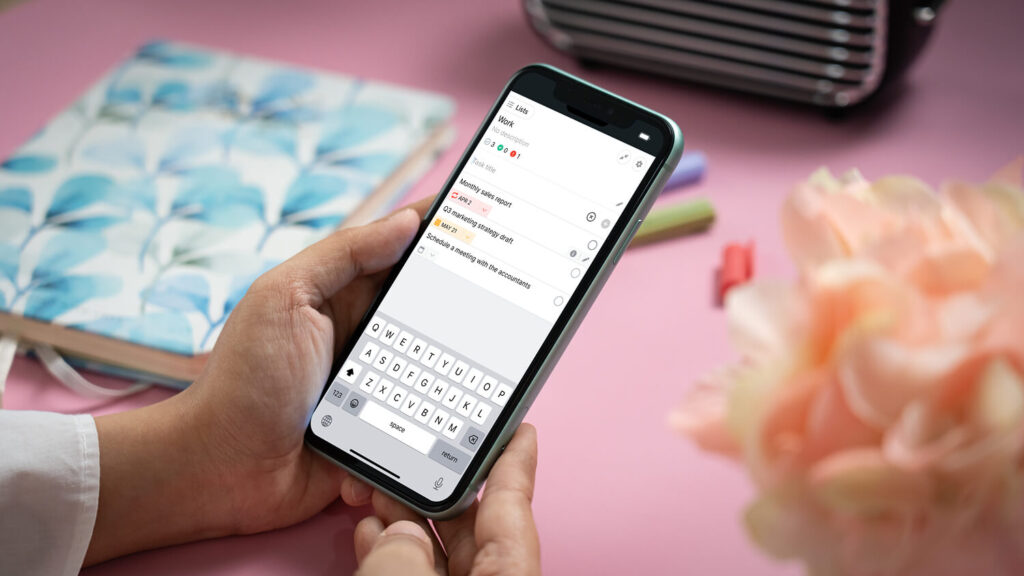 PeepSo integration
ListoWP Pro features a range of third-party integrations, including the PeepSo profile tab. Visible only to the profile owner, it gives them their To-Do items right in the PeepSo UI.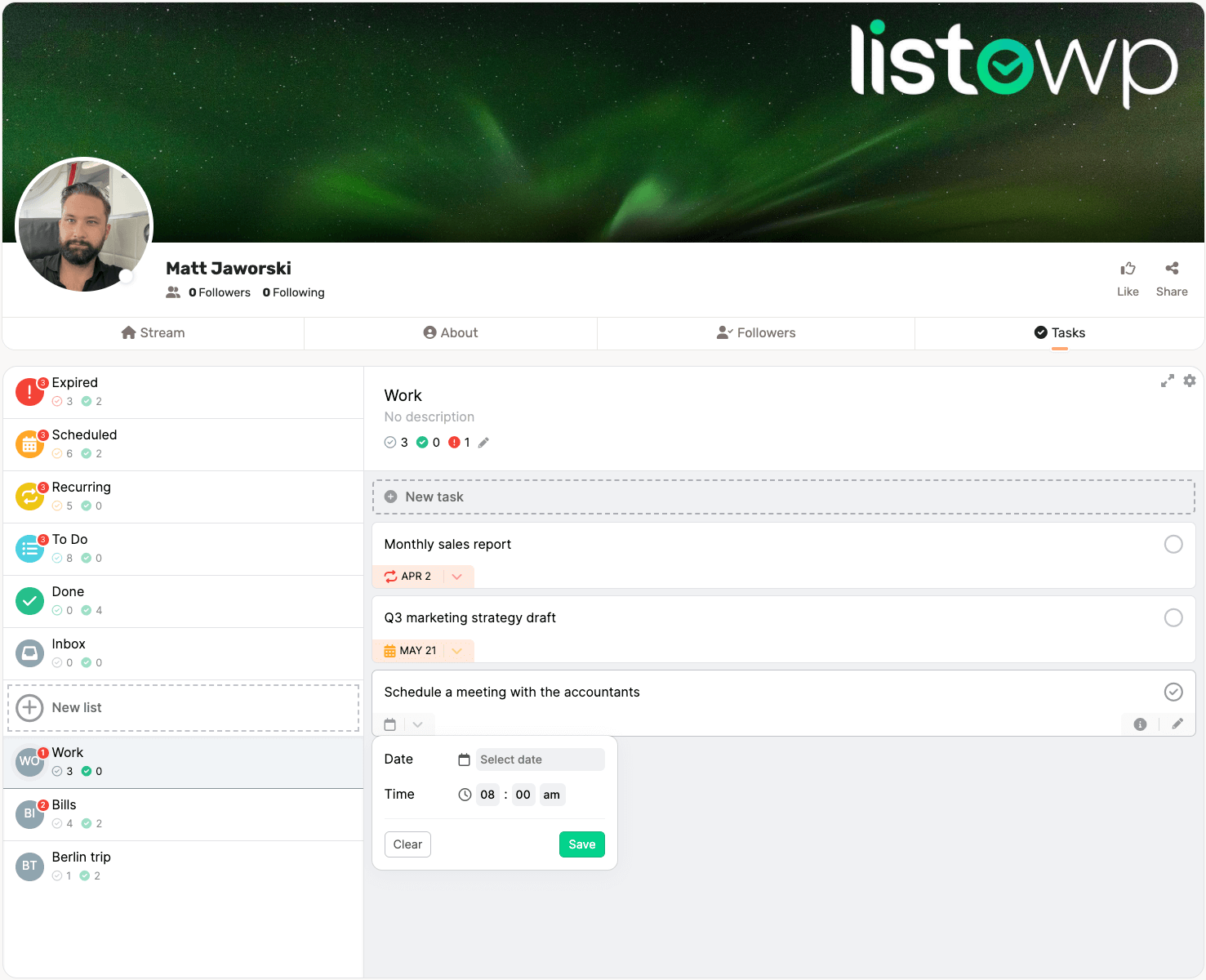 The Future
ListoWP is a very young project but with a bright future ahead of it. We plan to expand the plugin with email notifications and collaboration boards – Kanban-style lists where users can assign tasks to each other and move them between categories until finished. Once more features are added the price might need to go up – which is yet another reason to grab it now while it's fresh off the press!
Do you have any questions or feedback?
I'm happy to reply to your comments under this post! Or you can open a support ticket directly on the ListoWP website. Thank you!