The Social Login plugin on its own does what it's supposed to. Provide login options to your users to your website with 3rd party services like Facebook, Twitter etc.
Comes with a built-in PeepSo Integration
This integration with PeepSo goes beyond just that. It also allows importing some user profile information like: Name, Last Name, Birthdate and avatar from the providers who allow such imports.
Social Login plugin comes with its own widget which you can place anywhere on your site. The integration with PeepSo allows displaying social login options within PeepSo itself. PeepSo Profile Widget, Landing Page and Registration.
Social Invitations
This aspect of the plugin allows your members to invite their friends from other social networks to visit and join your site. Takes a form of a widget which you can place anywhere you like in any widget position. You can also use a shortcode: [peepso_social_invite link="https://PeepSo.com"] with the 'link' parameter to ensure the landing page for invitees. There's also a Gutenberg Block that you can use.
10 Login options
There are 10 providers your users can login with.
PeepSo Integration
Integration within PeepSo Profile widget, landing page, registration.
Profile import
Import of basic profile information like: name, birthday or avatar.
Login anywhere
Place the social login widget anywhere on the site.
Social Invitations
Send invitations to people from other social networks.
Invitations from anywhere
Place the invitations widget, shortcode or a Gutenberg block anywhere on your site.
Send GIPHY gifs in comments and chat. GIPHY is the best way to search, share, and discover GIFs on the Internet. Like other search engines, most of their content comes from indexing based on the best and most popular GIFs and search terms across the web.
Now the whole vast library of gifs is available to your community. Gifs from GIPHY can be added to comments under posts as well as shared via chat. It's a great way to react to a post or a message.
Search
Quickly find the GIPHY gifs you want by typing any keyword.
Chat
Send GIPHY gifs in chat in either one on one or group conversations.
GIPHY API
We've been working with GIPHY and we've made sure that you don't need to apply for the key. It just works on any domain name.
Comments
Send GIPHY gifs in comments under Status Posts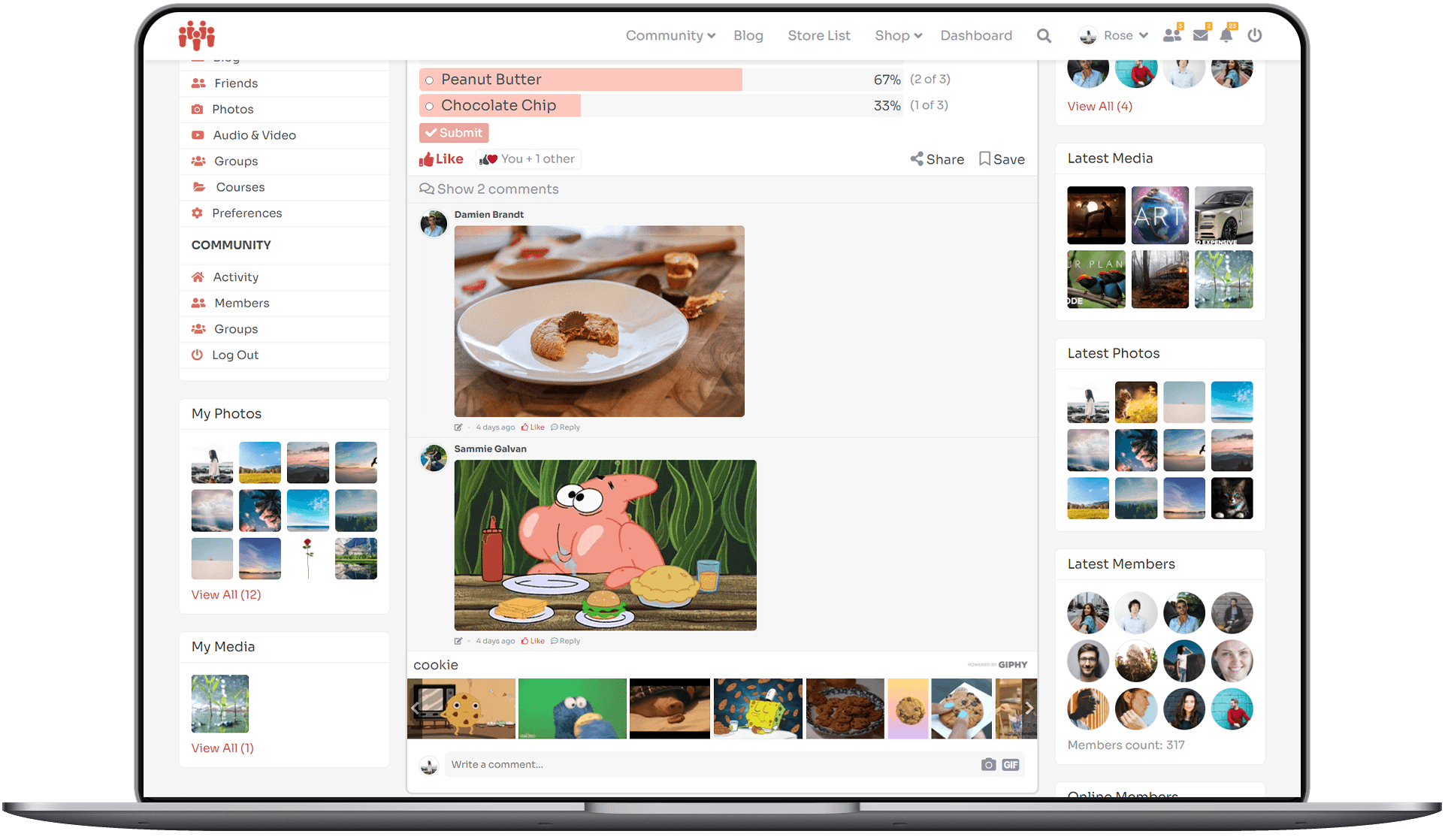 Achievement system for community engagement. BadgeOS Integration Plugin lets users earn badges for their community engagement. The badges or achievements, if you will, are displayed in users's profiles. When a badge is earned a corresponding activity post is created on PeepSo stream as well to congratulate the user on earning a badge.
The Plugin not only displays badges that can be earned by performing activities that are by default available in BadgeOS. It extends BadgeOS' possibilities and adds PeepSo Community Engagement Actions as well. That means users can earn badges performing activities in your community.
Which actions are available depends on which PeepSo plugins you have installed and activated. Available actions are divided into groups. Each group name is the name of corresponding PeepSo plugin that is required for them to work.
Achievements
Add achievement badges to users based on their actions throughout Your Community.
PeepSo Core
Assign points and badges for actions like: Admin Approves User Account, Change Profile Avatar, Change Provile Cover, Write a Post, Write a Comment
Award Badges
Award Badges to user profiles, because you feel like it.
Friends
Assign points and badges for actions like: Send a Friend Request, Add a New Friend
See User Badges
See users' badges in their profiles.
Groups
Assign points and badges for actions like: Create a Group, Join a Group, Change Group Avatar, Change Group Cover
PeepSo Profile Widget
Decide whether to show user's badges in PeepSo Profile Widget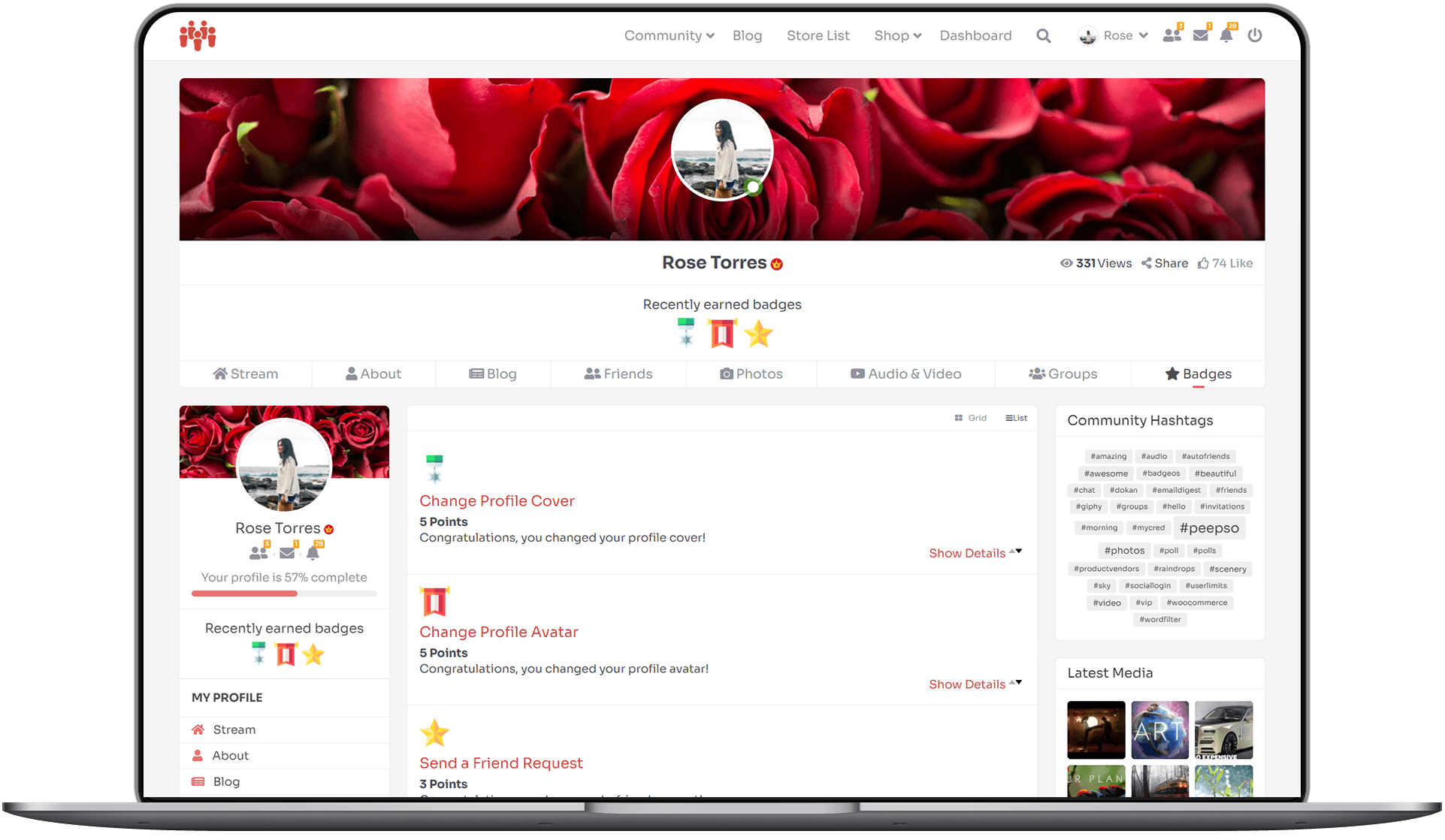 Chat
Assign points and badges for sending a message.
Profile Cover
Decide whether to show user's badges on users' Profile Cover images.
Users earn points for community engagement. The myCRED plugin awards users points for actions performed on your website. Now the PeepSo – myCRED Integration Plugin adds a bunch of new hooks for PeepSo-related actions. Users will win points for being active in your community.
Your users can gain or lose points for any of these actions. Their points can be displayed in their profiles, under the cover.
What those points do? Well… that's up to you. The myCRED plugin, which is required for this integration to work, has a range of addons that allow users to buy points and spend them on content and other purchases. You can read more about myCRED plugin and its addons here.
Status Updates
Users can earn or have points taken away for the following actions: New PeepSo Post, PeepSo Post Deletion
Comments
Users can earn or have points taken away for the following actions: New PeepSo Comment, Comment Deletion
Chat
Users can earn or have points taken away for the following actions: New PeepSo Message, PeepSo Message Deletion
Friends
Users can earn or have points taken away for the following actions: Add New PeepSo Friend, PeepSo Friend Deletion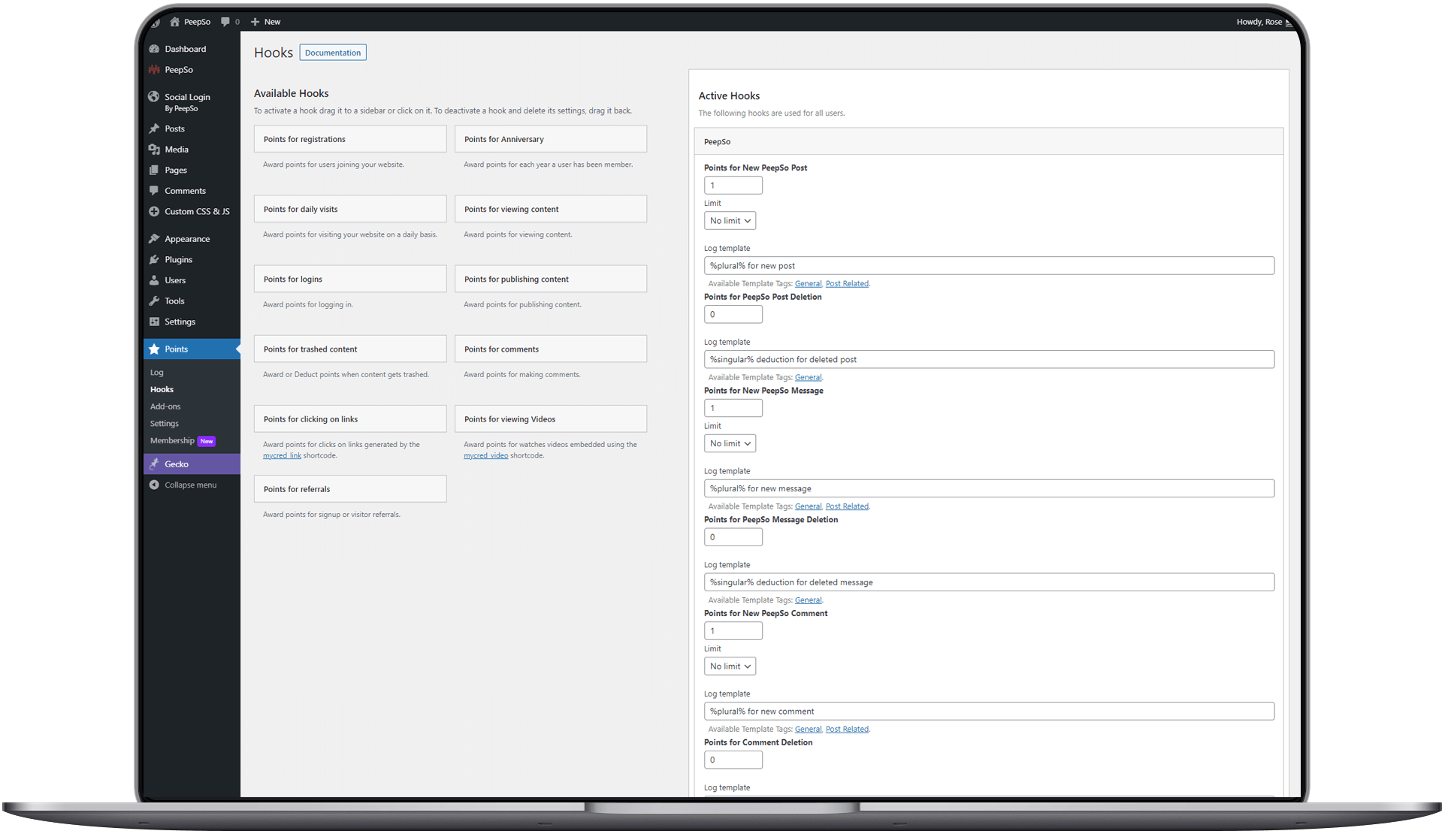 Photos
Users can earn or have points taken away for the following actions: Add New PeepSo Stream Photo, Deleting PeepSo Stream Photo
User Cover Image
Users can earn or have points taken away for the following actions: Add New PeepSo Profile Cover, Deleting PeepSo Profile Cover
User Avatar
Users can earn or have points taken away for the following actions: Add New PeepSo Profile Avatar, Deleting PeepSo Profile Avatar