GEO my WP is a free WordPress plugin that provides all the tools you'll ever need to make mapping and geolocation as easy as possible throughout your entire website. While it is already integrated with WordPress trough features like Posts Geotagging, Proximity Search Forms and Mashup Maps, it now comes with a PeepSo integration as well.
PeepSo Integration With GEO my WP
Before we dive deeper into GEO my WP integration, it is important to emphasize how this is a completely third-party integration. GEO my WP base plugin and integration plugin are created by third-party developers at GEO my WP and as such are sold and supported exclusively by their respective creators. While base GEO my WP plugin is free, PeepSo Integration Plugin is not. Currently it is $49 but with the PeepSo20 code on the checkout you can get it for $39.20.
And now we have an even better deal for you. If you choose to enhance GEO my WP with more features, not just PeepSo Integration, you can buy one of their access passes and get a whopping 50% discount on already discounted prices. Just use the code PeepSo50 during checkout for Ultimate, Professional and Social passes to get even better price.
Profile Geolocation Setup
Because this is the integration plugin developed by a third party, setting it up will be quite a different affair compared to regular integrations created by PeepSo. Installation process is actually the same as any other WordPress plugin.

Step 1: Install the free version of GEO my WP from here: https://wordpress.org/plugins/geo-my-wp
Step 2: Download addon plugins from GEO my WP website, and install them through WordPress installer
Step 3: Activate your GEO my WP licenses by following this guide: https://docs.geomywp.com/article/189-activating-license-keys

Now that we have everything in place, let's check the configuration. It can be accessed by going to WP Admin -> GEO my WP -> Settings. If you use PeepSo Groups plugin, you'll immediately notice that you can geolocate groups as well.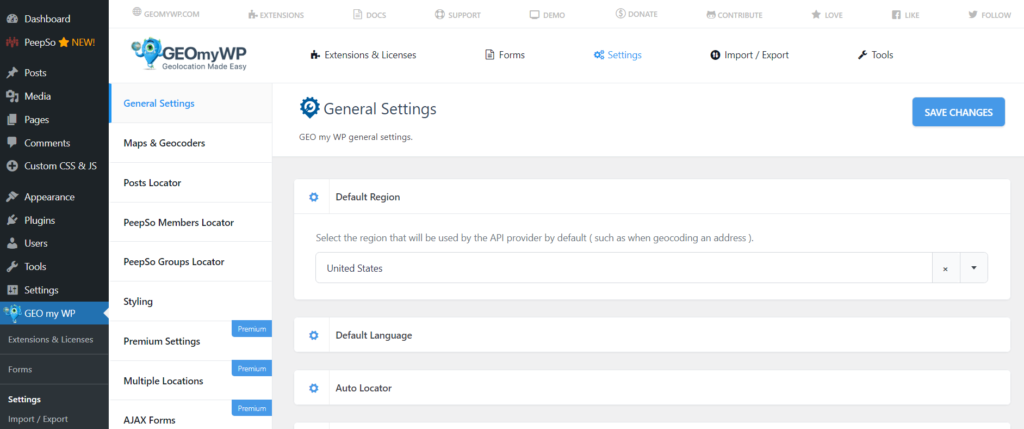 Let's focus on the members geolocation. The first thing you need to do is enable Members Locator, and immediately after that in the setting bellow choose your PeepSo location field.
If you don't have the location field yet, simply go to WP Admin -> PeepSo -> Manage -> Profile Fields and create a new text field that will serve as a location field, then come back to the previous setting in GEO my WP and map that field.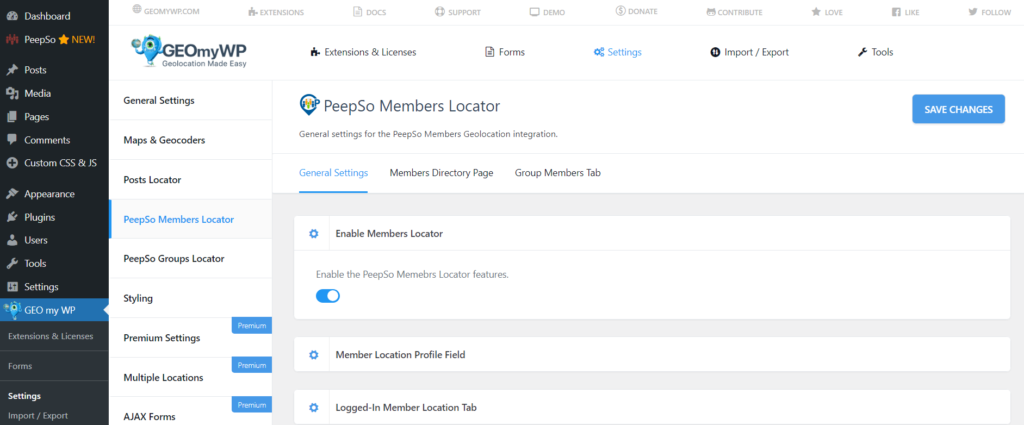 This will automatically create the interactive field in every profile where users can enter their location, or click on the target icon which will try to pinpoint user's current location. Here is how it looks when it tries to find the location automatically: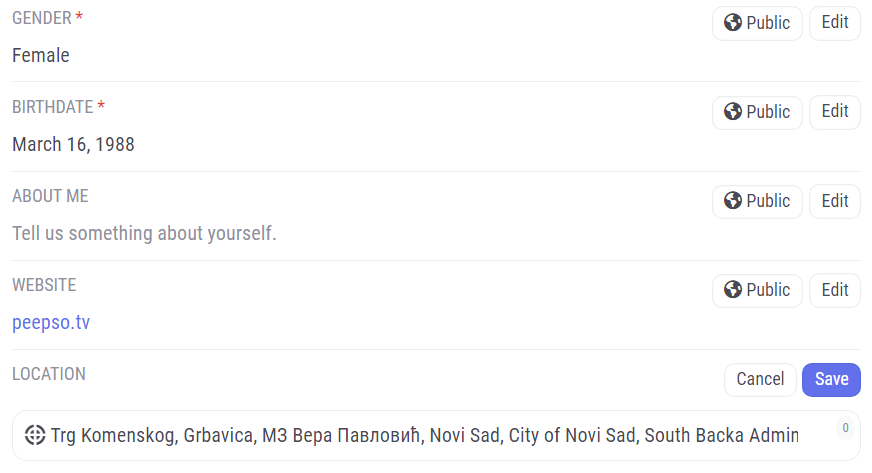 It is pretty close, but not quite there, so I can click on that field and enter my location manually. This is particularly useful if you just want to show your city as a location and don't want to show your actual street or region. I corrected my profile information to simply include my city (Novi Sad) as my location: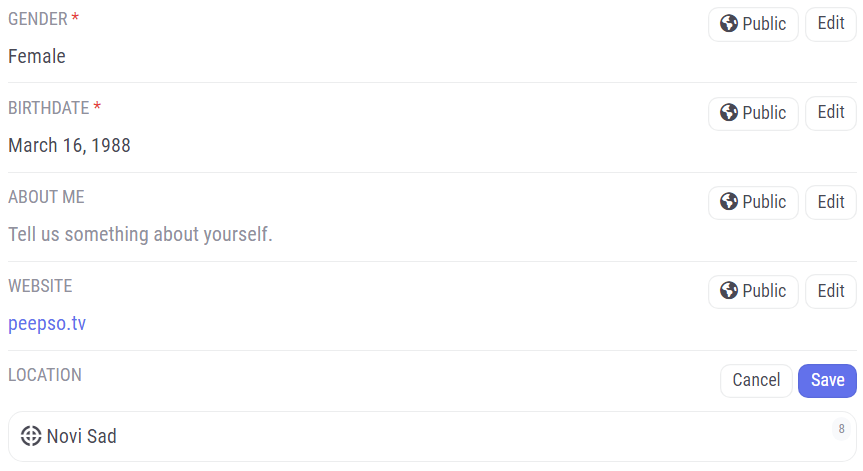 This will create the location tab in the profile page, so when a user visits this new tab on the profile page, they can see the location displayed on the map: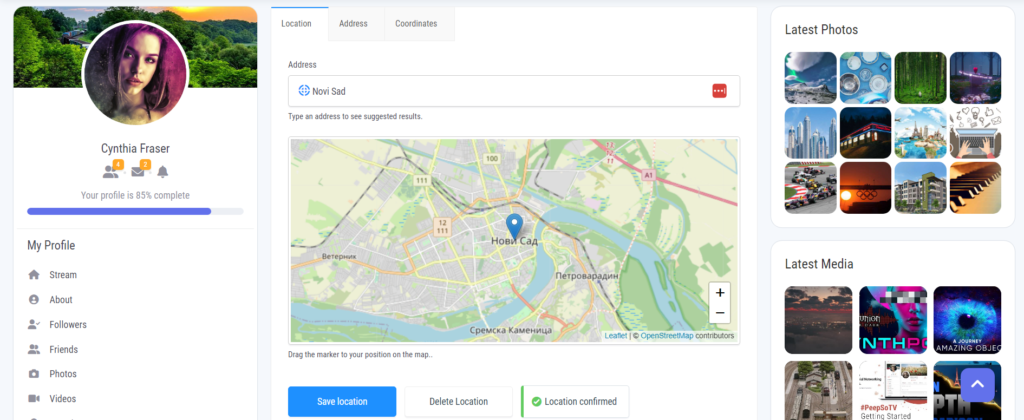 From here, the owner of the profile can simply drag the pin on the map to change location if they wish to do so.
Now let's come back to the GEO my WP configuration page and switch to Members Directory Page. These settings will allow us to display the map on the members page, and even use radius search to find all users within the specified distance from the desired location, in miles or kilometers. This is a backend setting. Because I am from Europe, we use kilometers here so my users who want to search for others by location radius, don't get confused 🙂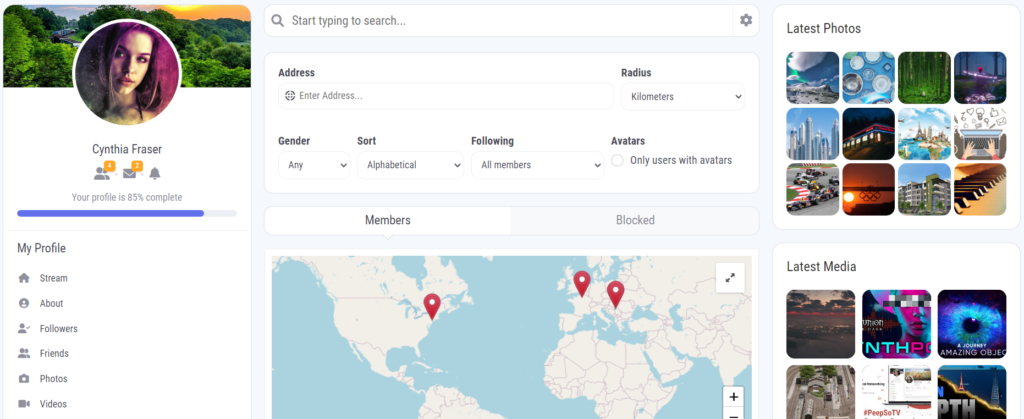 I've just conducted the search within 200km radius from Novi Sad, my city, and these are all the results found on my site: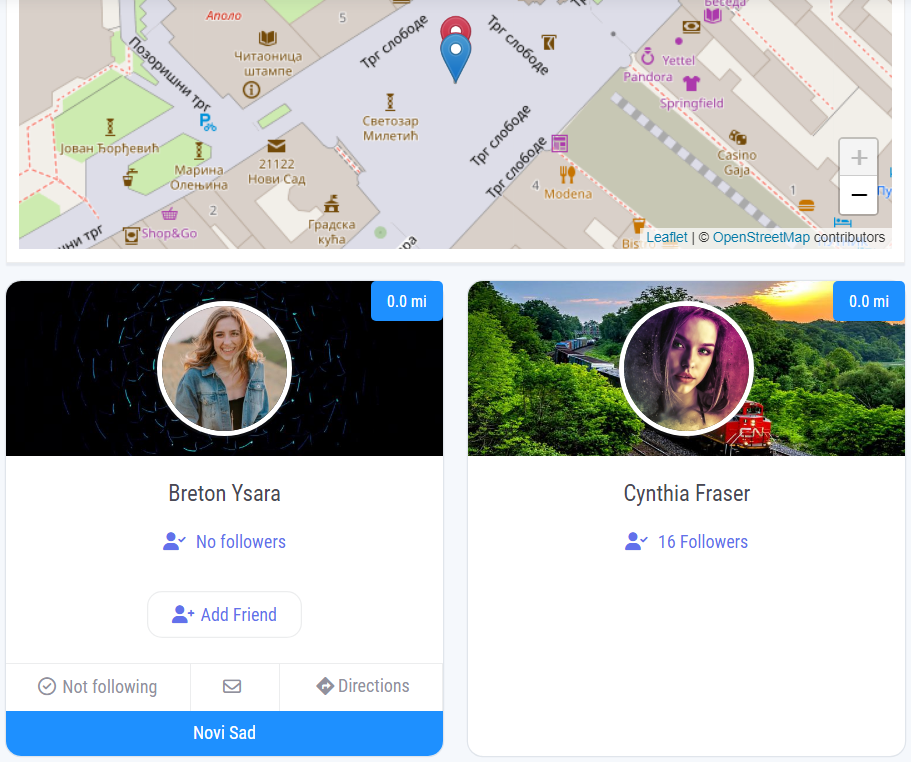 Pretty neat, eh? Now you can allow your users to see everyone around them 🙂
Group Geolocation Setup
Similarly to profiles, you can geolocate your groups as well, if you use PeepSo Groups plugin.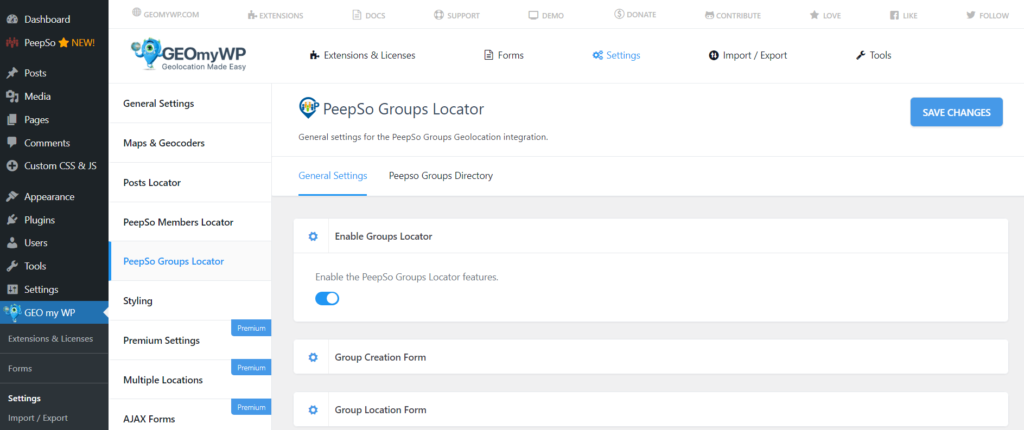 Similarly to profiles, now the location tab will be displayed in all groups, and if you're the owner of the group, you'll be able to change the location for it.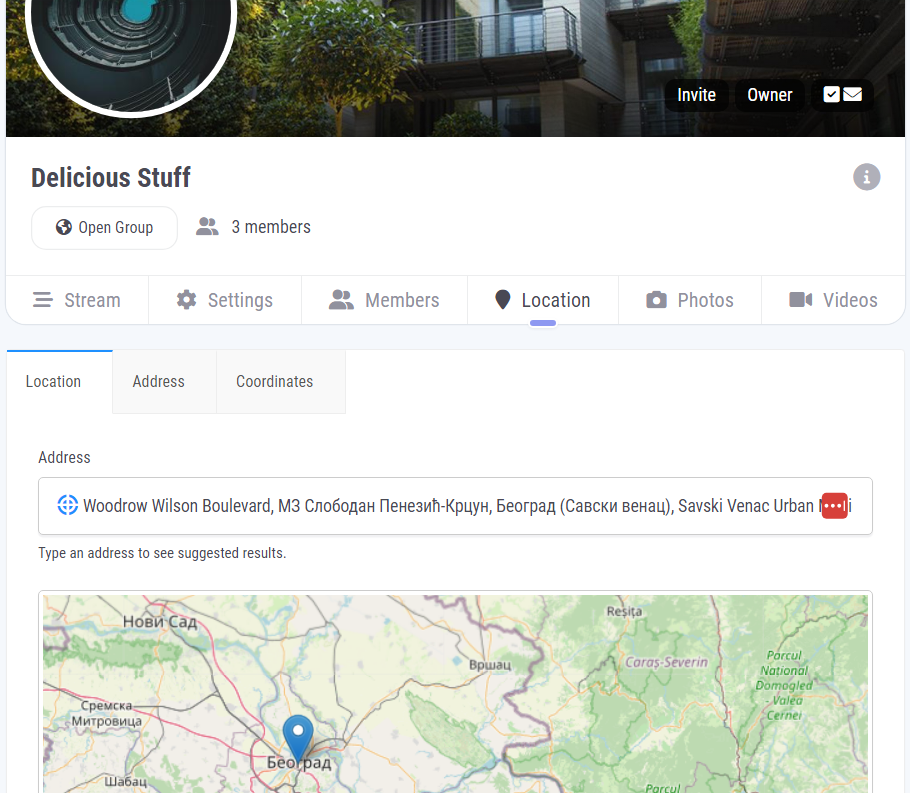 And of course, you can perform the radius search for groups as well.

Other Settings
In this article, I only scratched the surface of all the settings this plugin provides to show its general functionality, but you can do much more especially if you decide to go for Ultimate, Professional or Social Access Pass.
Don't forget to use the code PeepSo50 to get even more discount on your access pass purchase.