Filter out any kind of bad language. The WordFilter plugin gives your community peace of mind. Whether your community has a young audience or whether you just don't want to show any profanity in your community's posts or comments, the PeepSo – WordFilter plugin keeps your content family-friendly.
What To Filter Out
Decide which words and phrases to filter out.
Status Updates
Decide whether to apply censorship on Status Updates.
Censorship Rendering
Decide how you want the censored words to look like.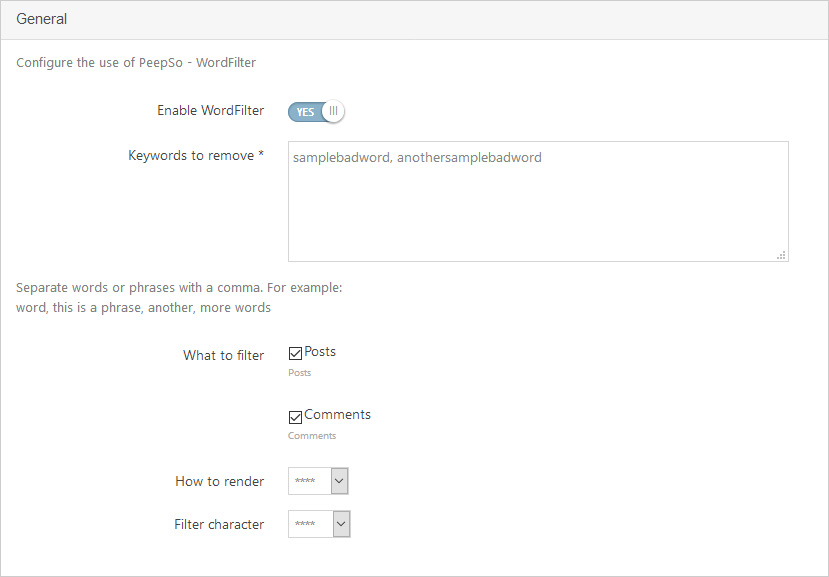 Comments
Decide whether to apply censorship on Comments.
Chat
When Chat plugin is installed and WordFilter enabled unwanted words and phrases are removed from chat conversations automatically.

PeepSo Ultimate Bundle
Discounted Price. All Current PeepSo Plugins. All Future PeepSo Plugins. Single License Key.
Single Purchase. Single Subscription. Full Technical Support. Upgrades. Updates.
* Screenshots show PeepSo and some of its plugins like: Photos, Videos, Hashtags etc. with PeepSo Theme: Gecko. Screenshots are for presentation purposes and the outcome may vary with other themes, plugins installed and configuration selected.
** Third Party Base Plugins are not a part of any purchase like: PeepSo Ultimate Bundle. PeepSo Integration and Monetization plugins usually require Third Party Base Plugins (Advanced Ads, BadgeOS, LearnDash, myCred, PMP, WooCommerce WPAdverts). Third Party Base Plugins are either free or need to be purchased at a Third Party website. PeepSo support only covers the integration between PeepSo Integrations and Third Party Base Plugins – we do not test nor officially support any Third Party Add-ons to said Third Party Base Plugins. The support for Third Party Base Plugins is always provided exclusively by their original developers.