Audio & Video uploads directly to your site. You can also link videos from WordPress supported providers like YouTube, Vimeo etc.. The videos show in a wide display for easy viewing. Audio files com with art work, if available. Members can comment, like and share the videos, generating engagement and interaction. Full support for live streaming via YouTube and other supported providers.
The plugin also puts a Videos tab on profile pages and within Groups (Groups plugin required) that displays all the videos the members uploaded. It also comes with widgets showing user content and community-wide video content: My Videos and Community Videos.
Video Uploads feature is very resource consuming and is not supported on shared hosting environments. See documentation.
Upload Videos
Allow Uploading videos directly to your site.
My Videos Widget
Shows users latest photos. When placed in 'PeepSo' widget position it shows videos of that particular user whose profile you're visiting.
Share Videos
Share videos to User Profiles and Groups
Community Videos Widget
Shows latest Videos of your entire community (videos show depending on their privacy setting).
Audio Uploads
Upload audio files right to your community. Perfect for podcasts, music artists and more.
Supported Providers
Videos plugin supports all major providers like: YouTube, Vimeo and others.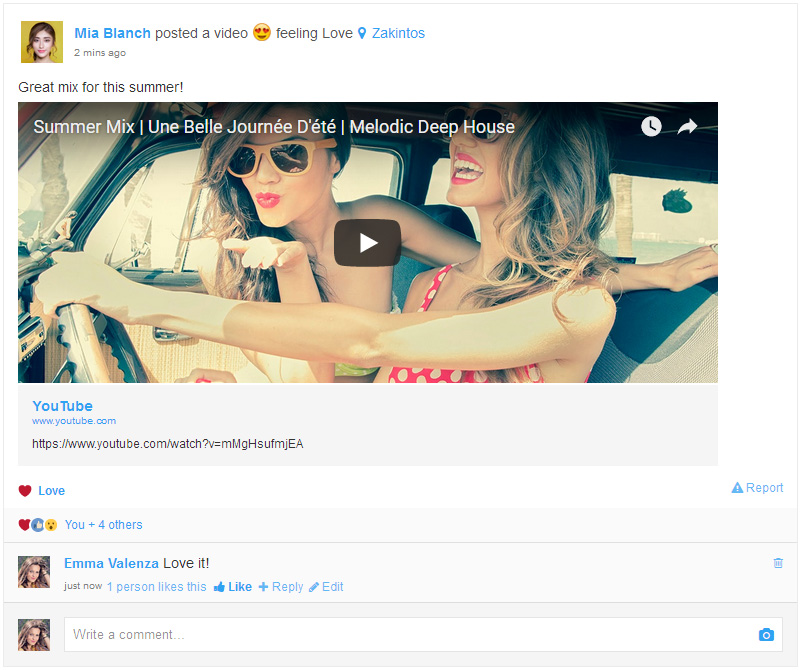 Live Stream Videos
Support for Live Streaming via YT and other supported providers.