Requires: Easy Digital Downloads
Easy Digital Downloads is a plugin which enables you to create your own online store and sell all sorts of digital goods. We can't recommend it enough. You know it's true when we actually use it ourselves. EDD itself comes with a vast array of features. Not only we made sure that the we got EDD itself covered, we also took this opportunity and integrated PeepSo with a number of its addons: Software Licensing, Recurring Payments, All Access Pass, PDF Invoices.
All of that in efforts to make sure your community and online store work together in perfect harmony.
Purchase Stream Posts
Beautifully displayed posts right in your community when users make a purchase.
EDD Recurring Payments
Integration with EDD Recurring Payments so users can manage their subscriptions right in their profiles.
EDD Software Licensing
Users can manage their licenses directly in their profiles.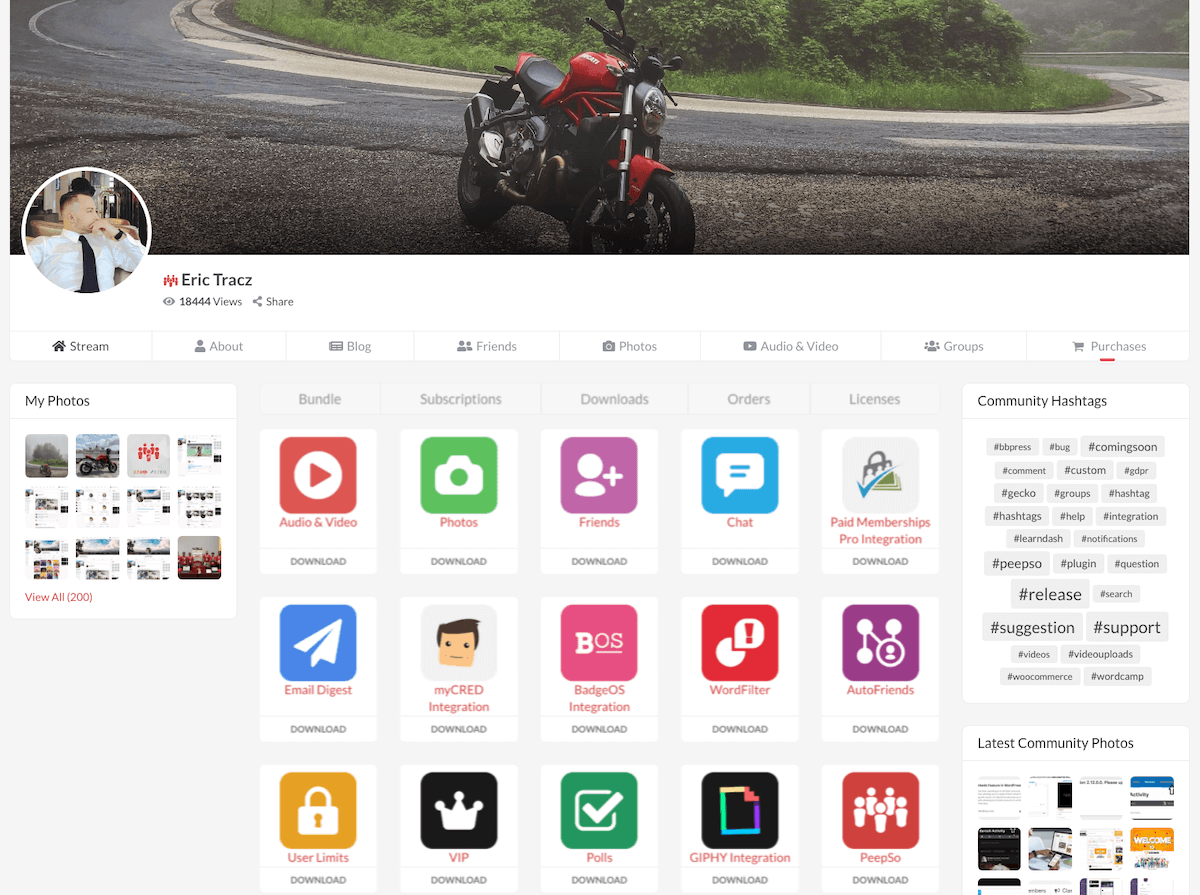 Profiles Navigation
Seamless integration with user profiles so they can access their purchases right there.
EDD All Access Pass
Integrating EDD's All Access Pass right in user profiles.
PDF Invoices
Users can download PDF invoices for purchases right from their profiles.

PeepSo Ultimate Bundle
Discounted Price. All Current PeepSo Plugins. All Future PeepSo Plugins. Single License Key.
Single Purchase. Single Subscription. Full Technical Support. Upgrades. Updates.
* Screenshots show PeepSo and some of its plugins like: Photos, Videos, Hashtags etc. with PeepSo Theme: Gecko. Screenshots are for presentation purposes and the outcome may vary with other themes, plugins installed and configuration selected.
** Third Party Base Plugins are not a part of any purchase like: PeepSo Ultimate Bundle. PeepSo Integration and Monetization plugins usually require Third Party Base Plugins (Advanced Ads, BadgeOS, LearnDash, myCred, PMP, WooCommerce WPAdverts). Third Party Base Plugins are either free or need to be purchased at a Third Party website. PeepSo support only covers the integration between PeepSo Integrations and Third Party Base Plugins – we do not test nor officially support any Third Party Add-ons to said Third Party Base Plugins. The support for Third Party Base Plugins is always provided exclusively by their original developers.