We are wrapping up the 2022 with Phase 3 of photo rotation, making it possible to rotate all photos uploaded in activity streams via post box. We've also tweaked the behavior of posts that are bumped with comments, and added some improvements for third-party plugins and integrations.
Photo Rotation – Phase 3
Third phase of our photo rotation development brings the possibility to rotate all the photos that are uploaded via postbox. As soon as photos are uploaded, two new icons will appear for each photo and you'll have the opportunity to correct their orientation if desired.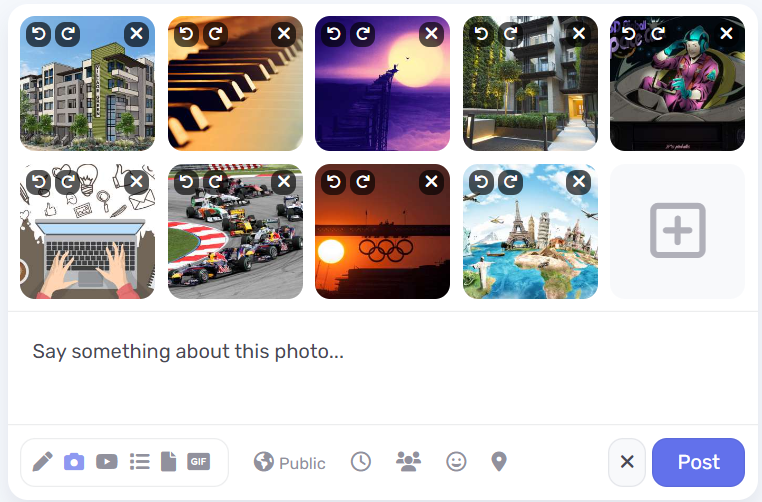 Other Changes and Improvements
Ever since we've introduced the change in ordering of the activity stream where posts with new comments would be bumped on top, there was a small "exploit" that users could use to bump their posts on top by simply commenting and then deleting the comment. The post would remain on top, even if the comment that bumped it on top is deleted. This is now fixed.
We've also improved the File Uploads plugin in terms of hashed file names on Firefox mobile browser, and introduced some visual improvements in BadgeOS display on mobile devices.
Changelog
There are plenty of 'under the hood' fixes too, and as always, you can see our changelog for all the details.
Don't have the Bundle but you would like to have access to all current and future plugins hassle-free?
Check our offer!
PeepSo Ultimate Bundle – 1 Year
Most popular
Get access to every single plugin and theme we have on offer.
1 year of free updates
1 year of 24/7 * Technical Support
1 year access to future plugins (if any)
No signup fees
Early Access Program
PeepSo Ultimate Bundle – 5 Years
Pay 3 years, get 2 free
The best possible solution for a long-term plan community.
5 years of free updates
5 years of 24/7 * Technical Support
5 years access to future plugins (if any)
No signup fees
Early Access Program
PeepSo Monthly Bundle
Most popular
Not ready to commit? Try the self-supported monthly subscription!
Free Updates with active license
Self managed

(no ticket support)

Access to future plugins with active license
$30 signup fee