New PeepSo Installer, Post Backgrounds (Early Access), custom postbox colors and many fixes & improvements.
Watch the release video
What's new in Gecko
UserBar Widget settings
The UserBar Widget settings have been moved from Gecko Customizer to actual widget options. Please read below in the PeepSo section for more details.
Customizer: custom colors for the postbox & pinned posts
Gecko Customizer has been expanded with color settings for the PeepSo postbox. You can now easily customize the postbox backgrounds, text colors and drop-downs. The new options can be found in Gecko > Customizer > PeepSo > Activity stream.
You can now also control the "pinned" marker text color in pinned posts along with the border thickness and color.

What's new in PeepSo
PeepSo Installer
In an effort to simplify the process of installing all our software after purchasing it (or after having used it a while and then deciding to install a few more), we have built a dedicated interface for licensing, installing and activating our paid add-ons (plugins and themes).
The PeepSo Installer takes your license key and allows you to install and activate PeepSo add-ons one by one or in bulk. Every add-on activated has your license key automatically applied, so there are no additional steps.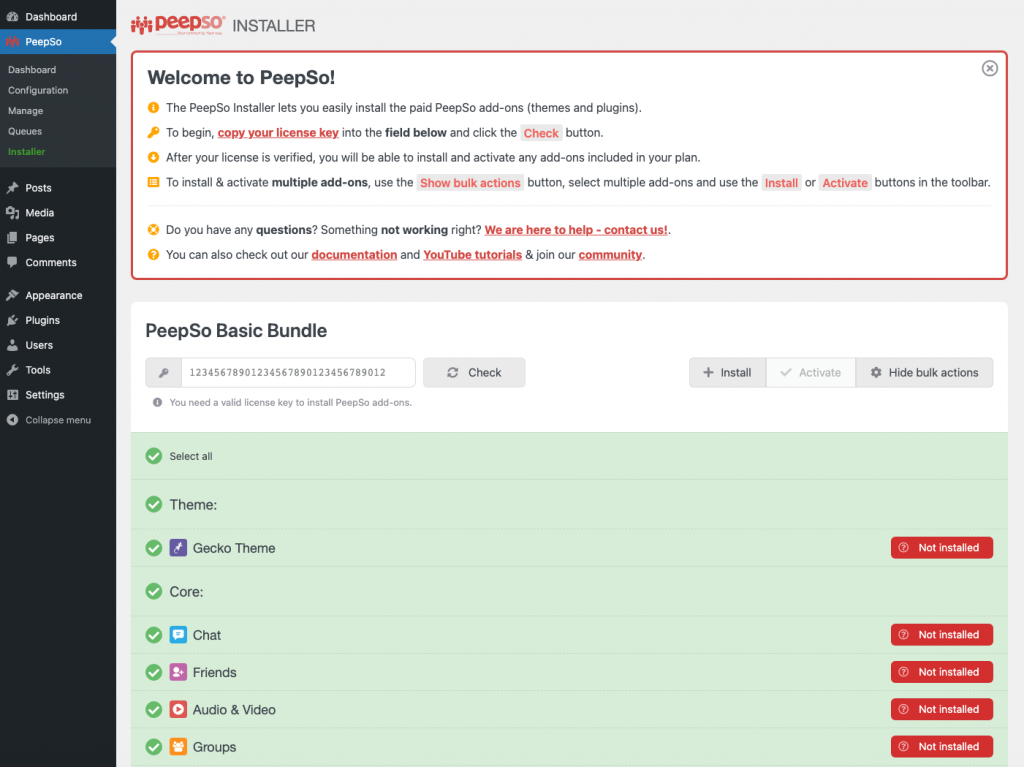 Userbar Widget settings (again)
For a while now, some settings for the PeepSo UserBar widget have been located in the Gecko Customizer. We found this approach a little inflexible (especially since you might want different instances of the same widget). Starting with PeepSo 3.5.0.0, all the controls for the widget are inside the widget configuration panel.
Compact mode is the new name of the setting that defines whether to use a collapsible design to hide the UserBar under a "user icon". You can now turn it off completely, enable for desktop, for mobile or always.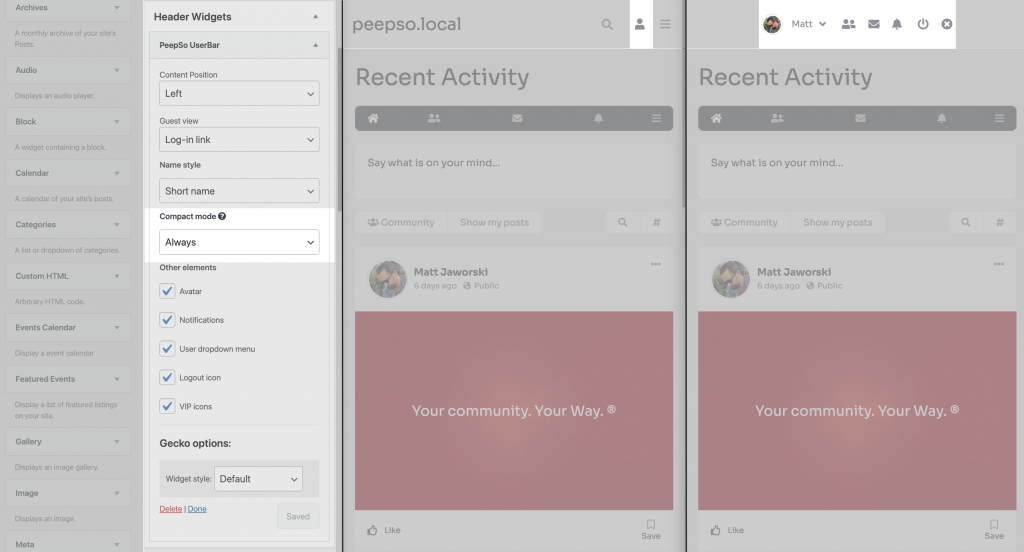 Post Backgrounds (Early Access)
Post backgrounds are a fun way to easily spice up the community with visually rich, colorful posts. The administrator defines the names, colors and availability of the designs to the public, and users get to enjoy them.
This feature in in beta now and will eventually become a part of the free PeepSo Foundation plugin, but for now is only available to Ultimate Bundle subscribers via the Early Access program.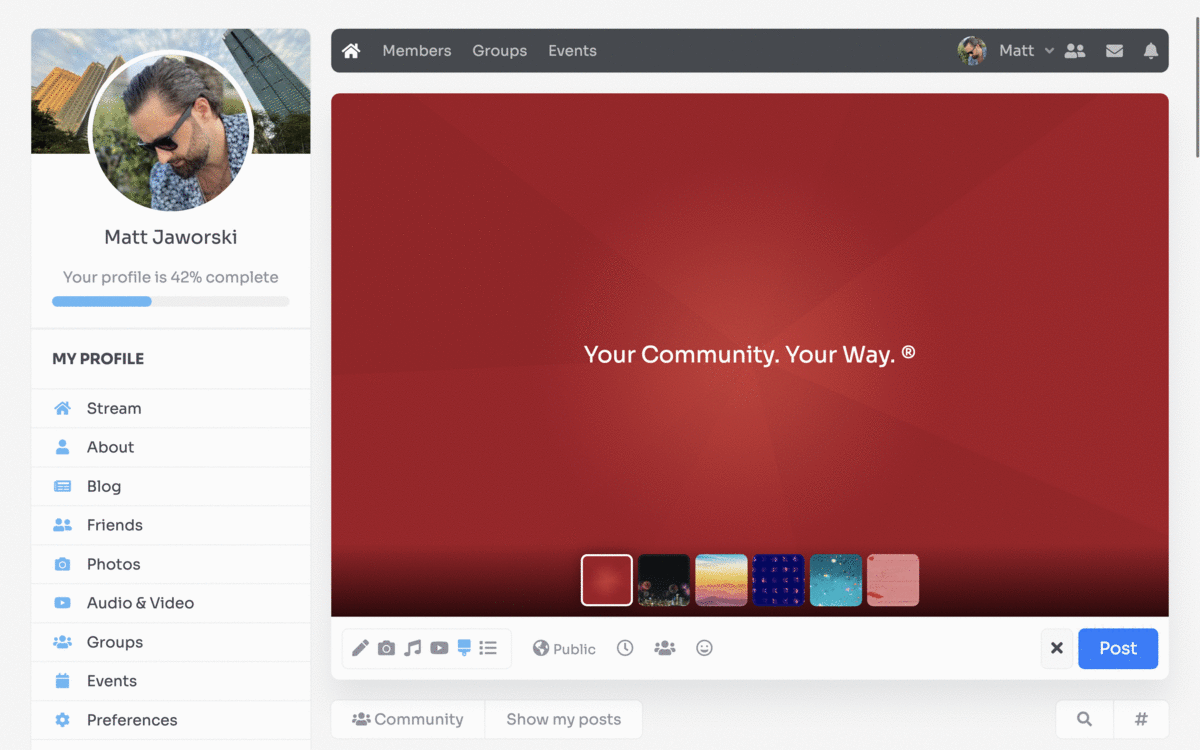 The feature comes with six presets, but you can change their names, colors and images – and create new ones. Similar to Reactions, you can also create seasonal backgrounds (for example Christmas or Halloween) and unpublish them after they the festive period is over (it will not affect old posts).
By design, changing a post background image/colors will not affect posts that already exist, not unless you delete the image you have linked from the Media manager. In the future we will add a button "override all past posts with this design", just in case.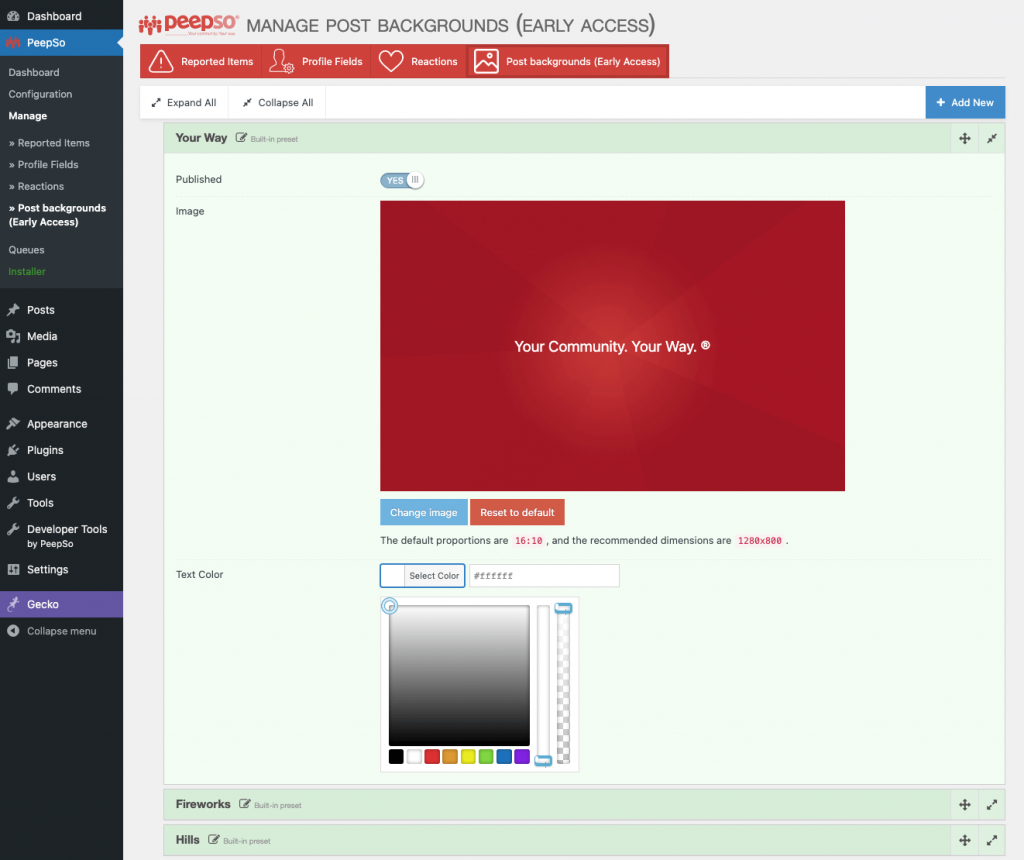 Reminder: PHP 7.3 and WordPress 5.5 are now required
Just in case you missed the previous releases: starting with the previous major release (3.4.0.0) we have further discontinued support for older PHP and WordPress versions, and PeepSo now requires PHP 7.3 and WordPress 5.5. We recommend PHP 7.4 and WordPress 5.7.

Don't have the Bundle but you would like to have access to all current and future plugins hassle-free?
Check our offer!
Ultimate Bundle – 1 Year
Get access to every single plugin and theme we have on offer.
1 year of free updates
1 year of 24/7 * Technical Support
1 year access to future plugins (if any)
Early Access Program
Our ❤
---