Incremental improvement of caching solutions compatibility. A brand new tighter PeepSo Blog Posts & Hashtags integration.
Third Party Caching
We have worked together with the developers of W3 Total Cache to solve some issues that have been plaguing PeepSo users with heavily cached pages. The previous release's setting allowing to disable the strict AJAX security checks upon login was step one. In this release we ship an always-on caching plugin compatibility mode utilizing the DONOTCACHEPAGE directive which should stop all mainstream caching solutions (W3TC, WP Rocket) from caching certain critical shortcodes (registration, password reset, external link redirect).
Tighter Blog Posts Integration with Hashtags
We have tightened the PeepSo BlogPosts and Hashtags integration with WordPress posts by implementing a few major improvements.
If new blog posts are triggering a new PeepSo stream entry, you are now able to define a PeepSo Excerpt which will be used on top of the companion stream post. It's a great way to drop a few personal words above the link preview, dedicated to your community but not showing in the WordPress post itself.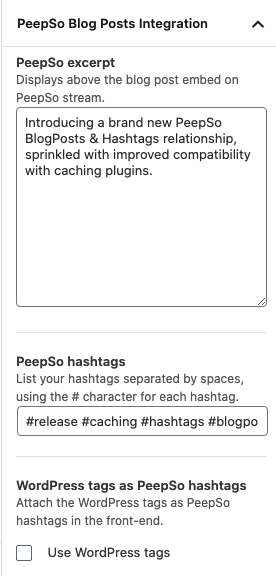 You will be also able to define PeepSo Hashtags, which will be displayed both in the companion post and the WordPress post. You can either type your own hashtags, decide to use the WordPress tags as PeepSo Hashtags, or both. There are new settings in the BlogPosts configuration screen, which let you control the positioning and sorting of the hashtags in the companion post and the parent WordPress post.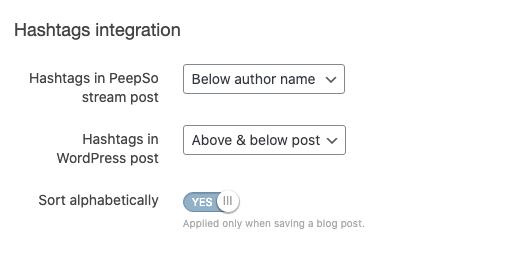 Both the PeepSo Excerpt and the PeepSo Hashtags will work great when searching and filtering the stream, allowing you to categorize the Blog content on the PeepSo stream in new ways.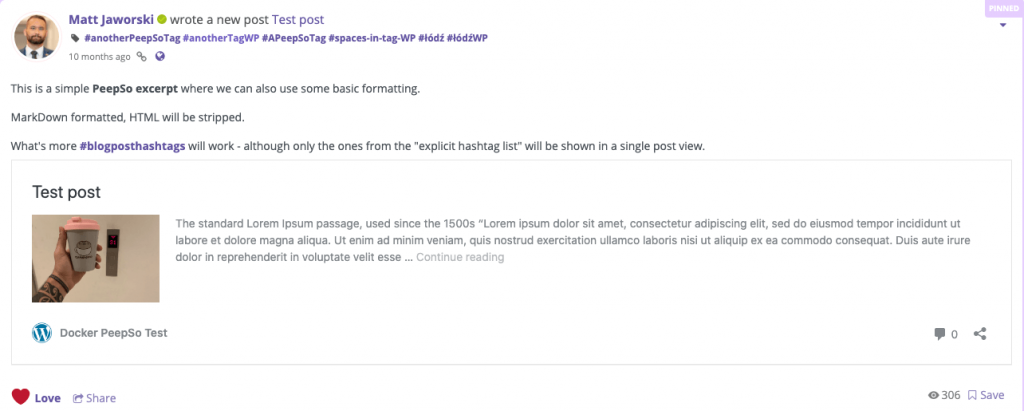 Don't have the Bundle but you would like to have access to all current and future plugins hassle-free?
Check our offer!
---