The sixth iteration of the Long Term Support PeepSo 2.2 family delivers further postbox redesign, improved Administrator abilities and a handful of long requested WPAdverts integration features.
Postbox UI & UX – finishing touches
After a couple of new postbox features were introduced in previous releases, and since PeepSo 2.2.5 eliminated the "big icon bar" for post types and merged it with the "small icons" bar, the interface became temporarily crowded.
In this release the "post type" selection (which used to be the "big icon bar" earlier) was further simplified to a single dropdown in the left corner of the postbox.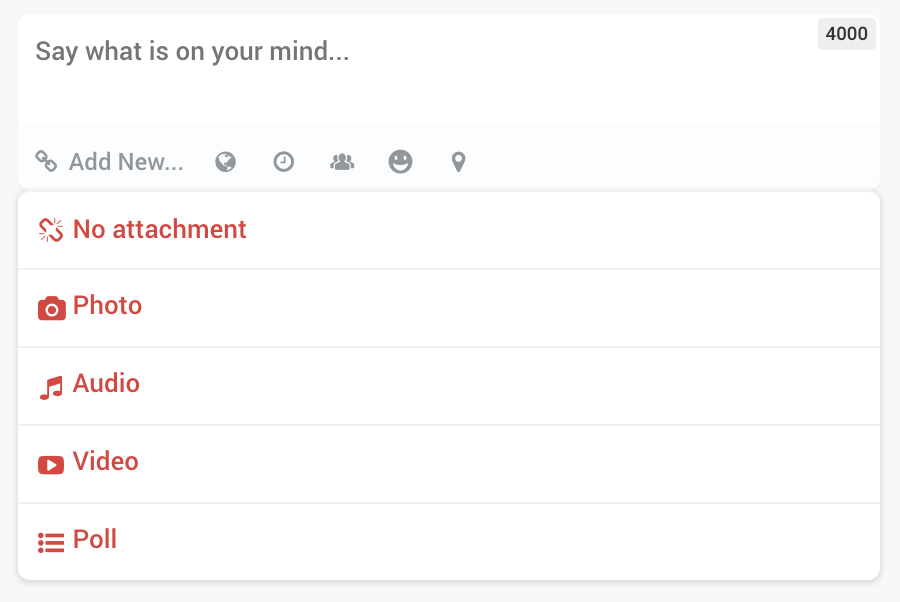 Important registration changes
Starting with this release, PeepSo no longer follows the "anyone can register" WordPress option. Instead, the "disable registration" PeepSo configuration option needs to be turned on if you wish to disallow both WP and PeepSo registration (in favor of a 3rd party registration plugin or a completely closed community).
The People vs Administrators
Users can no longer block administrators. When any user is promoted to an admin, he is automatically removed from all block lists.
Administrators can now see and change the privacy of all posts (except ones made in groups, as groups have their own access control).
WP Adverts Integration
We implemented the category and grid views in PeepSo WPAdverts integration. We also added search by location (if the respective WPAds add-on is present). It is now possible to disable the way PeepSo overrides the WPAdverts templates – if you choose to only stick to "post to stream" feature and/or want to build your own templates.
Other changes
We improved the performance of very big / complex communities (50.000+ users or 500+ or more friends) by implementing AJAX loading and internal per-user cache in the Friends widget. The native Country field was missing some options, namely "show in registration" and "searchable". The groups plugin now does a better job at cleaning up notifications and posts belonging to deleted groups, and the video uploads feature has improved FFmpeg detection. See the full changelog here.
Gecko Theme 2.2.6.0 Release
What's new in Gecko Theme?
We added two new options to Customizer. The first one is to set Header Menu links color on hover, second one to Header "Burger" icon color so that can have a more unified look for mobile devices.
We also added or rather improved styling of the backend options for Gecko. Usually, mobile view for themes and plugins is limited on mobile devices for admin. We wanted to not limit it, but make sure you can actually manage to make changes in the backend easily no matter with what device.
On the fixes front, we did update our overrides for WooCommerce plugin as well as fixed Footer for the middle of the page.
Don't have the Bundle but you would like to have access to all current and future plugins hassle-free?
Check our offer!
---