PeepSo 1.5.1 is the most advanced and stable version we have released so far. It comes with a lot of improvements, bugfixes and even a couple of new features.
New Feature! – Order Your Photos
Adding lots of photos to postbox has always been a great feature. But we felt that it was time to offer even more. Now you can not only upload multiple photos at once, you can also arrange them so that they are in the order you prefer. It's great when you want your pictures to tell a story.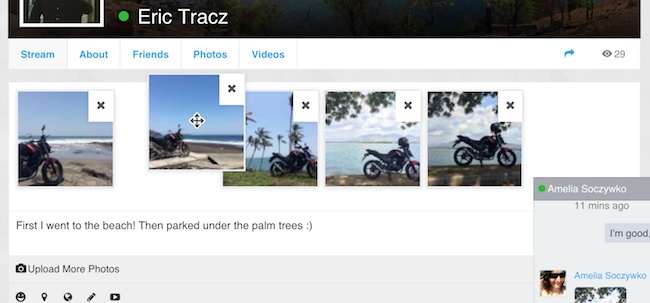 New Feature! – Mute Conversations
Sometimes you want to focus but you don't want to turn off the entire chat feature. You just want to turn off one annoying person or group.
You've got it. Now you can mute conversations, and you can even apply time settings so that no one will thinking you're blocking them forever.
Starting from PeepSo 1.5.1 you will also have control over who can write on your profile wall. You can choose between site members, friends, and nobody but
you.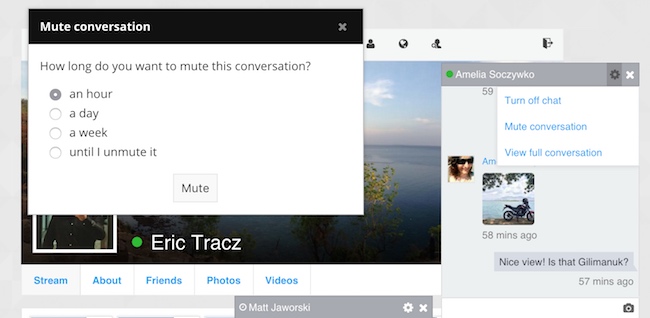 Improved Cropping, Friend Requests, Themes, And More
We take PeepSo development very seriously. We want PeepSo to be the best social networking experience available for WordPress regardless of the device. So we redesigned the entire cropping library. You can now crop your profile picture easily on a mobile device.
This version of PeepSo also comes with unified handling of friend requests and three-state buttons. Every user listing uses the same logic, less duplicate code, and the same experience throughout the application.
We improved compatibility with the Divi theme from Elegant Themes. We tested PeepSo extensively with the theme as well as with the Divi builder. It looks great and works so smoothly.
Validation on the config options in the backend of PeepSo has also been improved. Validation now happens in real time instead of waiting until after you hit the 'Save' button. If there's a problem with the values, you'll know immediately.
Bugs Were Squished In The Making Of This Version
A bit of bug squishing means that you can now send images through chat not only in PeepSo view, but from anywhere on the site. And adding anything before or after the PeepSo Shortcodes on pages won't cause any problems.
This Is What Else We're Doing
We're continuing to make PeepSo better with each release and we couldn't be prouder.
And yes, we are working on adding custom fields to user profiles. The deadline isn't set, but we want to release it as quickly as you want to use it 🙂
Once that's done, we'll start working on Groups.
Upgrade PeepSo Now
Automatic updates let you move quickly to the latest version—and you can do it all in the backend of your site.
Remember to update plugins in this sequence: ChatSo first, then all the child plugins. Core PeepSo plugin should be updated last. Here's documentation that explains how to upgrade. You can see the full changelog here.
No PeepSo?
The free PeepSo Core version is fantastic. But if you want to unlock the true potential of social networking for WordPress, install the other plugins today.
If you'd like to see what's coming up next, check out our roadmap here.
Comments? Questions?
Please leave them below.