First release of October and comes bearing a lot of good news. Our focus shifted back to PeepSo itself for most new features, improvements and fixes. Don't worry, we didn't forget about other plugins.
Upgrades
If your PeepSo is older than version 1.11.0, contact us and we will handle your update ourselves.
IMPORTANT NOTE. We release all plugins at the same time. Sometimes, it can take some time for all available updates to show in the backend of your site. If some plugins' updates don't show, wait. Just Wait. Don't upgrade just some of them. Drink some coffee and wait. Your site needs to catch up to show them all. If you feel like it's taking too long, contact us. We're here to help!
For a quick and hassle-free update:
Make sure your site is backed up. Preferably test updates on a staging site.
Go to the backend of your site > Dashboard > Updates
Select all PeepSo plugins that need to be updated
Click 'Update Plugins' (note: this will temporarily deactivate all of the add-on plugins)
Update PeepSo Core
Go to the backend > Plugins
Reactivate all PeepSo plugins
The whole operation doesn't take more than 3 minutes. Should you have any issues or questions, please do contact us.
New Navigation Engine
Previously PeepSo navigation operated based on shortcodes and pages. The way internal PeepSo navigation knew which page you're supposed to be sent to was based on the last saved page containing a given shortcode. A bit convoluted and confusing, not anymore, though. In this release we introduced a whole new set of settings to manage your community navigation. Admin can now decide which pages with PeepSo shortcodes to use in navigation.
On top of that PeepSo keeps an eye out for any navigation-related issues and if there are any, you'll see a nice red notification in the backend of your site with an explanation and a link to the proper configuration page to remedy the situation. Speaking of configuration, the new settings are located in: Backend > PeepSo > Configuration > Navigation.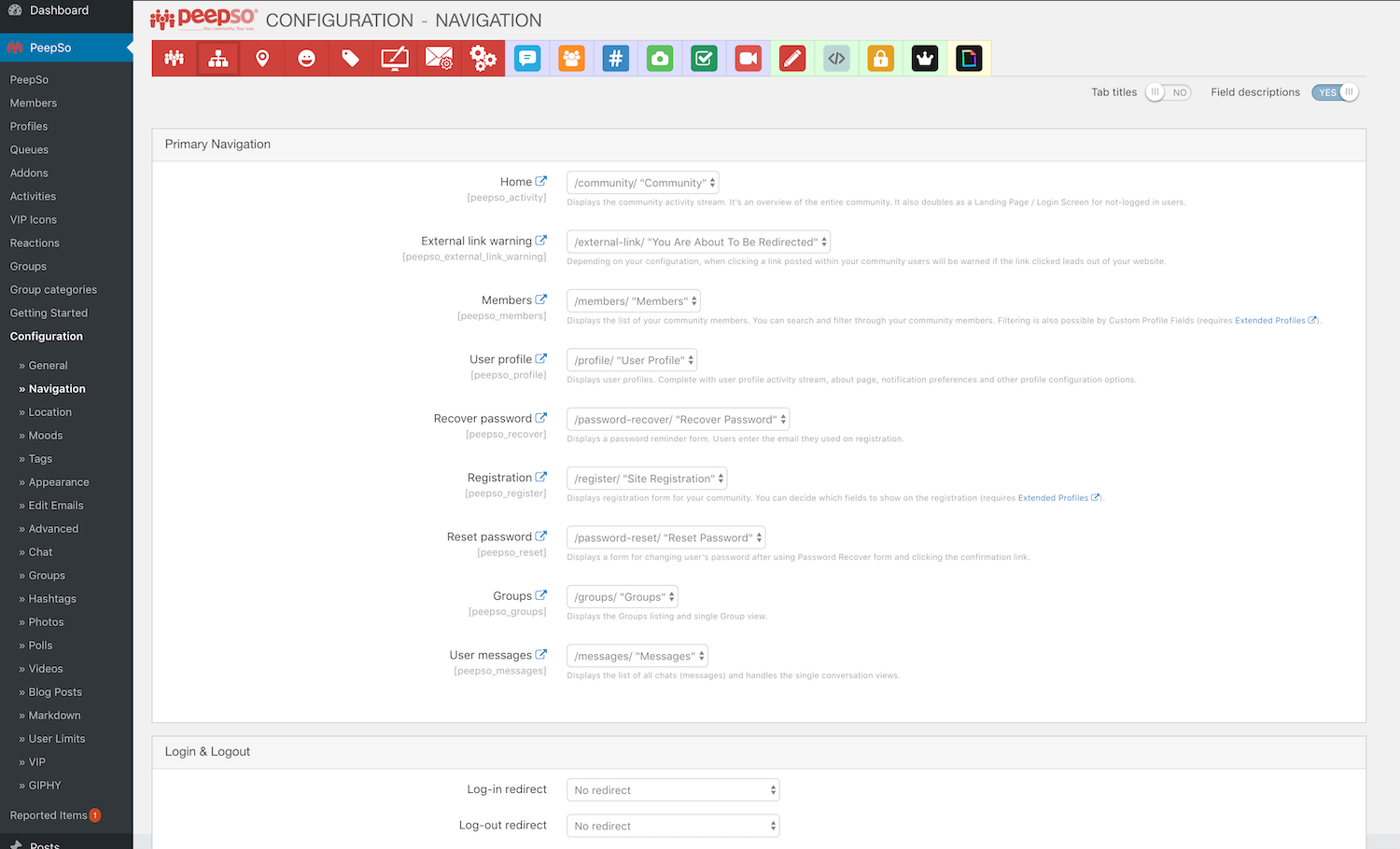 If you see any warnings after upgrade, just double check the navigation settings and save changes. It'll make sure all is correctly set.
Previously it was not really advised to use same shortcodes within multiple pages, because of how the old navigation was implemented. Right now you can have secondary pages with community views and one main navigation control center to be sure all is set as it's supposed to be.
Birthday Year
With this release users can now decide to hide their birthday year. That applies only if that field is rendered as a date. If birthday is rendered as age, they can still only change the privacy of the field. This is a feature that we've been asked for repeatedly for a very long time and finally we're able to deliver it to you.
Performance
As always, performance is one of our top priorities for PeepSo. This is exactly why we are able to stay ahead of everyone in the social networking plugins game. With this release we've done quite an amount of under-the-hood improvements but it's definitely worth to mention the Online Members widget. Its SQL queries have been optimized to definitely deliver even better experience.
General Experience
Let's start with mobile. Profile navigation has been redone under the covers in mobile view. The navigation buttons are bigger and scrollable horizontally so that there's better experience. It's no longer 2 rows of small icons that you have to be very precise with. In the upcoming release we'll improve that even more as we have already made plans for an even better experience.
The notification counter in the page title has also undergone some redesigning when it comes to not only performance but also its, let's call it, responsiveness. You know that (2) or (1) on the browser tab indicating the number of notifications waiting for your attention? In some cases, even after the notification were read, it'd still linger. Not anymore.
In some cases people who were going through registration would leave empty spaces on usernames and that'd trigger an error saying that special characters can't be used for usernames. With this release we're force-stripping the spaces as to provide a better experience and so that some users don't end up with weird usernames or even drop from the registration process entirely.
We've also renamed peepso_activate to community_activate as to provide a completely white-label experience to your users. The activation links will no longer contain 'peepso'.
There are more improvements and fixes. You can read all the changes here. As for our future release plans please refer to our Future page.