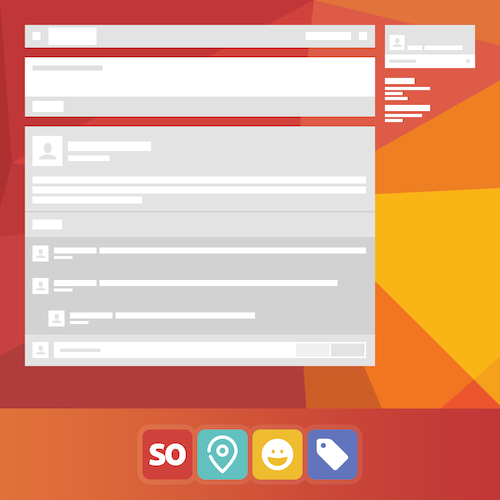 Create Your Own Community
---
Create Your Own Social Network right inside your WordPress site. The FREE Foundation plugins are: PeepSo, Location, Moods and Tags. See examples of features they offer below they are color-coded and show how the plugins connect.
Each icon is representing a single plugin. Features presented below are color-coded and correspond to their respective plugins.
PeepSo Foundation consists of 4 absolutely FREE plugins. PeepSo Core which is required to run other plugins. Its activity stream and profile pages will enable you to start building Your Community. Your Way. Location, Moods and Tags plugins will extend Core's possibilities.
PeepSo works right out of the box and within seconds, you can start Your Own Social Network! Right inside your WordPress site. There's no need to hire a developer, mess with code, hack another plugin to make it look and work the way you want it.
PeepSo simply works. It's
easy!
User Avatars
Users get their avatars.
Profile Completeness
Users see the completeness of their profiles in their Profile/About and in PeepSo Profile Widget. You can force users to complete their profiles before they can participate in the Your Community.
Profile Settings
Users can set their notification preferences, whether to show online status and many more.
User Cover Image
Users get their profile covers.
Customizable User Profiles
Profiles come with custom fields that users can fill in with information about themselves.
Profile Likes
Users can like others' profiles
Location
Let your users share location in their Profile.
Activity Posts
Users can write Posts on Activity Stream and Profiles.
Likes
Users can like Posts and Comments.
Nested Comments
Comments under Posts are nested so your users never lose track of the conversations.
Pinned Posts
Admins can pin posts to the top of the Activity Stream – these are great for making announcements.
Privacy
3 default Privacy settings for users content: Public, Site Members, Only Me.
Posts sharing
Users can repost / share other users' posts on the stream.
Location
Let your users share location in their Posts on Activity Stream.
Tag Other Users
Users can tag users involved in a conversation (commenters) in Status Updates' comments.
Moods
Add Moods to status updates.
Live Onsite and Email Notifications
Profile Like
Sent when someone likes users' profiles.
User Reply Comment
Sent when someone replies to users' comments.
User Tagged Email
Sent to a user when tagged in post.
Comments
Someone commented on my Post
Post Like
Sent when someone likes users' posts.
Post Comment
Sent when someone comments on users' posts.
Comment Like
Sent when someone likes users' comments.
Profile Post
Sent when a user writes on another user's profile.
Shared post
Sent when a user reposts another user's post
Other Email Notifications
Configurable emails
Admin can configure and edit the content of email notifications sent to users.
Email Verification Email
Sent after registration to confirm user's email address
Password Reset
Sent when a user requests a password recovery.
Password Changed
Sent when a user changes their password after recovery.
New User Email (No Admin Account Verification)
Welcome email to users who completed their registration and confirmed their email address.
New User Registration
Sent to admin user when new user registration needs approval.
Admin Approved Your Account
With user verification setting enabled. This will be sent when an Admin approves a user registration.
PeepSo Profile Widget
Shows user's notifications, avatar, profile and community navigation.
Latest Members Widget
Shows newest community members, displays their avatars.
Online Members Widget
Shows members who are online at the moment.
Dashboard
Dashboard with an Overview of Your Community and statistics.
Mailqueue
See what emails are sent. Configure intervals and batches of them to be sent.
Activity Overview
Admins see the overview of all activity posts in the community.
Coherent configuration
PeepSo has extensive and coherent configuration. No programming knowledge is required.
Themes support
Comes with light and dark themes that blend with the theme of your choice.
Terms And Conditions
Built-in setting for terms and conditions that need to be accepted upon registration.
Members listing
Members list, including Member search and filtering.
Social Login
Built-in integration with WordPress Social Login plugin which allows users to login to your site using: facebook, twitter and dozens of other sites.
RTL support
Support for Right to Left languages like: Arabic and Hebrew
Social Invitations
Built-in integration with WordPress Social Invitations plugin which allows users to invite their friends to Your Community.
Reporting
Users can report content they don't agree with or find offensive.
Get PeepSo Foundation Plugins
Get PeepSo Core, Moods,Tags and Location Plugins For FREE.
Get to know other PeepSo Plugins
{"dots":"false","arrows":"true","autoplay":"false","autoplay_interval":"3000","speed":"300","design":"prodesign-5","rtl":"false","loop":"true","slidestoshow":"3","center_padding":0,"slidestoscroll":"1","centermode":"true"}