User Profiles
Avatars and Cover Images
Users can set their own avatars and cover images.
Customizable Profiles
Profiles come with custom fields that users can fill in with information about themselves.
Profile Settings
Users can set their notification preferences, whether to show online status and many more.
Profile Likes
Users can like others' profiles.
Responsive
Fully responsive design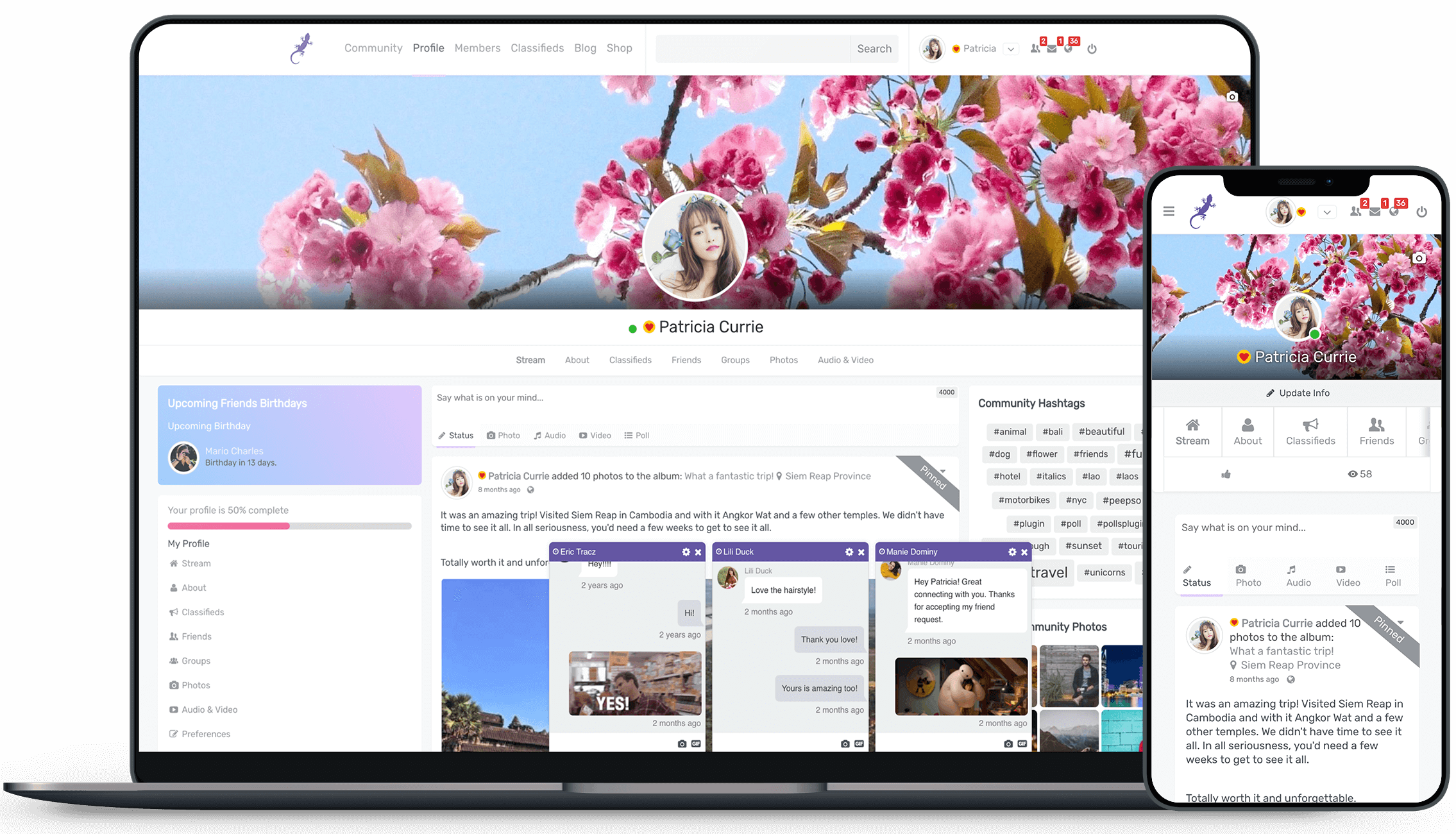 Custom Profile Fields
Create custom profile fields for your community members. Birthday fields, multiple select, single select, date, url, country and more. Everything is done on the same page without the need to save and refresh. On the front end, the user can also edit their profile fields smoothly and seamlessly one by one.
Registration
Customize your own registration form with Custom Profile Fields.
Privacy
Set default privacy to profile fields, allow or disallow changing it to users.
Customize Default Fields
Customize default PeepSo fields, for example you can add more gender options.
Custom Profile Field Types
Multi select, Single select, Email, Date, Text, URL, Location, Country, Separator
Activity Stream
Activity Posts
Users can write Posts on Activity Stream and Profiles
Privacy
3 default Privacy settings for users content: Public, Site Members, Only Me
Nested Comments
Comments under Posts are nested so your users never lose track of the conversations
Pinned Posts
Admins can pin posts to the top of the Activity Stream – these are great for making announcements
User Hover Cards
When hovering over user name (or taping on mobile) it shows a hover card with user's profile summary.
Reactions
Say more than a thousand Likes. Reactions on stream posts with emotional message such as Love, Laugh, Wink and much more. It features a built-in set of Reactions with a robust admin panel that lets you customize everything, add your own, change the icons, text and more.
More than 'like'
Add custom reactions to your community so they can react appropriately to user Posts
Onsite Notifications
Customize Reaction notification text.
Email Notifications
Plugin hooks in email notifications and adjusts according to chosen reaction
Default reactions
Built-in set of Reactions immediately ready to use
Your Own Reactions
Upload your own custom image – .PNG, .SVG or even an animated .GIF
Hashtags
Comes with the ability to use hashtags on any PeepSo Posts. Whether they're made by users on activity stream or in groups regardless of posts privacy settings. They will be counted and added up, but posts will keep their privacy. Using hashtags in no way compromises that. Hashtags will be calculated and added up. Each tag is counted one time per post. If you add the same tag ten times in one post it'll still count its usage only once.
Hashtag search is built-in. You can search either by clicking a hashtag or by using the search field. Search also indicates to members what are the minimum and maximum character counts for hashtags. Search results will only show posts users are allowed to see, post privacy is respected fully.
Hashtag Search
Apart from the regular search in PeepSo you can combine the search with searching for hashtags to narrow posts even further
Filtering
When filtering by hashtag, it's automatically added to postbox for easier post creation
Configuration
Configure it to your liking, minium to maximum length hashtags and more
Blog Posts
Integrate your Blog with your Community. Add Blog Posts tab to user profiles, featuring blog entries created by your community members. Automatically create a new PeepSo activity stream post. It is also capable of creating a PeepSo activity stream item each time a new WordPress post is published. This includes regular blog posts. CPTs (custom post types) are not supported at this time, they can be easily added with custom code, though.
An activity stream item is created only once, no matter how many times you re-publish the related item. This does not include the ability to create blog posts on the frontend. However, it does include integrations with a 3rd party plugins which do allow doing it right from user profiles.
Profile Integration
Display users' blogposts in their profiles
Activity Stream Integration
Automatically create a corresponding Post on Community Stream when a new blogpost is published
Reactions and Comments
WordPress blogposts can be reacted on and commented on. Comments and reactions are synced with the corresponding community posts.
Author boxes
Beautiful author boxes under blog posts
Markdown
It's a plugin that we have been looking forward ourselves too. We needed a way to easily and safely format text within our own community. So that we can answer questions and provide well formatted answers at the same time.
It does make a difference especially when you have to deal with code snippets or at least put emphasis on certain parts of your post or comment. What is Markdown and why is the plugin named like that?
Text Formatting
It can be used in both Posts, Comments and profile fields throughout PeepSo.
Code
Now you can include inline code with syntax highlighting.
Lists
It comes also with the possibility of creating ordered lists
Inline links
Full support for inline links in posts, comments and profile fields
Live Onsite and Email Notifications
Post Comment
Sent when someone comments on users' posts
User Reply Comment
Sent when someone replies to users' comments
Comment Reaction
Sent when someone reacts to users' comments
Auto Scroll and Highlight
When a notification is clicked, it takes user directly to the relevant content, and highlights it
Nearly 30 notification types
There are nearly 30 onsite and corresponding email notification types within PeepSo and its plugins
Other Email Notifications
Configurable emails
Admin can configure and edit the content of email notifications sent to users
Email Verification Email
Sent after registration to confirm user's email address
New User Registration
Sent to admin user when new user registration needs approval.
Email HTML Overrides
Admin has complete control over how the notification emails look like to match the style to Your Community.
Widgets
PeepSo Profile Widget
Shows user's notifications, avatar, profile and community navigation
Latest Members Widget
Shows newest community members, displays their avatars.
Online Members Widget
Shows members who are online at the moment.
UserBar Widget
Shows user's name, navigation and notifications anywhere on the site.
Hashtags
It shows a tag cloud of the most used hashtags in posts throughout the entire community. The widget has 3 display options with various sorting methods
PeepSo Backend
Dashboard
Dashboard with an Overview of Your Community and statistics.
Coherent configuration
PeepSo has extensive and coherent configuration. No programming knowledge is required.
Mailqueue
See what emails are sent. Configure intervals and batches of them to be sent.
Color Schemes
Choose your own color scheme to suit your site best.
Appearance Configuration
Pick from dozens of appearance customization options to personalize the look and feel of your community.
Navigation
Configure your entire community navigation from one place
Read more
Set the length of posts and comments after which 'read more' link should be shown
Activity Overview
Admins see the overview of all activity posts in the community.
Terms And Conditions
Built-in setting for terms and conditions that need to be accepted upon registration.
Privacy Policy
Option for setting Privacy Policy that needs to be accepted upon registration.
Other features
Members listing
Members list, including Member search and filtering.
RTL support
Support for Right to Left languages like: Arabic or Hebrew
Security
Built-in security configuration, preventing brute force attacks and more.
Reporting
Users can report content they don't agree with or find offensive. Admins get notified about it.
GDPR
Built-in GDPR Compliance settings to help with making your community compliant.
Ban Hammer
Possibility to ban users temporarily or permanently.
White Label
Completely white-label experience. Brand your community however you want.
Exit Gateway for URLs.
Warning users they're about to leave your site.

PeepSo Ultimate Bundle
Discounted Price. All Current PeepSo Plugins. All Future PeepSo Plugins. Single License Key.
Single Purchase. Single Subscription. Full Technical Support. Upgrades. Updates.
* Screenshots show PeepSo and some of its plugins like: Photos, Videos, Hashtags etc. with PeepSo Theme: Gecko. Screenshots are for presentation purposes and the outcome may vary with other themes, plugins installed and configuration selected.
** Third Party Base Plugins are not a part of any purchase like: PeepSo Ultimate Bundle. PeepSo Integration and Monetization plugins usually require Third Party Base Plugins (Advanced Ads, BadgeOS, LearnDash, myCred, PMP, WooCommerce WPAdverts). Third Party Base Plugins are either free or need to be purchased at a Third Party website. PeepSo support only covers the integration between PeepSo Integrations and Third Party Base Plugins – we do not test nor officially support any Third Party Add-ons to said Third Party Base Plugins. The support for Third Party Base Plugins is always provided exclusively by their original developers.