Version 6.2.0.0 marks an incredible achievement for PeepSo, Inc.: this is the first time in our long history that we release a First-Party integration. As you may already know, 'third-party' is the term used by developers to signify an integration for another plugin they themselves didn't develop. But 'first-party' means that one developer creates an integration for their own plugins – and that is what PeepSo has done with Almighty Support.
Why Did We Make Almighty Support?
Since the very first day of PeepSo's existence, we had two goals to score. First, to provide a wonderful, flexible and basically irreplaceable product; and second, to offer an unmatched level of support to our customers. The first goal was easy 😉 – we just had to develop it, but the other one was tricky because we had to rely on third-party solutions to provide support.
For 8 years, it has always been a struggle. No matter how hard we tried to optimize the quality of support, the fact remained that we were either paying for ridiculously overpriced SaaS solutions, or ridiculously overpriced WordPress plugins, while having to hack those plugins ourselves to add the features we need.
Enter August 2023 – and we are ready to show off our own support solution. If you've been with us for some time, you'd already know this: we are probably the only developer who uses their own products. And so, we are very happy to announce that Almighty Support has been successfully powering our own PeepSo support for quite some time now.

PeepSo Integration With Almighty Support
In PeepSo-powered communities, Almighty Support Integration seamlessly blends into your concept – as is the case with all of our integrations. Most notably, you can provide (or ask for) support directly from your profile page.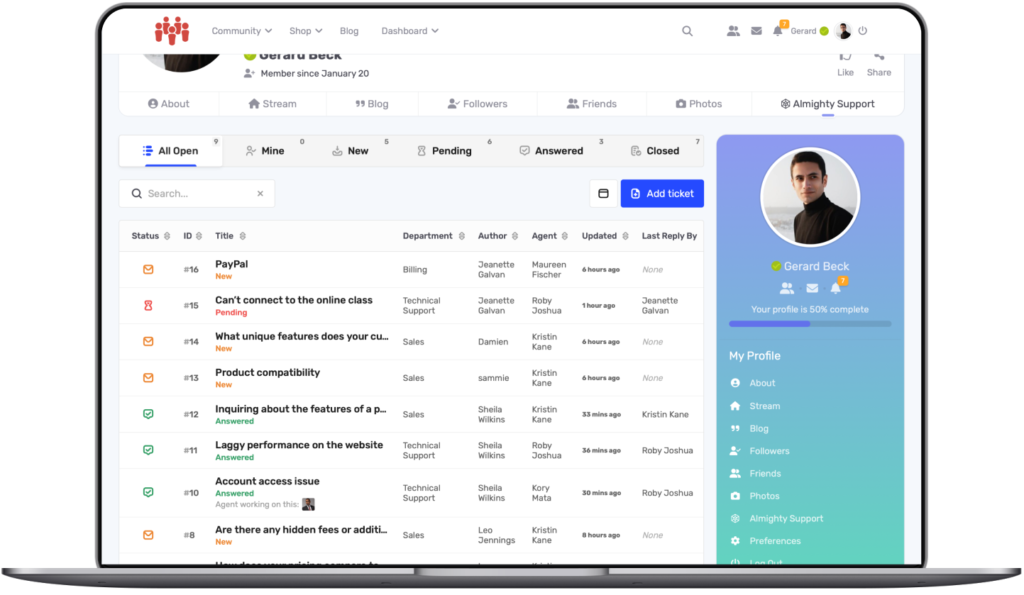 You can even enable PeepSo notifications to notify your members when a support agent answers their tickets.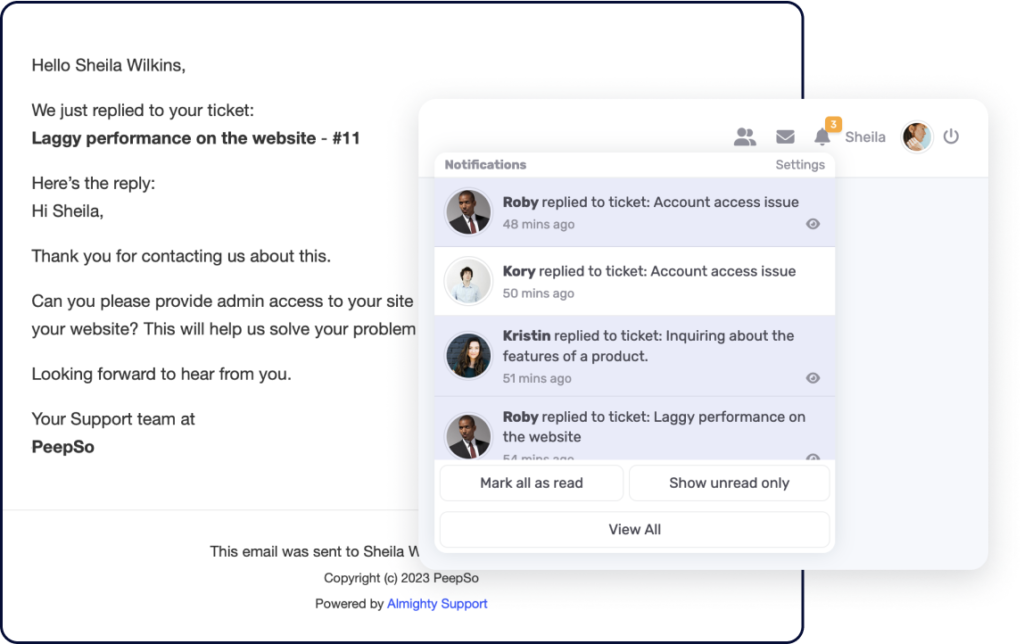 What Else is New?
PeepSo 6.2 is compatible with (and required to support) the latest WordPress 6.3 and WooCommerce 8.0.
We've also added a security fix for an issue where it was possible to trick users into deleting their own posts with a prepared CSRF link. A reported issue where "ban until" would sometimes ban users forever was also patched. Admins can now see the duration of the bans in the user's profiles.
The User Limits plugin has been improved with an option to display role-based limitations to the end users, with an optional message and target URL. This is designed to facilitate membership upgrades on websites using a role-based permissions system.
For the full list of changes take a look at our changelog.
Don't have the Bundle but you would like to have access to all current and future plugins hassle-free?
PeepSo Ultimate Bundle – 1 Year
Special Offer
Get access to every single plugin and theme we have on offer.
1 year of free updates
1 year of 24/7 * Technical Support
1 year access to future plugins (if any)
No signup fees
Early Access Program