After weeks of planning, months of development, countless cups of the strongest coffee, and several Alpha and Beta releases, we are finally happy to announce the first stable release of File Uploads. And just in time for the WordPress 6.1 compatibility as well!
What Exactly is File Uploads?
Similarly to Photos and Audio and Video plugins which enable uploading media files, File Uploads will allow your users to upload any type of files that you as an admin allow. It doesn't only have to be media files. You can allow upload of PDF, TXT, ZIP, DOCX, PSD, or basically any file type in the known universe.
But it doesn't stop there. File Uploads plugin is developed according to all high standards we uphold when introducing new features, which means seamless integration with existing plugins from our portfolio. So with that said:
You'll be able to control which user role can upload files with User Limits plugin;
You'll be able to include files in Email Digest if you use the respective Email Digest plugin;
Group files will be available when you use Groups plugin;
Uploading files to chat will be an option when you use the Chat plugin;
You can even upload files in comments;
A couple of Widgets are also provided to show the most recent community or user files;
And of course – all privacy will be respected.
How Can I Get File Uploads Plugin?
File Uploads will only be available to users with Ultimate Bundle license and it will automatically appear in the installer once you update to version 5.3.0.0. It might be up to 24h after the release for the new plugin to appear in the installer. However, you can always download and install it manually from your account.
Tell Me More About File Uploads!
Let's get to it, then!
As usual, it all starts in the backend. Once File Uploads is installed and activated, you'll be able to set some basic default settings such as allowed file types and maximum file size allowed for upload, as well as other user-specific settings which will determine daily limit, maximum number of files or space used per single user.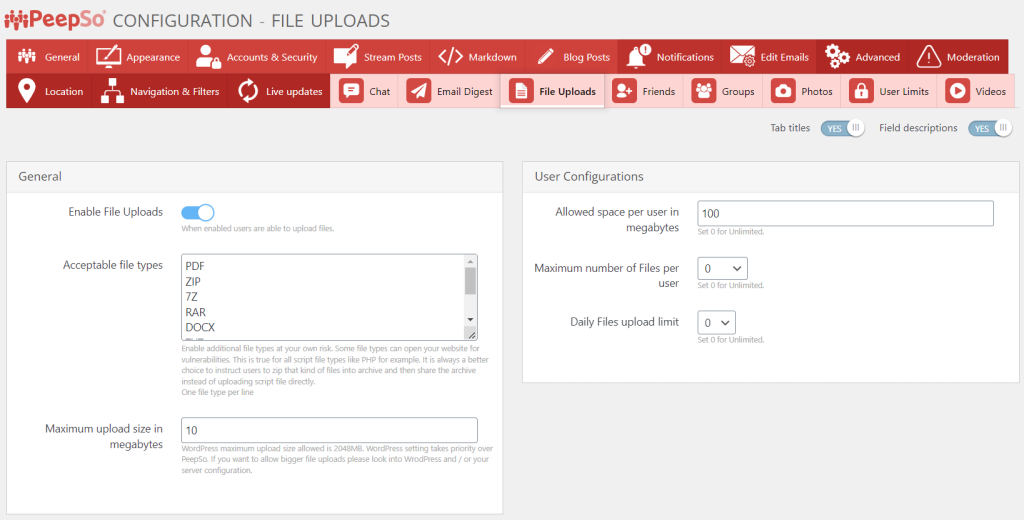 Some of the options that you choose here will reflect on the frontend as well. In this particular case, we are showing to the user what are allowed file types and maximum file size.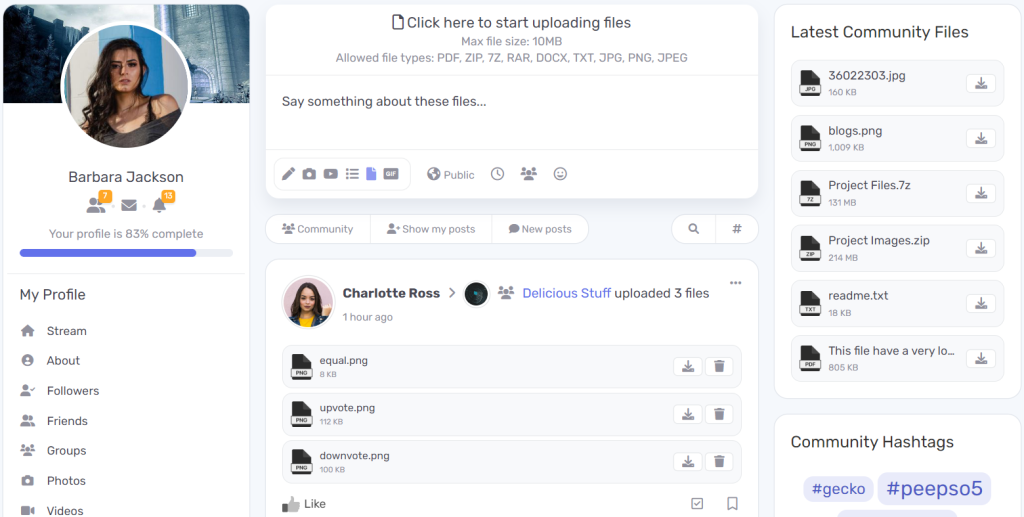 Uploading files to the profile or community, as well as in Groups, is a simple process. Click (or tap on mobile) and the dialog for choosing the files automatically shows up. Only allowed file types are displayed in the window, so you can't make a mistake. Choose the files and they will start uploading instantly.
And once the post is created, you can comment on it alongside the file upload.
If you want to add files to chat – you can.
Background Integrations
File Uploads will seamlessly integrate into Groups, User Limits and Email Digest plugins. If you use these, you will find new options in the backend configuration of each. For groups, there is a new option which lets you decide who can edit the respective group's files.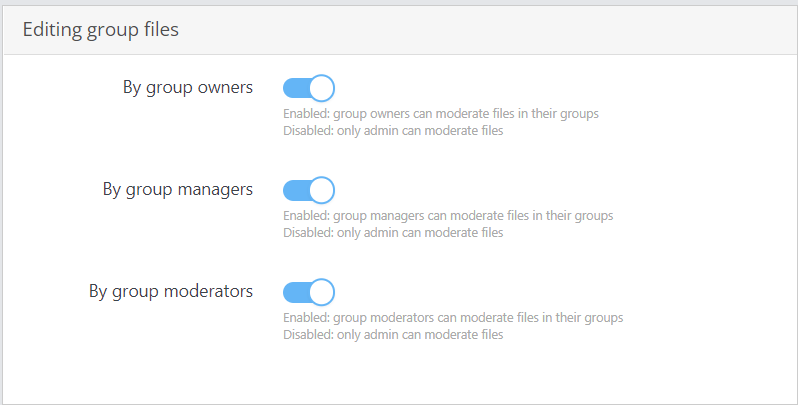 In User Limits you'll find the standard interface to decide what user role can upload files based on different criteria. And finally, in Email Digest settings you'll be able to include files in email digest if you want to.
Other Improvements and Fixes
With the release of File Uploads, PeepSo and Gecko Theme have been a bit "shadowed", but they have received some other updates as well. The most notable is compatibility with WordPress 6.1 so you can smoothly update your websites.
Changelog
As always, you can see our changelog for all the details.
Don't have the Bundle but you would like to have access to all current and future plugins hassle-free?
Check our offer!
PeepSo Ultimate Bundle – 1 Year
Most popular
Get access to every single plugin and theme we have on offer.
1 year of free updates
1 year of 24/7 * Technical Support
1 year access to future plugins (if any)
No signup fees
Early Access Program
PeepSo Ultimate Bundle – 5 Years
Pay 3 years, get 2 free
The best possible solution for a long-term plan community.
5 years of free updates
5 years of 24/7 * Technical Support
5 years access to future plugins (if any)
No signup fees
Early Access Program
PeepSo Monthly Bundle
Most popular
Not ready to commit? Try the self-supported monthly subscription!
Free Updates with active license
Self managed

(no ticket support)

Access to future plugins with active license
$30 signup fee