Coming fresh from the oven is the stable release of Tutor LMS integration ready for the use on production sites as well as couple of significant improvements in Gecko Customizer. We also introduced NSFW (Not Safe For Work) option in Early Access plugin where you can allow users to mark certain posts with the content that is not for everyone's eyes.
Tutor LMS Integration
Tutor LMS integration plugin has been in beta testing phase for some time, but now it is officially ready for production use.
With Tutor LMS integration, you can display activity stream when someone enroll or complete the course, you can award the PeepSo VIP icons to students who finished the course, and you can even automatically add students (users) to specified groups if you have Groups plugin enabled.
Let's take a closer look at some of the features included in Tutor LMS integration.
This is how profile page tab for "Courses" is filled when a user enrolls in a course.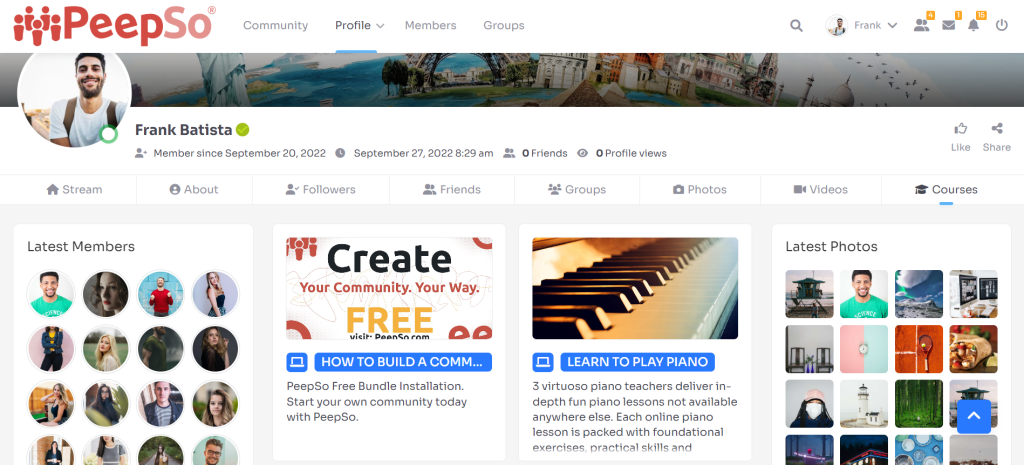 And this is the activity stream created when a user enrolls in a course.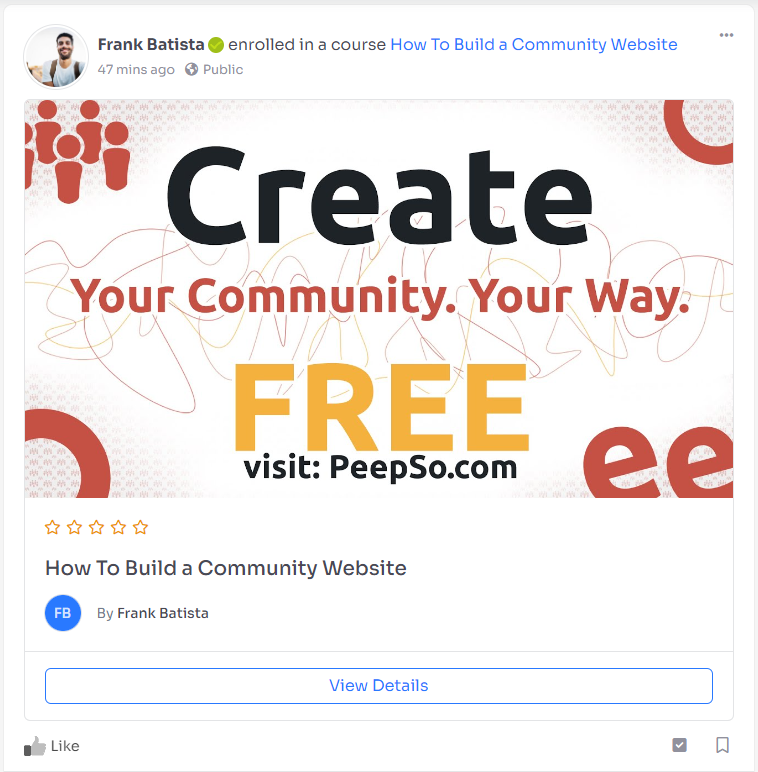 When you create a course, you can decide what groups will be associated with that course, or if you want to automatically add users to a specific group (or groups) when they enroll.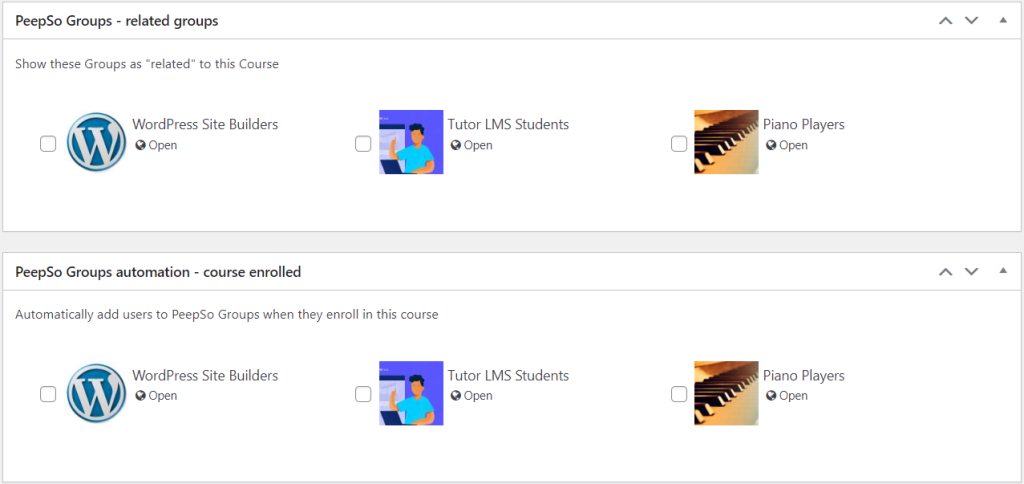 You can always add vip icons to profiles of users who completed specific courses. Treat it as a badge of honour. Of course you can name and change the image of the VIP icons to whatever you want. Even animated GIFs.
But that is not all, because when you activate the integration, the whole new section will be available in PeepSo Configuration, as well as in Gecko Customizer. Screenshot below shows PeepSo configuration, more on Gecko Customizer later.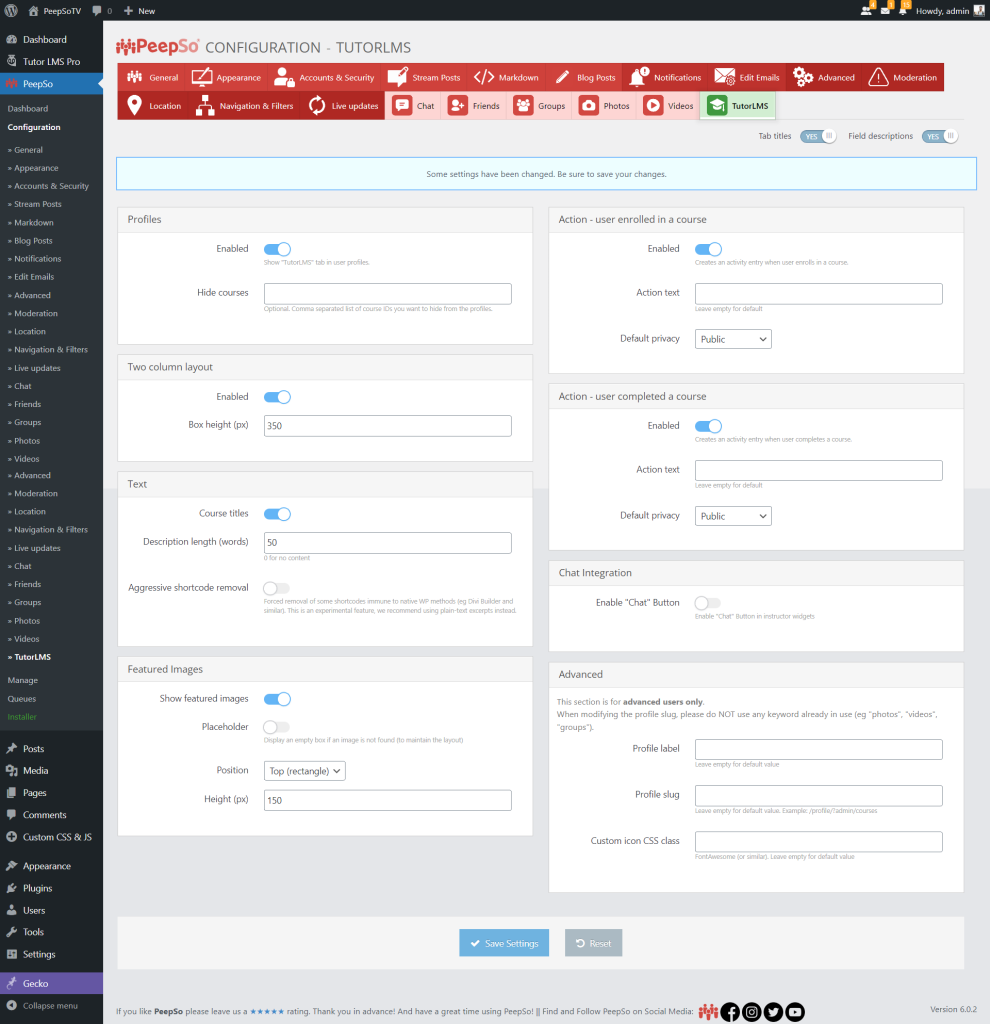 As you can see, there are many other options included, like Chat integration, changing the profile tab label, slug, even chosing the custom CSS class for advanced user who want to style the tab differently. There are many display options, like using placeholders if the course have no featured image and more…
GET 20% OFF OF TutorLMS
Save 20% on Tutor LMS Pro with PeepSo20 promo code. Just apply it on checkout. Click here.
Gecko Theme
In this release we have refreshed the default Gecko preset to make it look modern and fresh. That's the first step of upcoming changes in the PeepSo & Gecko design.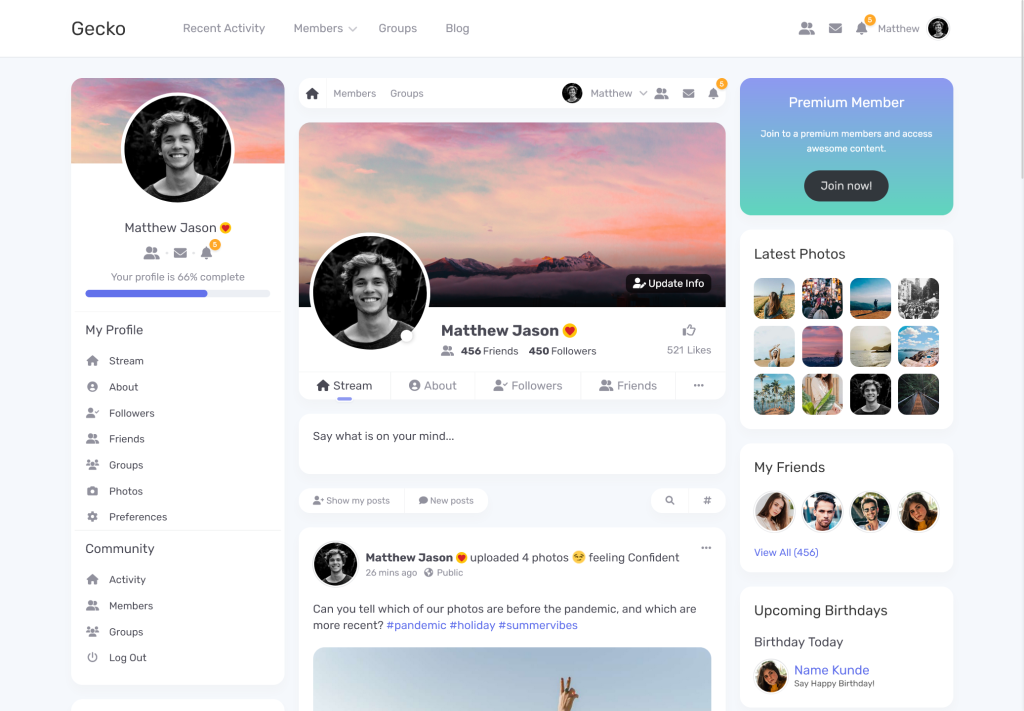 In process of making new Gecko color presets which will be available in the future releases, we've added 17 new Customizer settings and you can expect more in the near future.
Some of the New Gecko Customizer Settings
Middle column max-width – In Gecko Customizer > Theme > Layout
This setting allows you to set maximum width on the middle content column. With this setting you can make sure your middle column will not exceed specific width, no matter how wide your layout width is. Have in mind it will affect all the pages. (you can see an example below – Polls screenshot)
Alt colors – In Gecko Customizer > Global Colors
Alternative to Primary color – will be used for important UI decorative elements where Primary color is not suitable. For now used as default gradient color and "Join to community" button.
Info colors – In Gecko Customizer > Global Colors. These colors are connected to default info alerts. Before default alerts were connected to Primary color and there was no way to modify color of the alerts only.
Polls settings – In Gecko Customizer > PeepSo. From now you can edit colors of PeepSo Poll posts.
Gradient settings – In Gecko Customizer > Global Colors. Gradient colors were only used on Gradient widget style, from now it will be also used on different elements, so we decided to add a Global Gradient setting. We have also added a Gradient angle setting.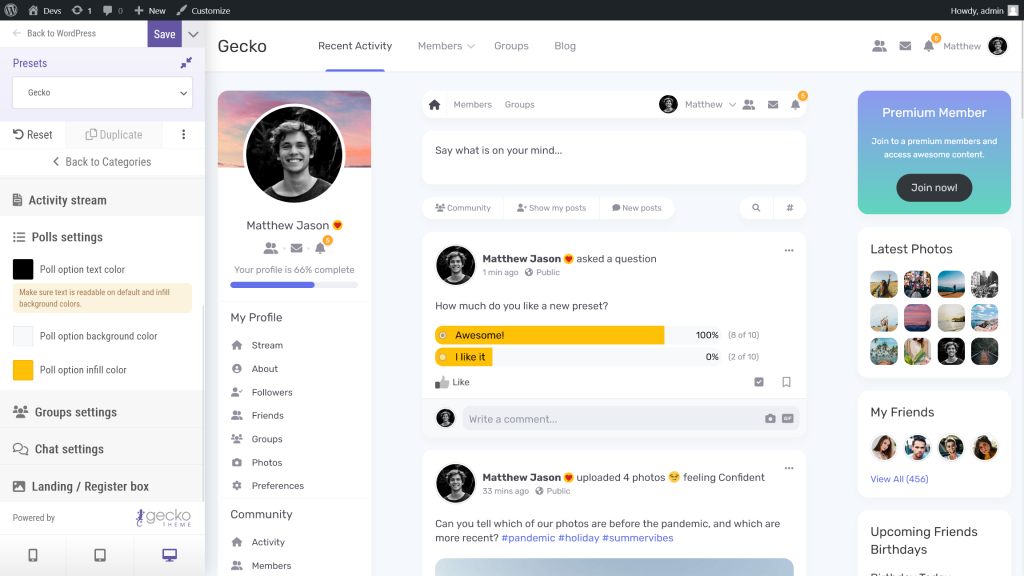 Other Gecko Customizer Changes
Typography color settings were moved to Global Colors tab.
New tab for Tutor LMS overrides.
NSFW – Early Access
Not Safe For Work, or shorter, NSFW is a new type of content moderation where users (or admin) can mark certain posts as such. This is particularly useful for sites with sensitive content, or if you want to hide the spoilers. Post will be blurred and users will have to click on it to see the content.
Feature is only available in Early Access plugin and needs to be enabled there first.

Changelog
As always you can see our changelog for all the details.
Don't have the Bundle but you would like to have access to all current and future plugins hassle-free?
Check our offer!
PeepSo Ultimate Bundle – 1 Year
$199
That's less than $17/month for a single site license.
Get access to every single plugin and theme we have on offer.
1 year of updates
1 year access to downloads
1 year of 24/7 * Priority Technical Support
Early Access Program