So many new features. Where do we even begin? Permalink improvements, editing posts and comments in PeepSo by group members which translates to more power to the people. Of course, if you want them to have that power, that is. Gecko Theme brings brand new widget gradients per widgets so that all those special widgets that you want to catch people's attention actually do their job.
New in PeepSo
Permalink improvements
The comment timestamps now act as direct links to the comments (based on the same logic as the links in notifications). To make permalinks more obvious, we added a little "chain" icon next to all of them (posts and comments, with the exception of modals / pop-ups). This icon allows for immediate easy copying of the link, and clicking the timestamp navigates to content.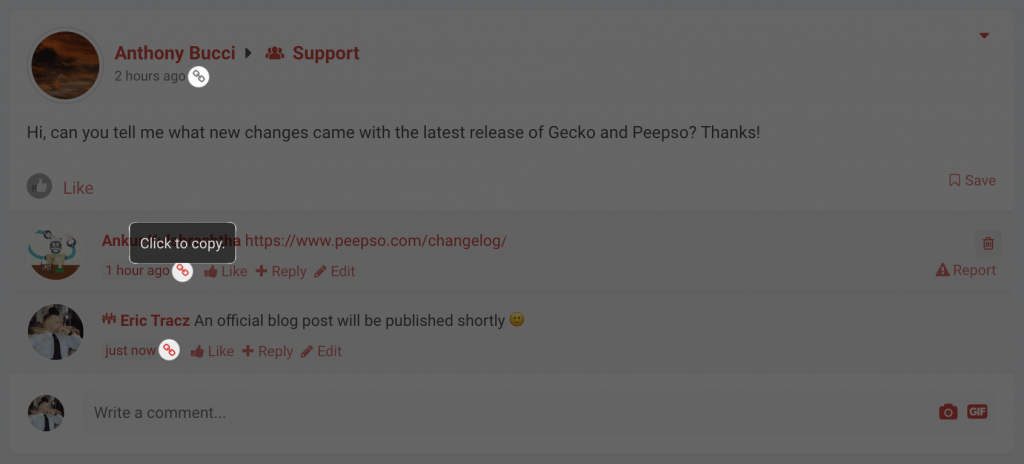 Editing posts and comments
In light of recent discussions, we added config switches for the site admin to take away the ability to edit posts and comments in groups from Group Owners, Managers and Moderators. This way regular users who start a group or are elevated to a certain group role, can still be stripped of the "absolute power" of editing posts.
Site and community administrators can still do everything. But in the future releases we are planning to introduce an optional edit log, which will allow for greater transparency by showing who, when and how edited a given post or comment.

Other new features
We introduced a "most liked" member sort option, added an admin setting to disable the PMP "membership" profile tab and an ability to unsubscribe users from Email Digest via the back-end.
Bugs
This release ships 15 additional improvements and bug fixes. We fixed an iOS13 bug causing the viewport to scroll up when user opened a lightbox / pop-up. We also addressed some third party compatibility issues: SuperPWA, Elementor, WP Offload Media and native S3 offloading buckets in PeepSo Photos. You can see the full changelog here.
Gecko Theme
I'm pleased to say that Gecko Theme got a brand new sparkly feature that will definitely be a hit. It's something that we wanted to have ourselves too. As you know we do not only make software and release it into the world, but we actually do use it all ourselves. But to the point.
Gecko has a great feature that allows you to add gradient background to your widgets. And it's awesome. We use it ourselves in quite a few places all over our website. We found however, that if you abuse it, the widgets don't pop out as they were designed to. They tend to tire the viewer so they get used to them and that's that.
Right now you have the ability to configure the gradient colors of each individual widgets, if you want to. That means the widgets that you want to stand out, definitely will. Use whatever color combinations you'd like for your gradient. For example our global widget gradient are 2 reds. Our special widgets that we want people to pay more attention to right now are blue going into violet. Cool, huh?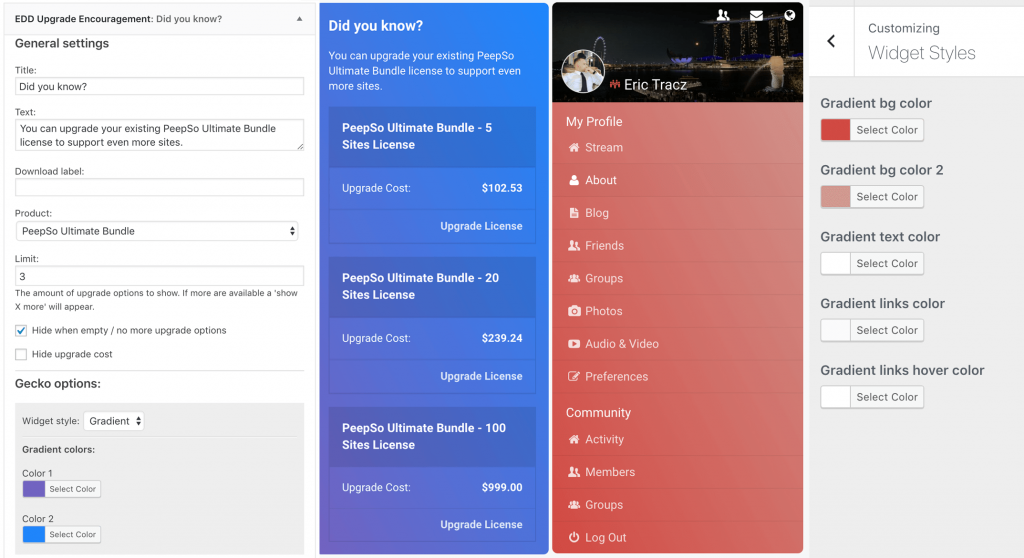 To change the widget gradient colors per widget go to the backend of your site > Appearance > Widgets and simply edit a widget of your choice. You'll see the gradient options there in Gecko options section.
On another front Gecko also got a new site zoom options. You can control that in the backend > Gecko settings. It's one of the global options newly available for your site. We also added some improvements to the mobile view, chat window for PeepSo Chat. To finish this off, we fixed a couple of bugs that were reported to us. You can see the full changelog here.
Don't have the Bundle but you would like to have access to all current and future plugins hassle-free?
Check our offer!
Ultimate Bundle – 1 Year
Get access to every single plugin and theme we have on offer.
1 year of free updates
1 year of 24/7 * Technical Support
1 year access to future plugins (if any)
Early Access Program
Our ❤
Ultimate Bundle – 5 Years
Pay 3 years, get 2 free
The best possible solution for a long-term plan community.
5 years of free updates
5 years of 24/7 * Technical Support
5 years access to future plugins (if any)
Early Access Program
Our ❤❤❤❤
---