The theme is released as a BETA it'll take us a release or two shed the 'beta', though. While we're in beta version we're extremely open for any and all suggestions when it comes to the features of the theme. What can we add, what can be improved. We do ask one thing, though. Keep in mind that we'll be focusing on PeepSo-First approach.
It's not advised at the moment to use it for production sites. We do on our demo site, though. Call us crazy, overconfident or enthusiastic, but we're happy with Gecko already. With our frequent release cycle we'll definitely get to a stable version very soon.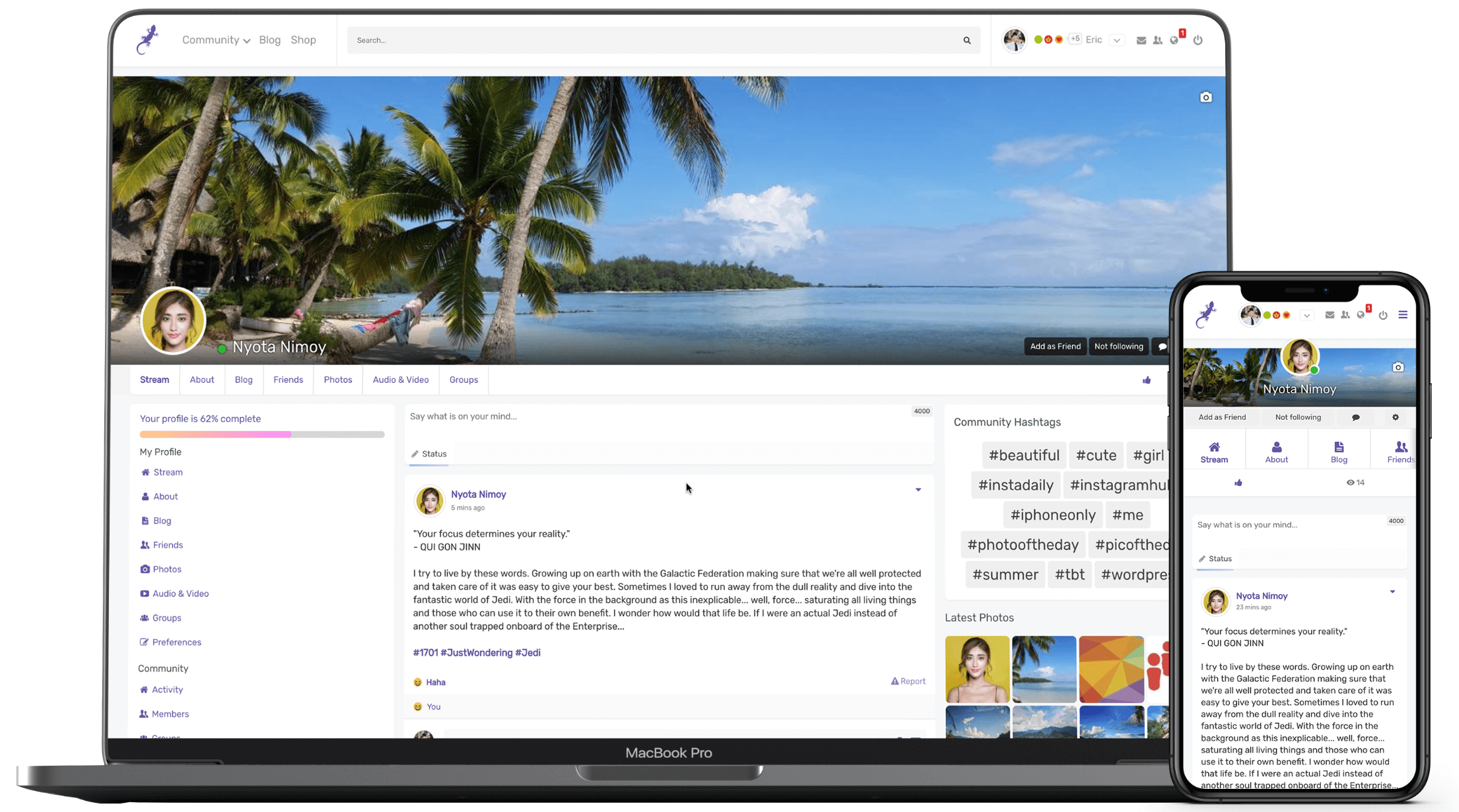 Once again, it's a beta release and to be honest you didn't give us much choice here. Ever since we announced we're working on it, every single day at least a couple of times people came asking us about the theme. Well, here it is. Because it's a beta release and because we love to give back, not to mention we'd like to hear your feedback, Gecko prices are slashed 50% for the first year.
On checkout please use the promo code: gecko50 to get 50% off of the Gecko's price.
Made by PeepSo Team
Gecko created by the same team that brought you PeepSo and its plugins.
PeepSo Integration
Designed to take PeepSo and its plugins to another level with additional features 3rd party themes just can't provide.
Responsive
Works great on phones, tablets and other mobile devices.
Browsers Support
Supports all modern desktop browsers.
Beautiful User Profiles
You have a choice of layout options for profiles: Default, Boxed or Full cover.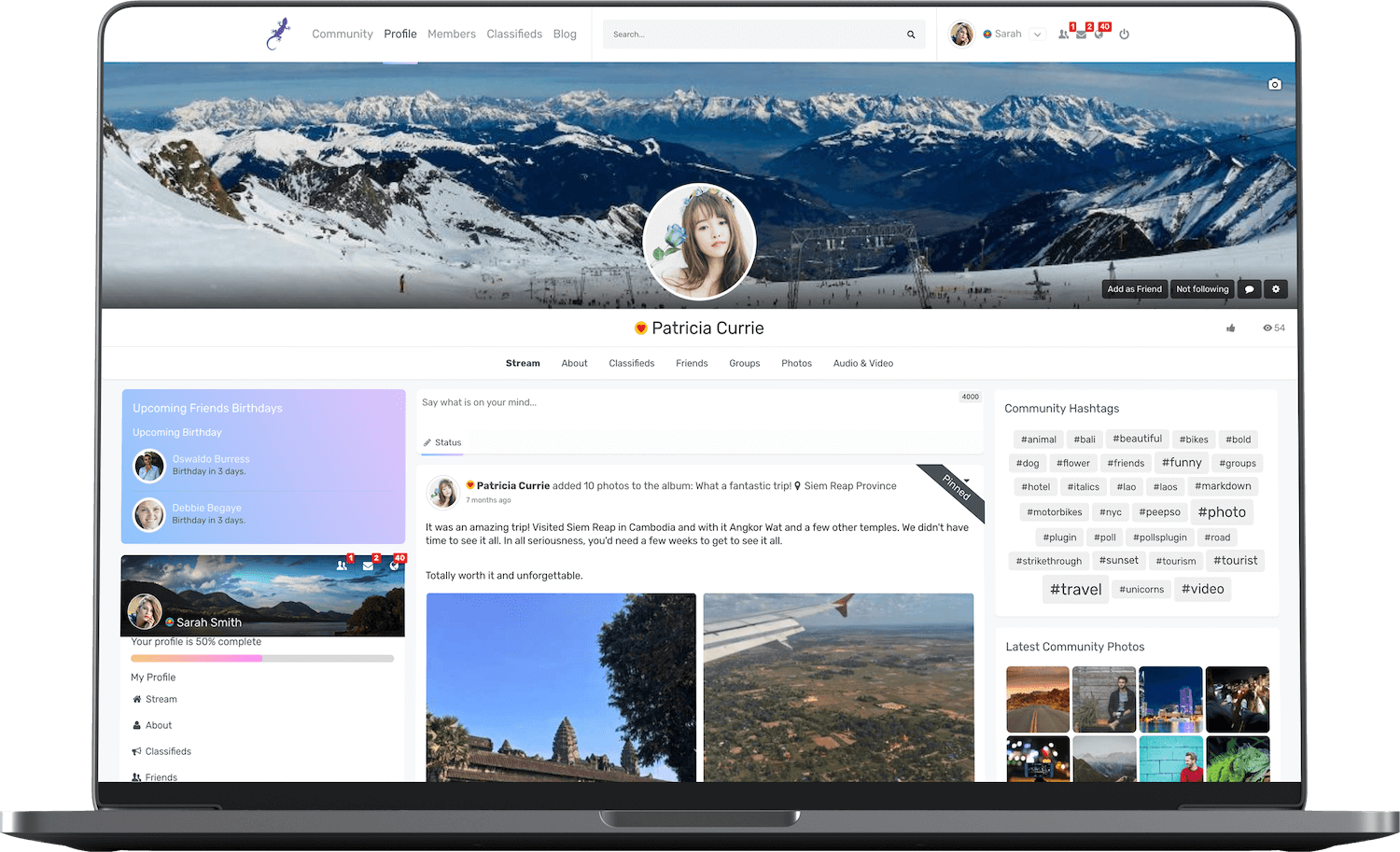 Easy to customize
Easy customization options built-in the theme. There are also options to modify the logo add custom css and more.
Footer Customization
Amongst many, Gecko Theme comes with options to customize your site's footer. Up to 5 columns for widgets, footer menu position, color options and more.
Gorgeous Header
Gecko comes with a gorgeous header that can contain navigation, activity search, PeepSo live notifications and more.
Amazing Landing Page
Create amazing landing pages for your site. Add Title, Call To Action text, Featured Image. All within your Page settings. Create as many landing pages as you'd like.
Widget Styles
Comes with 4 styles for your widgets: none, Box, Bordered and Gradient. The styles can be applied to any widgets.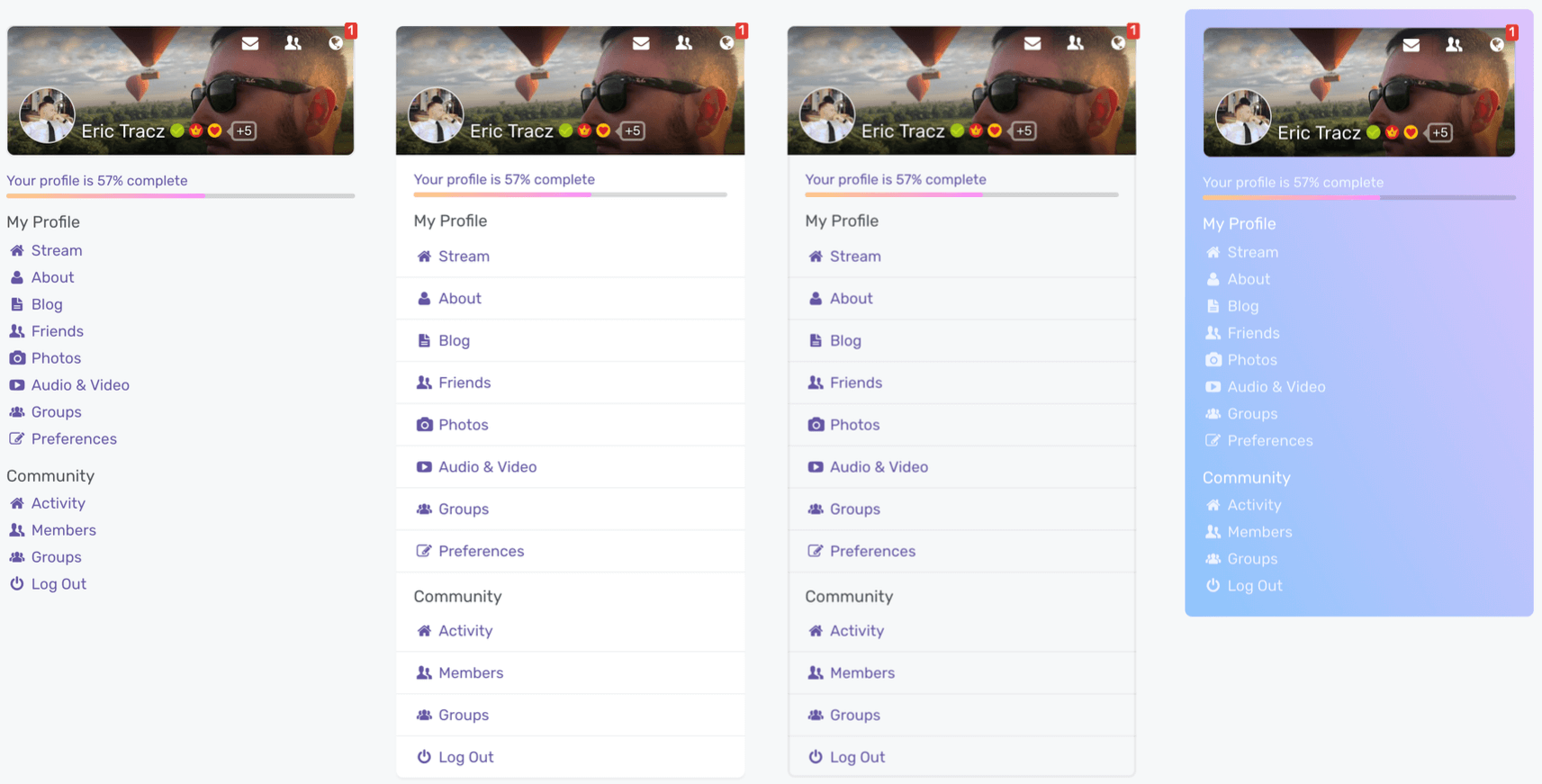 Standalone Theme
Gecko Theme is completely standalone and does not need PeepSo to function properly. With PeepSo, you can have a seamless experience between community, blog and other parts of your WordPress site.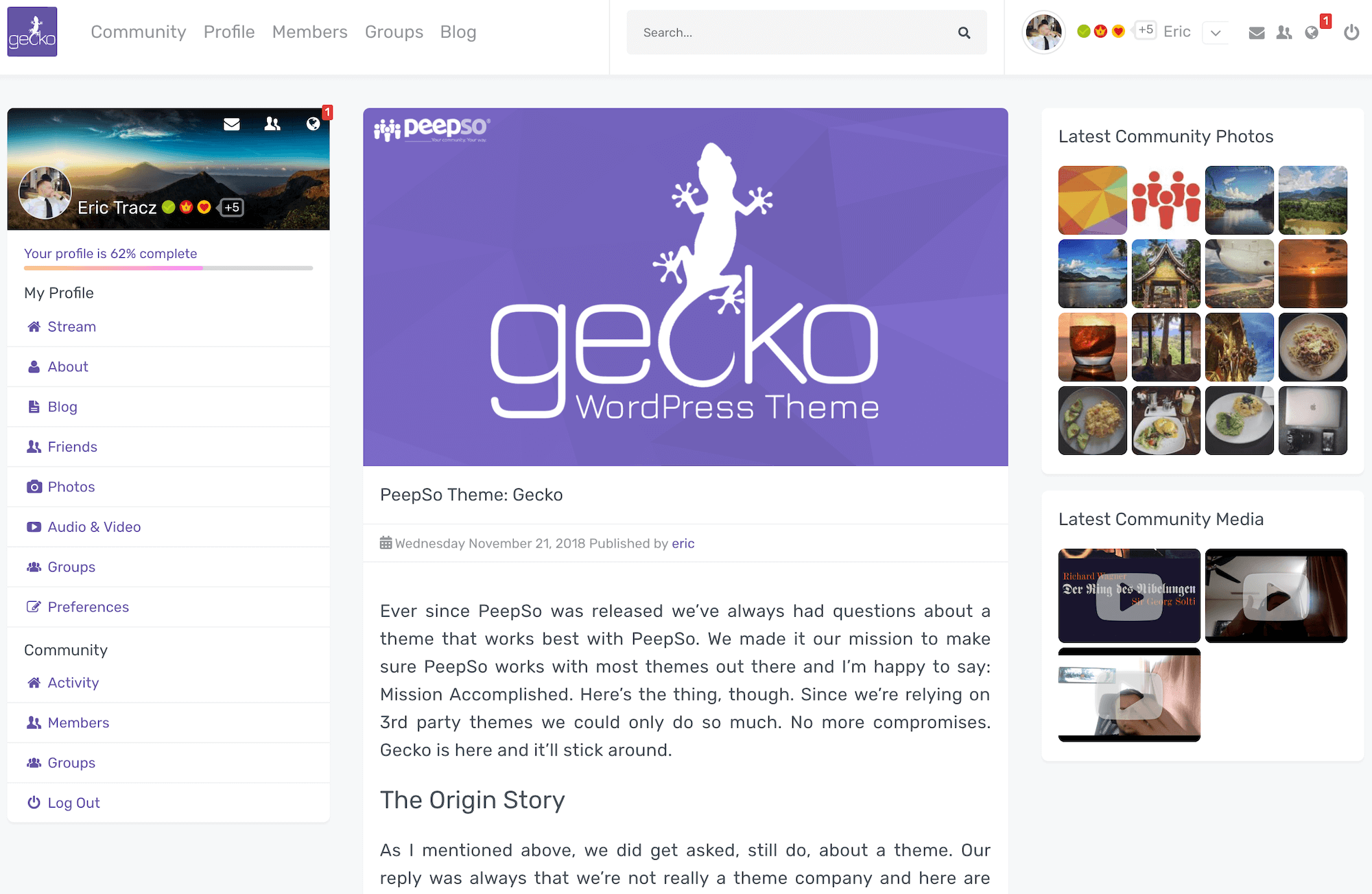 Lightweight
Super fast loading times unobstructed by redundant scripts.
Customizable
Easy to adapt to your liking whether configuration or overrides.
Page Builders Support
Beaver Builder and Elementor are recommended ones at this point.
What else?
Gecko also comes with the following:
Full Technical Support
Support for no additional cost. Support is provided to active license holders. Number of supported sites is dependant on the license choice.
Single Subscription
Single license subscription means you don't have to worry about renewals when the time comes. It's automatic. You can cancel at any time.
Downloads
As long as you have an active license you have full access to theme file downloads.
Updates & Upgrades
With active license you have access to updates and upgrades.
* Screenshots show PeepSo and some of its plugins like: Photos, Videos, Hashtags etc. with PeepSo Theme: Gecko. Screenshots are for presentation purposes and the outcome may vary with other themes, plugins installed and configuration selected.
** Third Party Base Plugins are not a part of any purchase like: PeepSo Ultimate Bundle. PeepSo Integration and Monetization plugins usually require Third Party Base Plugins (Advanced Ads, BadgeOS, LearnDash, myCred, PMP, WooCommerce WPAdverts). Third Party Base Plugins are either free or need to be purchased at a Third Party website. PeepSo support only covers the integration between PeepSo Integrations and Third Party Base Plugins – we do not test nor officially support any Third Party Add-ons to said Third Party Base Plugins. The support for Third Party Base Plugins is always provided exclusively by their original developers.