Gecko Theme was designed with PeepSo First approach in order to enable us to make the most of PeepSo as a Social Networking Platform. It is made to extend the possibilities of PeepSo, while taking care that the rest of the site also looks and works wonderfully. It can be used as a standalone WordPress theme and does not require PeepSo to work properly.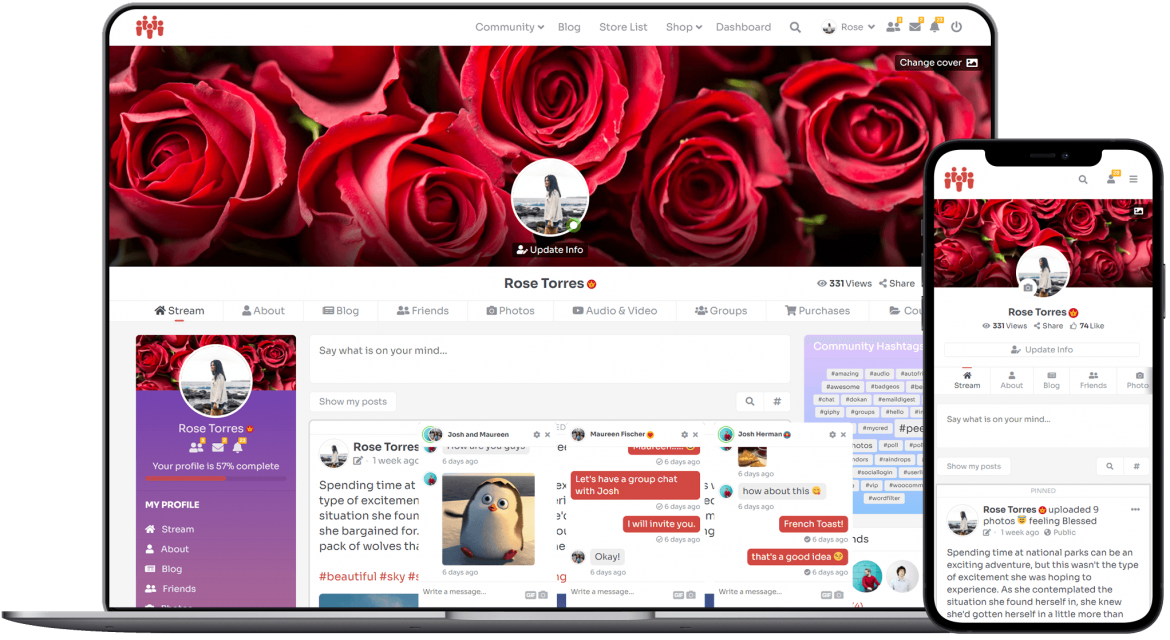 Gecko is the only theme created by the same team that brought you PeepSo and its plugins.
Native PeepSo Integration
Designed to take PeepSo and its plugins to another level with additional features 3rd party themes just can't provide.
Because Gecko Theme and PeepSo are made by the same team, you will always have the theme compatible with the latest version of PeepSo.
Gecko theme comes with the in-house built customizer with sliders and options that make changes to your site in real time. It does not replace the standard WordPress customizer, however, all Gecko-related settings have been moved into our own Gecko Customizer.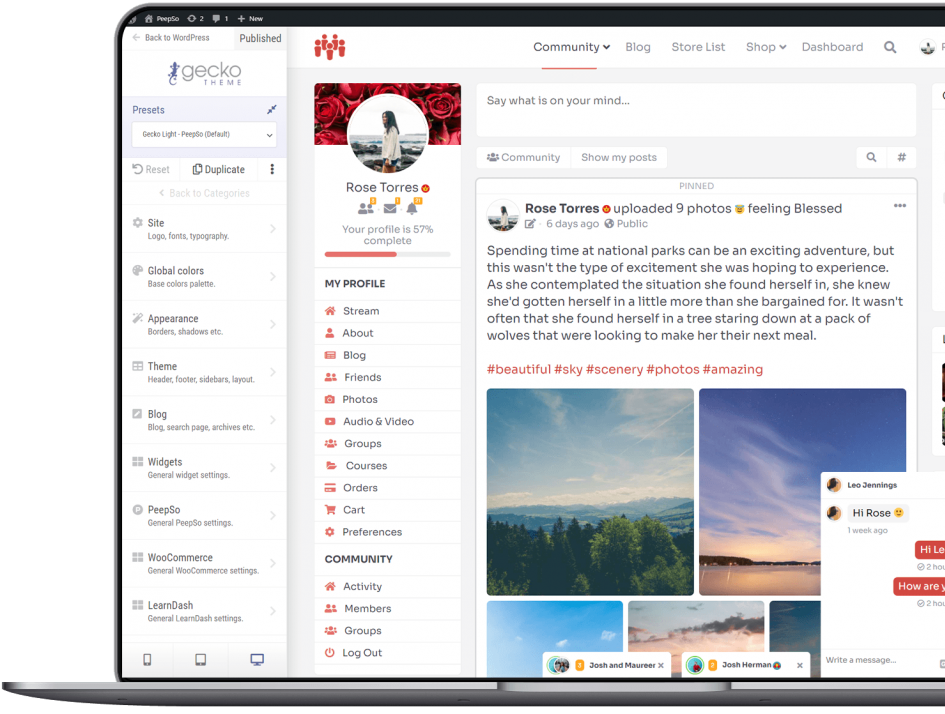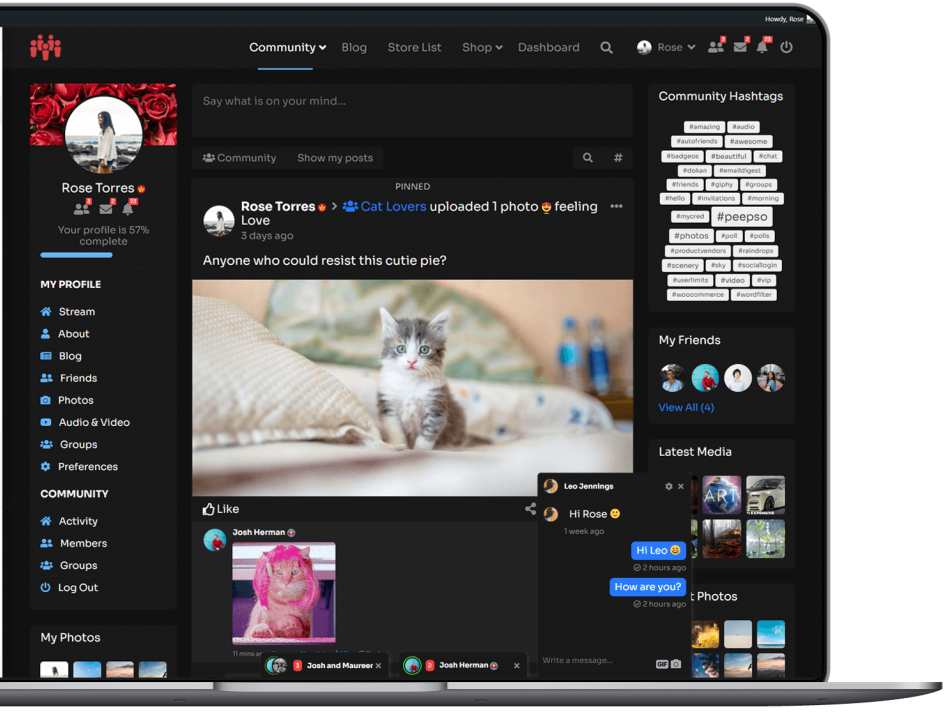 Gecko comes with a gorgeous header that can contain navigation, activity search, PeepSo live notifications and more.
Add menus, including menu alignment, and menu position. All out of the box and available in Theme Customizer.
Widget Positions (in header)
You can place widgets in the Search and Header positions to place additional navigation, shopping carts or more.

01.
Beautiful User Profiles
Don't like the default look of profile page in PeepSo? Gecko Theme gives you more options to choose from. Simply pick the one that best suits your design idea. If that is not enough, control the position of the user avatar and it's size as well as profile cover height
Chose the colors for the chat plugin so it can really pop from the rest of the site.
05.
Group Avatar And Cover Sizes
Change the sizes and height of group vatar and covers.

Change the colors of PeepSo to match the style of Gecko. Control the fonts in the activity stream, postbox, change the colors of these elements too.
Highlight the pinned posts by changing the border size and color to stand out more.
Change the width of individual photo or the entire gallery.
Create amazing landing pages for your site. Add Title, Call To Action text, Featured Image. All within your Page settings. Create as many landing pages as you'd like.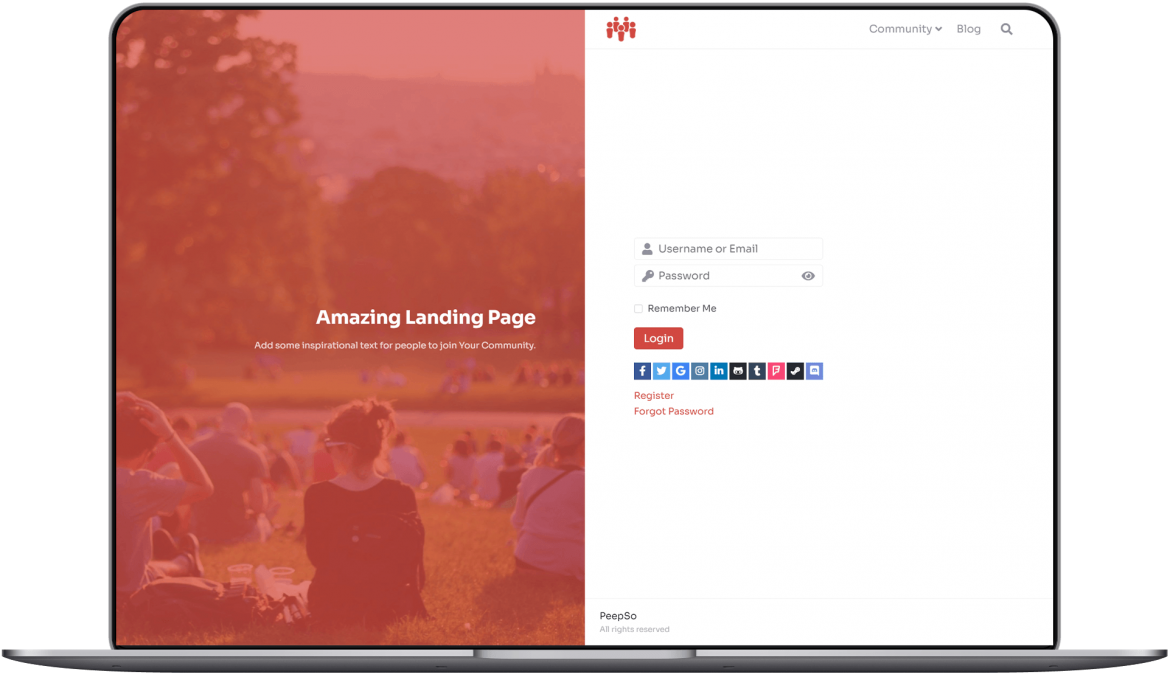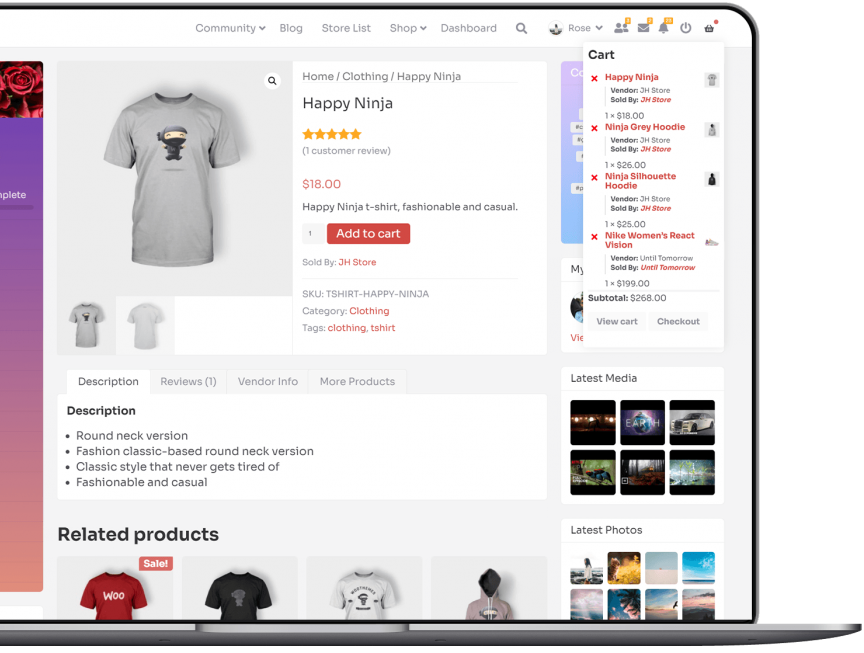 Gecko comes with a beautiful WooCommerce integration that's fully customizable too.
Selling digital goods? Great! Gecko also supports Easy Digital Downloads.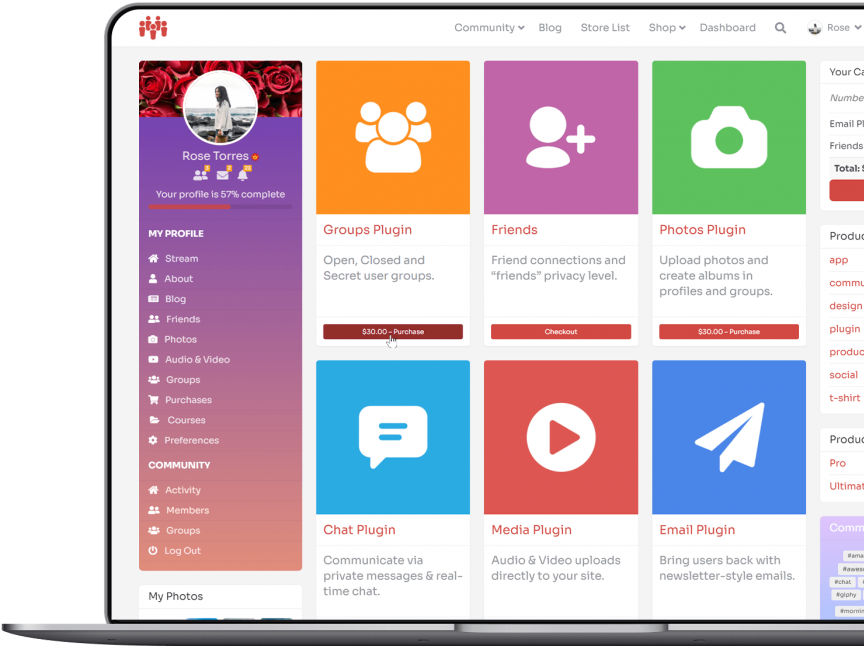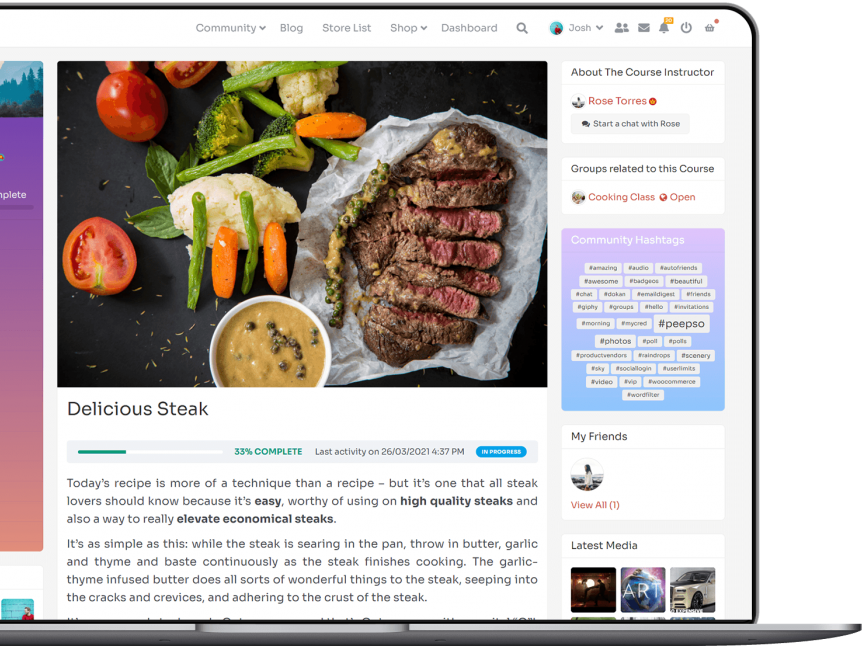 LearnDash support is also built into our theme. You can create gorgeous online courses with Gecko and LearnDash.
Gecko Theme is completely standalone and does not need PeepSo to function properly. With PeepSo, you can have a seamless experience between community, blog and other parts of your WordPress site.
Works great on phones, tablets and other mobile devices.
Fluid or fixed width, different sidebar size, columns gap.
Supports all modern desktop browsers.
Beaver Builder and Elementor are recommended ones at this point.
Super fast loading times unobstructed by redundant scripts.
Easy to adapt to your liking whether configuration or overrides.
Gecko Theme does this automatically for you. No need to install additional plugins.
Full Gutenberg Support plus an addition of its own Gecko: Container block that allows grouping other blocks.
Amongst many, Gecko Theme comes with options to customize your site's footer. Up to 5 columns for widgets, footer menu position, color options and more.
Support for no additional cost. Support is provided to active license holders. Number of supported sites is dependant on the license choice.
With active license you have access to updates and upgrades.
As long as you have an active license you have full access to theme file downloads.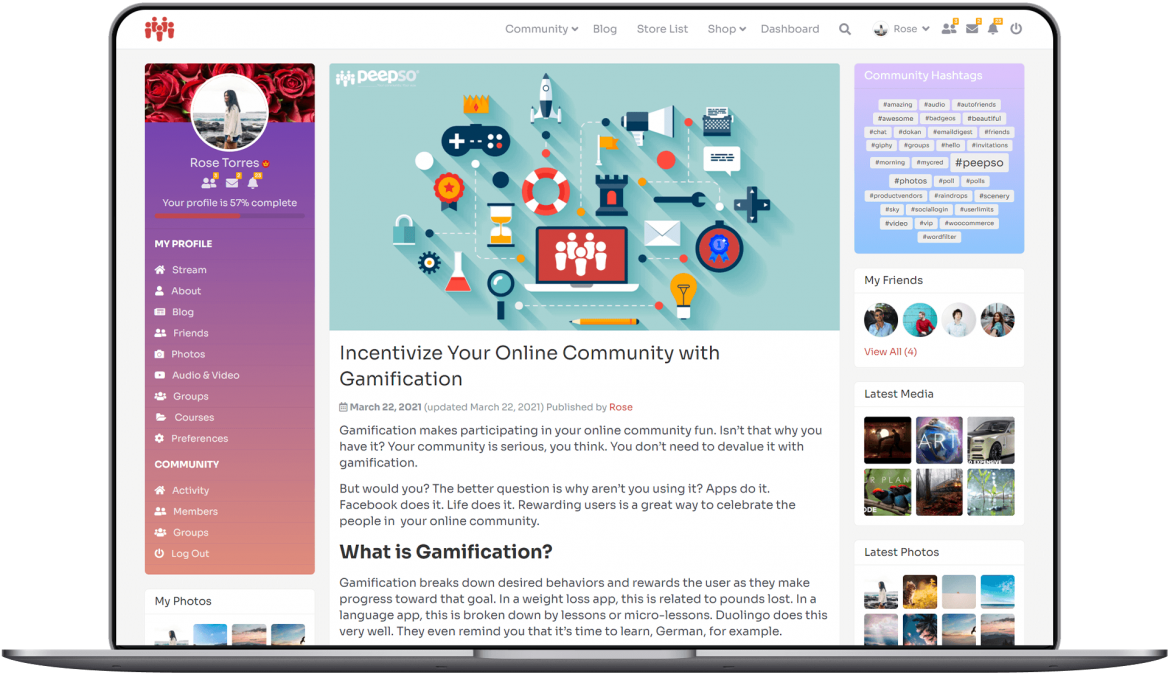 * Screenshots show PeepSo and some of its plugins like: Photos, Videos, Hashtags etc. with PeepSo Theme: Gecko. Screenshots are for presentation purposes and the outcome may vary with other themes, plugins installed and configuration selected.
** Third Party Base Plugins are not a part of any purchase like: PeepSo Ultimate Bundle. PeepSo Integration and Monetization plugins usually require Third Party Base Plugins (Advanced Ads, BadgeOS, LearnDash, myCred, Paid Memberships Pro, WooCommerce, WPAdverts, Easy Digital Downloads). Third Party Base Plugins are either free or need to be purchased at a Third Party website. PeepSo support only covered the integration between PeepSo Inegrations and Monetization plugins and Third Party Base Plugins. We do not test nor officially support any Third Party plugins to said Third Party Base Plugins. The support of Third Party Base Plugins is always provided by their respective developers.
*** Every purchase even of free PeepSo Foundation Plugin automatically creates an account on PeepSo.com from which you can be served the purchased products. All purchases and accounts are subject to the Refund Policy, License Agreement, Support Policy and Privacy Policy.
Active License holders have access to Updates and Upgrades for no additional cost. We try to release a new version every few weeks. See our Changelog.
As long as you have an active license you have full access to file downloads of all purchased plugins.
As long as you have an active PeepSo Ultimate license, you get free access to any new plugins we might release later on. This does NOT apply to any other Bundles.
All PeepSo purchases come with Full Technical Support for no additional cost. Support is provided exclusively to active license holders. Subject to our Support Policy.
Each purchase comes with a recurring subscription until cancelled. Subscription is optional, you can opt-out on checkout. You can also cancel your subscription at any time. Even if you cancel the subscription but still have an active license, you have access to all the active license holders' privileges. (PeepSo Ultimate Bundle 5 years license does not come with a subscription).
Any PeepSo bundle can be upgraded to a bigger one. Cost of upgrade is prorated. Whether you want to switch to a bigger package or more supported domains, you can do it in your account on PeepSo.com or via support ticket
If you don't renew your license keys, you can continue using the plugins. However, you will no longer get access to Downloads, Technical Support, Updates or Upgrades. If you purchased a monthly plan, plugins will stop working once license expires.