Before PeepSo, there was JomSocial; a Joomla plugin that would allow you to create your own private social network on any Joomla-based website.
In the years since the plugin first hit the market, it's been used in all kinds of ways, for all kinds of purposes. There are communities for Shakespeare aficionados, and people suffering from anxiety; it's been used to create support networks for refugees, and manage web design clients. There are communities of less than a hundred, and communities of up to ten thousand; it all depends on how close-knit people want their communities to be, or how niche their market is.
We recently surveyed JomSocial customers to see how their communities were going; the results were overwhelmingly positive. Almost 70% of respondents reported seeing an increase in user engagement with their website as a direct result of using JomSocial; over 30% reported a significant increase in traffic to their site since using the plugin. Ten people who were using JomSocial for their business website reported a marked increase in revenue as a direct result of having a private social network.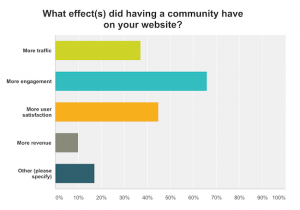 The user experience seems to be overwhelmingly positive too: we asked our users to give us feedback and tell us what we could do better, and nearly everyone said that we should just keep up the great work. The rest were just minor suggestions for things they thought would be cool…we're all about cool, so we're taking those into account as we continue to work on and have fun with the product. About half of the people we surveyed work in tech, so having a stamp of approval from people who really know their code is a fantastic feather in our cap.
These same benefits are now available to WordPress users via PeepSo; you're likely to see more engagement, an increase in traffic, and if you're using PeepSo for your business, an increase in revenue as a direct result of using the plugin. Although a significant portion of the people using JomSocial were tech people, you don't have to be one to use PeepSo; it works straight out of the box, no coding knowledge required.
To find out more about PeepSo and how it works, check out our community for a live demo.