What is PeepSo
PeepSo is a super-light, free, social network plugin for WordPress that allows you to quickly and effortlessly add a social network or an online community, similar to Facebook right inside your WordPress site.
What sets PeepSo apart from other social networking solutions is its lightweight and stellar design. PeepSo works right out of the box and within seconds, you can start a social network, right inside your WordPress site. There's no need to hire a developer. It simply works.
Visit our great Community and see how it works.
---
Free Foundation
PeepSo is completely FREE and it's a foundation that's required to run other plugins. Its activity stream and profile pages will enable you to start building Your Community just the way you always wanted it to be.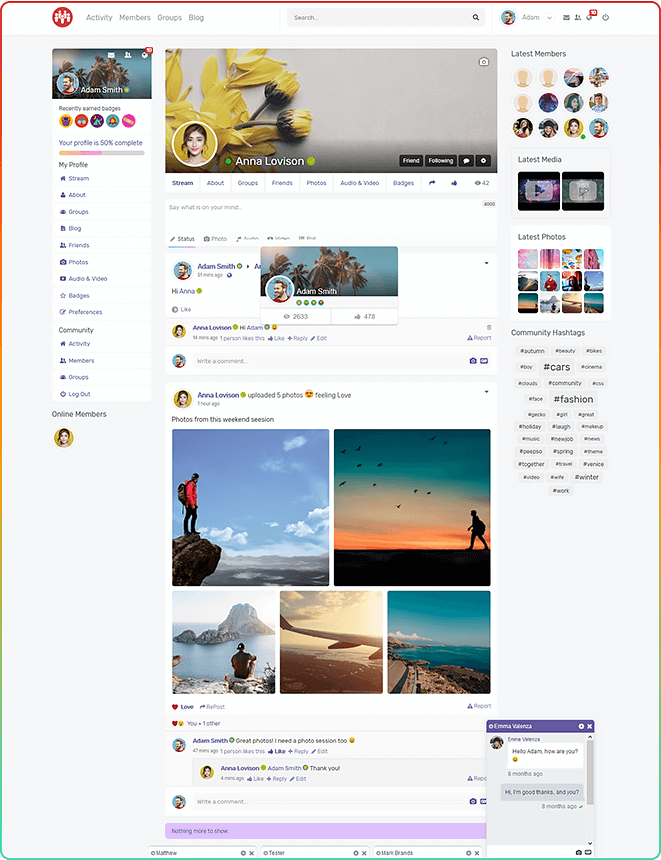 Our Reviews
What People Say
---
I searched and tried a number of different top membership plugins before landing on PeepSo, and I have to say that it is the best I have found. I've never had any technical issues with it, find it easy to customize where needed, and hit has a huge amount of great features. Plus it is updated very often with great new optimizations and features. Highly recommended!
@John Lund
Simple, direct, intuitive administration. Yes, there are a few items I'd change and clarify. Overall, though, PeepSo has absolutely nailed it. I'm in the live testing phase for my site. Except for one (1) person – that's right, one! – everyone else has commented that the site not only looks great but, it's easy to use and is very fast. As for the support. Only had two issues (cross your fingers AND your toes, please) – and both times the support was absolutely great. Thank you PeepSo people. Well done!
@rickk55tn