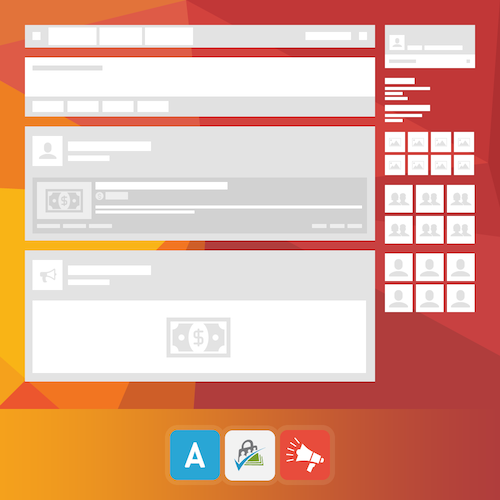 PeepSo Monetization Plugins
---
PeepSo lets you monetize Your Community with ease.
Monetization includes: Advanced Ads, WPAdverts and PaidMembershipsPro integration plugins. Each of the Monetization plugins is just $99 get them all and save $40 on a single purchase!
Advanced Ads Integration
WPAdverts Integration
PaidMembershipsPro Integration

Discounted Price. All Current PeepSo Plugins. All Future PeepSo Plugins. Single License Key. Single Purchase. Single Subscription. Technical Support. Upgrades. Updates.

Discounted Price. All Current PeepSo Plugins. All Future PeepSo Plugins. Single License Key. Single Purchase. Single Subscription. Technical Support. Upgrades. Updates.
Monetize
Monetize Your Community and earn real money.
Classified Ads Management
Users can manage their classified ads right in their profiles.
Classified Ads Creation
Users can create classified ads right in the community view.
WPAdverts Addons
Full integration with all official WPAdverts addons like: Featured Ads etc.
User Profiles
User's Classified Ads are displayed in their profiles.
Seamless Navigation
Navigation is added to User Profiles, PeepSo Toolbar and PeepSo Profile Widget.
Status Updates
Automatic corresponding Status Update is created when user posts a Classified Ad. Once ad expires the post is removed from main PeepSo Activity Stream.
Get WPAdverts Integration Plugin
Get WPAdverts Integration Plugin for Your Community!
 WPAdverts
Monetize your community with paid ads. WPAdverts is a light-weight plugin which allows to build beautiful classifieds site in minutes. Running a classifieds site alone can be challenging. However, adding a classified ads to your existing community, fantastic idea!
Communities revolving around specific topics, but not only, have an amazing potential to be monetized by their admins. If you have a community revolving around gardening and your members are actually proud garden owners, you give them the chance to buy / sell their plants, seeds, tools and whatever else they might need to get or get rid of. You as a Community Admin can charge your members for posting such ads.
The integration plugin has been designed with, amongst others, one main goal: seamless integration of classified ads within PeepSo community. The design of ads and how they are displayed blends in fabulously with users' profiles, ad posts on stream etc.
This plugin requires at minimum both PeepSo Core and WPAdverts plugins to work.
 Advanced Ads
Social Targeted Ads Facebook Style. Monetizing your community is a hard task. It requires a lot of time, dedication and most often than not doesn't work out the way you want it to. It can be dictated by various factors. All in all, it's not an easy task.
Ads On PeepSo Activity Stream
You can display all ad types (or ad groups) that come with Advanced Ads or Advanced Ads Pro on PeepSo Activity Stream. However, we also added a PeepSo Ad type so that it blends in with Your Community.
Community Users Ad Targeting
This integration extends Adcanced Ads Visitor Conditions with ad targeting based on your Community Users profile fields. Advanced Ads and Advanced Ads Pro plugins are amazing on their own, but now you can you can offer your advertisers the possibility of real social ads targeting.
What Can You Target
That depends on what plugins you have installed and activated. We'll only cover this integration's targeting options but you should definitely check out the entire possibilities of Advanced Ads Pro.
Ad Targeting
Target Ads based on users profile fields.
Seamless Ad Experience
PeepSo Stream Ads blend in with the community posts.
Display all ad types
Display any Advanced Ads' ad types on PeepSo Activity Stream.
Integration with VIP plugin
Decide whether to show or hide ads from VIP users.
Target Custom Profile Fields
Target any single select or multi select fields in user profiles.
Integration with Groups
Decide whether to show/hide ads to members of specific groups.
Get Advanced Ads Integration Plugin
Get Advanced Ads Integration Plugin for Your Community!
 PaidMembershipsPro
Paid community memberships. This plugin integrates the PaidMembershipsPro plugin into PeepSo's registration and navigation, giving users a seamless registration experience. On registration, members are offered a list of membership plans. The plans are configurable via PMP plugin's settings. Just as membership pages are.
Once members have chosen their plan, they can complete their registration and confirm their email address. They're logged in. Admin can also choose to display a link to the PMP membership page as a sub-menu of the profile menu on the PeepSo toolbar.
Set the desired access level on all pages containing PeepSo Shortcodes except for the 'Activity', 'Registration' and 'Password Recovery' pages. You can also hide the activity stream from non-logged in users in PeepSo, keeping your community totally private. The focus of the plugin is on seamless navigation and a smooth registration experience for users. Registration and membership selection is now one easy step.
Registration
Seamless registration process where users sign up through PeepSo and can pick their membership level.
Navigation
Seamless navigation, access to membership options is available via PeepSo Profile Widget as well as toolbar.
Get Paid Memberships Pro Integration Plugin
Get Paid Memberships Pro Integration Plugin for Your Community!
Monetize Your Community
Start earning money from Your Community today.
Get to know other PeepSo Plugins
{"dots":"false","arrows":"true","autoplay":"false","autoplay_interval":"3000","speed":"300","design":"prodesign-5","rtl":"false","loop":"true","slidestoshow":"3","center_padding":0,"slidestoscroll":"1","centermode":"true"}