It's a plugin that we have been looking forward ourselves too. We needed a way to easily and safely format text within our own community. So that we can answer questions and provide well formatted answers at the same time.
It does make a difference especially when you have to deal with code snippets or at least put emphasis on certain parts of your post or comment. What is Markdown and why is the plugin named like that?
Text Formatting
It can be used in both Posts and Comments throughout PeepSo.
Code
Now you can include inline code with syntax highlighting.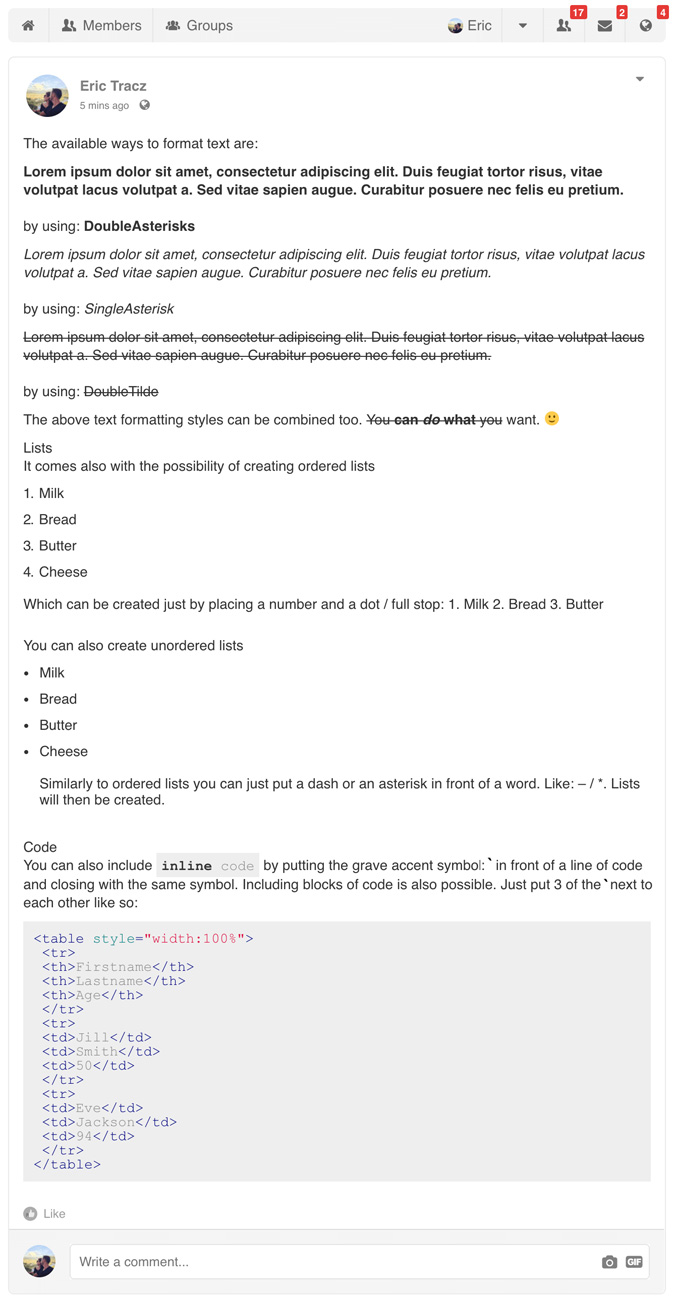 Lists
It comes also with the possibility of creating ordered lists
* Screenshots show PeepSo and some of its plugins like: Photos, Videos, Hashtags etc. with PeepSo Theme: Gecko. Screenshots are for presentation purposes and the outcome may vary with other themes, plugins installed and configuration selected.
** Third Party Base Plugins are not a part of any purchase like: PeepSo Ultimate Bundle. PeepSo Integration and Monetization plugins usually require Third Party Base Plugins (Advanced Ads, BadgeOS, LearnDash, myCred, PMP, WooCommerce WPAdverts). Third Party Base Plugins are either free or need to be purchased at a Third Party website. PeepSo support only covers the integration between PeepSo Integrations and Third Party Base Plugins – we do not test nor officially support any Third Party Add-ons to said Third Party Base Plugins. The support for Third Party Base Plugins is always provided exclusively by their original developers.